While our news feed covers the top stories and market trends of the week, here's a summary of other developments in the crypto sphere that deserve our attention.
Arbitrum Users Finally Get Airdrop
Ethereum layer-2 scaling solution Arbitrum has announced its long-awaited governance token, ARB, which will be airdropped to early users, based on a snapshot taken 6 February 2023 – 11.62% of the total 10 billion token supply will be airdropped to individual user wallets next week. The amount per user depends on the number of transactions completed, applications used, and time spent on the network.
In an announcement on Thursday, Arbitrum noted the launch of the Arbitrum Foundation and DAO Governance for the Arbitrum One and Arbitrum Nova networks. It is also rolling out Arbirtum Orbit, a development framework for creating layer 3s (L3s).
"The next important quality of a decentralized system is upgradeability. And the only was to preserve upgradeability while remaining decentralized is to put it in the hands of the DAO," Arbitrum said.
Interestingly, the L2 will be the first to have "self-executing governance," meaning that governance will happen entirely on-chain and that proposals do not have to be implemented manually by the core team.
Euler Hacker Feels Bad
In one of the more curious stories in the crypto space today, a hacker currently the subject of a manhunt has returned funds to a victim's wallet.
Lending protocol Euler Finance, which is known for its liquid staking derivatives (LSDs) services, was drained of US$195 million this week, with the hacker stealing millions in Dai (DAI, USD Coin (USDC), staked Ether (StETH) and wrapped Bitcoin (WBTC).
But while the perpetrator was busy sending the proceeds to crypto mixer Tornado Cash, they also sent 100 ETH (~US$170,000) to a user who said in an on-chain message that they'd lost their life savings of 78 ETH.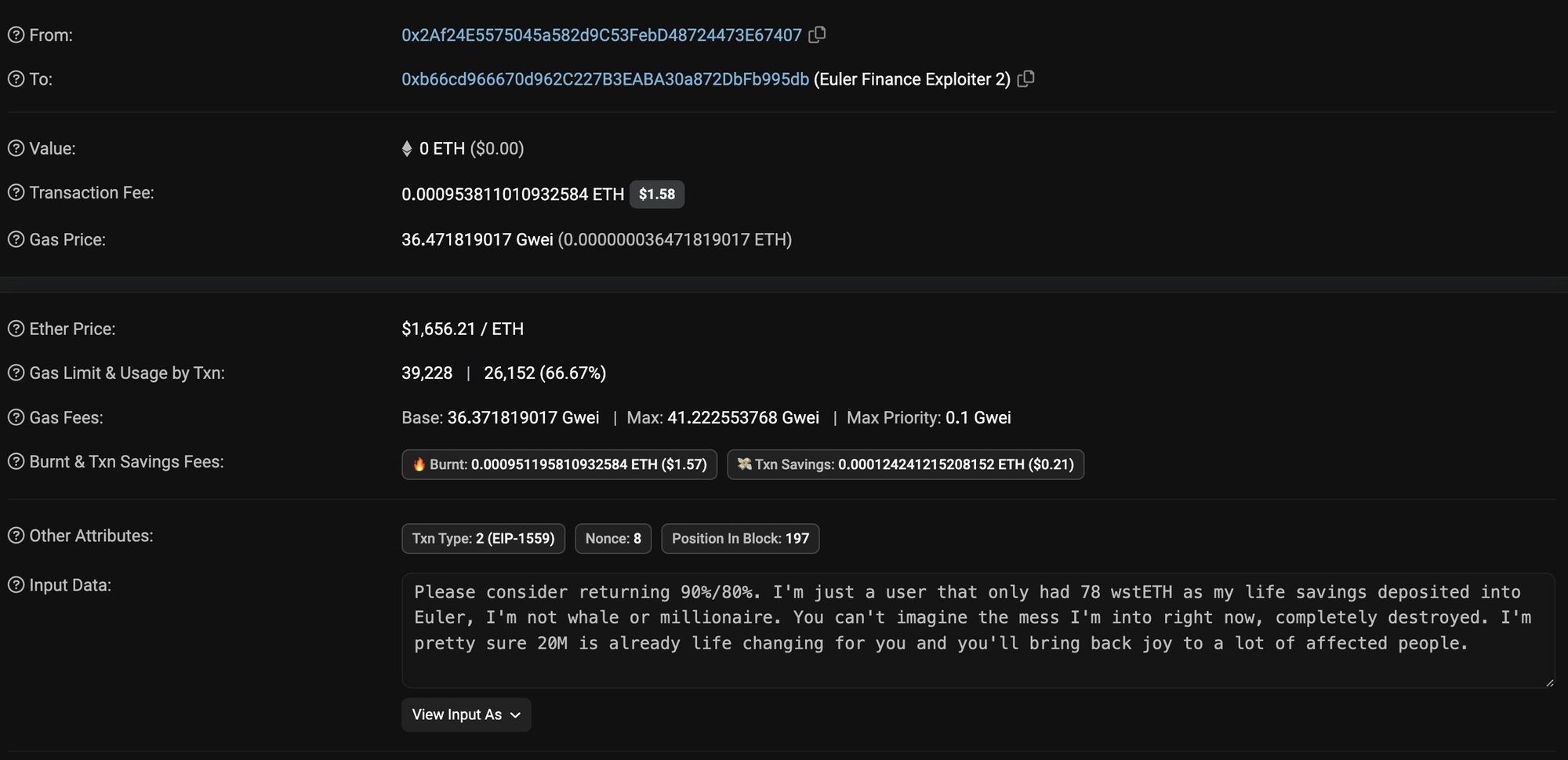 Twitter users pointed out that because the hacker sent back more than the user had lost, the latter would be partly responsible. Euler is offering a reward of $1 million for information leading "to the arrest of the Euler protocol attacker and the restoration of all monies."
Either way, we're going to drop @SBF a message now and check our wallets later.
Binance to Remove British Pound Withdrawals, Deposits
Binance will cease to offer British pound deposits and withdrawals from its exchange from 22 May 2022.
Pointing the blame towards its GBP partner Skrill Limited, Binance stated that Skrill will "stop offering GBP fiat services, namely deposits and withdrawals via Faster Payments and card" to Binance users.
From Monday, users will be unable to open accounts on Binance with GBP deposits. Existing customers, which account for less than 1% of Binance users, will still be able to access their GBP balances.
The move comes as crypto firms franticly look towards TradFi to help with the off ramping process whilst scrutiny falls on the sector amid falling institutions over the past week. Earlier this week, Crypto exchange Coinbase partnered with Standard Chartered Bank to offer free bank transfers for customers in Singapore.
FTX Shills on YouTube Hit With Class Action Lawsuit
A new class action lawsuit has been filed against YouTubers who promoted FTX. The suit claims $1 billion in damages from the online personalities and FTX. It accised "several influencers of promoting FTX and then scrubbing their channels of clips endorsing the collapsed exchange."
The lawsuit states that the YouTubers are being accused of endorsing and promoting the exchange "without disclosing the nature of any payment or compensation."
Those being sued include Erika Kullberg, BitBoy Ben Armstrong, and "Meet Kevin" Kevin Paffrath.
Adam Moskowitz of the Moskowitz Law Firm, who is also involved in a similar crypto lawsuit against celebrities including Tom Brady, is representing the YouTube plaintiffs.
"Though FTX paid defendants handsomely to push its brand and encourage their followers to invest," the lawsuit states. "Defendants did not disclose the nature and scope of their sponsorships and/or endorsement deals, payments, and compensation. This action may be one of the only avenues for any of the victims to recover any of their damages."
Metaverse & NFT News
NFT Flippers Are Losing Money

While NFT trading continues its frenzy on OpenSea rival Blur, Twitter user NFTStatistics.eth has highlighted a curious finding - while the past 30-day period has seen the highest number of flips ever recorded, losses from flips are at historic highs, with over 12,000 ETH lost by flippers in the past month on Blur.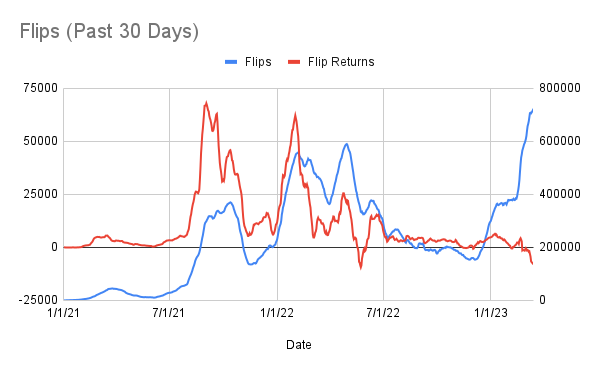 The user explained this as due to "market trending down, big volumes leading to high gas fees and royalties, and holders dumping NFTs onto bidders."
NFT data aggregator Cryptoslam has flagged more than half a billion dollars worth of NFT wash trades related to Blur since the marketplace's Valentines airdrops started. Blur recently announced that they will distribute $300 million worth of tokens in a second round of airdrops, and on-chain data shows that most of these so-called wash trading is a result of whales buying and selling NFTs via the marketplace's bid pools in an effort to "farm" token rewards. These transactions account for more than 80% of total trades on Blur, Cryptoslam said last month.
---
The world of Web3 can be quite a whirlwind. Whether it's crypto news in Singapore, South East Asia or even across the globe, we understand how busy the industry is keeping you, so we kindly send out three newsletters each week:
BlockBeat for a wrap-up of the week's digital assets news
Blockhead Brief for weekend happenings as well as what to look forward to in the week ahead
Business Bulletin for macroeconomic updates and industry developments.
To avoid FOMO and access member-only features, click here to subscribe for FREE.