Table of Contents
While our news feed covers the top stories and market trends of the week, here's a summary of other developments breaking waves in crypto that deserve our attention.
---
Pepe the Frog NFT Booms 21,000%, Turns $27 to $1 Million in Days
$PEPE, the latest craze to hit the degen NFT scene has turned two-figure investments into six-figure rewards.
The meme coin inspired by Pepe the Frog has risen over 21,000% in the past three days, garnering $30 million in trading volumes on Uniswap.
With a market capitalization of just over $130 million, $PEPE is now the sixth-largest meme coin.
One lucky (or intuitive) degen reportedly rode the wave and turned $27 into $1 million in a matter of days since its launch on 17 April.
However, investors are concerned that the contract owner could potentially modify the transaction tax and blacklist function.
CMC's $PEPE warns: "According to Gopluslabs the contract owner may contain the authority to modify the transaction tax and contain blacklist function. Please exercise caution before taking any action and DYOR."
Furthermore, the top 100 $PEPE holders own 44.51% of the entire token supply. According to analyst Grzegorz Drozdz, it will take 46,200 years to liquidate investors' $PEPE tokens too.
Poor liquidity means that the now-millionaire degen might have difficulty in cashing out completely.
"With 5.9 trillion PEPE tokens in their portfolio, it would take 46,200 years to liquidate these assets, assuming non-declining demand,"
- Grzegorz Drozdz, market analyst at Conotoxia Ltd., told Decrypt via email.

my brain is hurting

— tehMoonwalkeR (@tehMoonwalkeR) April 19, 2023
Tribe Capital Considers $250M Bid to Reboot FTX
Tribe Capital, the venture firm that invested in FTX, is now considering a $250 million reboot of the exchange.
Arjun Sethi, the co-founder of Tribe, reportedly met with FTX's committee of unsecured creditors in January to discuss the informal proposal.
The firm is mulling over leading a $250 million fundraising campaign that would be anchored by $100 million from itself and its limited partners.
Its plan includes an estimated 9 million customer accounts from FTX US, FTX Australia, FTX Japan, FTX EU, FTX International, and LedgerX. The new exchange would continue to use the FTX name.
Tribe Capital has over $1.6 billion under management. The San Francisco-based firm invests in a range of startups, including crypto platform Kraken, payments firm Bolt, and e-commerce vendor Shiprocket.
FTX's new CEO, John J. Ray III, aims to decide in the second quarter whether a restart is feasible.
FTT, the native token of FTX, saw an 18% surge to $2.16 following the news but has since fallen back to $1.80 at the time of writing.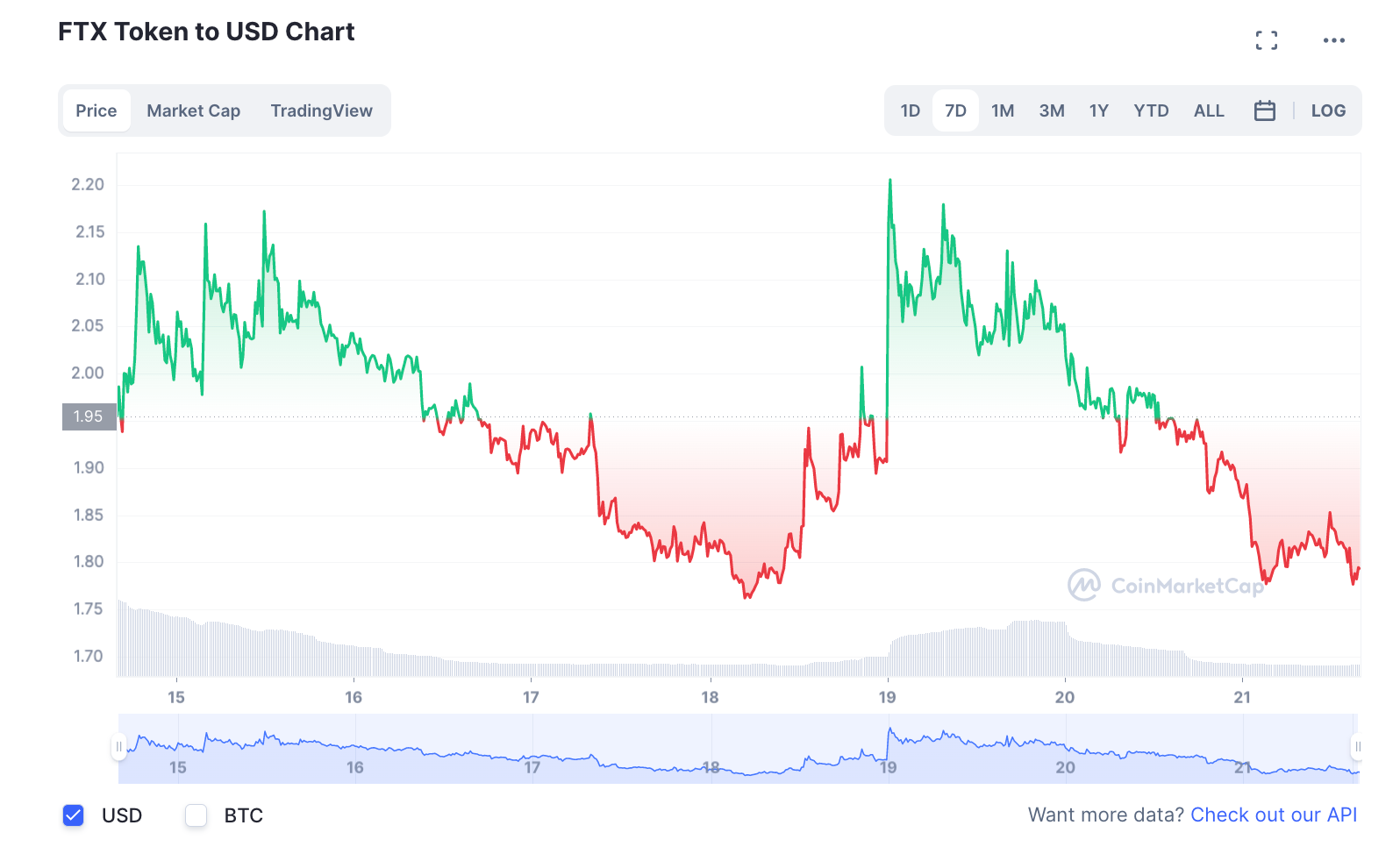 Taytay Says "Thank You, Next" to FTX
Taylor Swift's business acumen is no secret, and the pop superstar's latest move has once again proven her shrewdness.
FTX reportedly approached the pop icon in 2021 for a $100 million sponsorship deal involving the sale of NFT tickets to her fanbase. However, the deal never saw the light of day.
As it turns out, Swift is not one to take business decisions lightly, and she posed a simple yet significant question to FTX representatives before signing on the dotted line.
According to Adam Moskowitz, one of the attorneys leading a class-action lawsuit against FTX's celebrity endorsers, Swift actually asked FTX representatives about the proposed NFT tickets poising the astute question, "Can you tell me that these are not unregistered securities?"
Moskowitz's lawsuit seeks more than $5 billion in damages, alleging that FTX's high-profile promoters failed to conduct proper research before endorsing and selling yield-bearing accounts (YBAs) as unregistered securities.
---
Metaverse & NFT News
Nike Drops First Digital Sneaker .Swoosh NFT
Nike has launched its first NFT on its .Swoosh web3 community platform.
Titled Our Force 1 (OF1), the collection will consist of Polygon virtual sneaker NFTs that pay tribute to Nike's iconic Air Force 1 sneaker.
Two versions of the drop will be available: Classic Remix sneaker boxes containing virtual Air Force 1 sneakers designed between 1982 and 2006, and New Wave boxes which resemble designs from 2007 onwards.
Each sneaker box will cost US$19.82, the same price as a pair of Air Force 1 when it debuted.
Nike has reportedly not set a limit on the number of Our Force 1 NFTs available to mint but .Swoosh members must use virtual AF1 posters to unlock an OF1 box NFT on 8 May. These posters will be airdropped to randomly selected members.
On 10 May, the remaining .Swoosh community, which is 330,000 strong, will be able to purchase OF1 boxes.
"We are exploring new ways to tell stories and create relationships while removing the barriers and limitations of physical product," Ron Faris, GM of Nike Virtual Studios, said in a statement.
"With more members choosing to express themselves across physical and digital worlds, .Swoosh is the marketplace of the future."
Wolf of Web3 Street
The production company behind The Wolf of Wall Street, Red Granite Pictures, is looking to turn scenes from the film into NFTs to mark the film's 10-year anniversary.
Called The Wolf of Wall Street Experience, the collection will offer fans access to unique content, rewards, and experiences.
An online community is also being created in which members can purchase props and costumes, remix songs from the soundtrack, and vote on themes for fan fiction stories that might serve as the basis for sequels or spinoffs.
Live events including Wolf of Wall Street-themed parties are also in the plans as well as the sale of authorized digital artwork based on the film's catchphrases.
This is part of a broader trend in Hollywood, with other major studios like Warner Bros. Pictures, Paramount Pictures, and DreamWorks Animation selling NFTs based on their movies
The NFTs will be created by carbon-neutral layer 1 Aventus Network on Polkadot.
Alan Vey, Founder & CEO at Aventus, said, "the Wolf of Wall Street is one of the most iconic films across not only popular culture more broadly, but specifically within the blockchain community."
Red Granite previously drew controversy due to its ties with the notorious Malaysian wealth fund 1MDB. which Jho Low and his cronies looted for over $4.5 billion. Riza Aziz, founder of Red Granite, is the stepson of former Malaysian PM Najib Razak who is serving a 12-year prison sentence for his 1MDB involvement.