Table of Contents
East Asia is now the fourth-largest cryptocurrency market globally, slipping by one spot and losing ground to other regions this year, according to the Chainalysis 2022 Geography of Cryptocurrency Report.
The region received US$777.5 billion worth of cryptocurrency between July 2021 and 2022, representing just 13% of global transaction volume during that time period. It also recorded a year-over-year transaction volume growth of 4%, the lowest among the eight regions that Chainalysis studies.
According to the report, East Asia's sluggish performance is likely due to the decline in China's cryptocurrency activities, with the country recording a 31% decrease in transaction volumes compared to the previous year-long period. However, China remains one of the world's strongest cryptocurrency markets despite its government's harsh stance on the industry in recent years.
"There remains a large informal market in China that is driven by peer-to-peer trading. While bans may discourage new entrants and to some degree stifle activity, they do not stamp out activity entirely, especially for individuals or businesses that were relying on the use of crypto prior to the ban," Kimberly Grauer, director of research at Chainalysis, told Blockhead.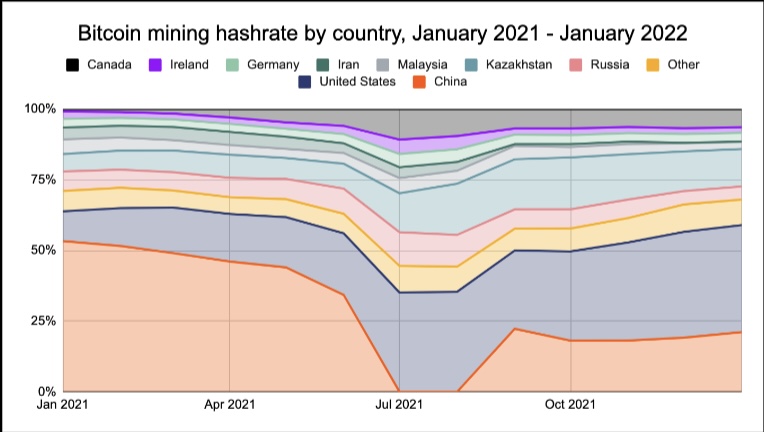 While data gathered by Chainalysis indicates that trading volume within China remains "healthy" across both centralised and decentralised platforms, it's unclear how these activities are taking place given that the PBOC (People's Bank of China) has implemented a blanket ban on cryptocurrency transactions since September 2021. Bitcoin mining has also surprisingly resurfaced again, albeit at a much lower hash rate as compared to other mining countries.
Japan's push into DeFi
While East Asia as a whole has slipped in transaction rankings, Japan has emerged as an unlikely leader in crypto adoption. The country's DeFi transaction volume of US$56.7 billion is nearly double that of South Korea's, and not far off from China's total of US$67.6 billion.
According to a Bloomberg report, the country's Virtual and Crypto Assets Exchange Association is seeking implement a less stringent screening process for already authorized exchanges to list virtual coins. Regulators could also abolish the entire process by 2024.