Table of Contents
Bitcoin and other cryptocurrencies continued to trade sideways throughout the week, with the world's largest cryptocurrency hovering around the US$16,600 mark.
At the time of writing, Bitcoin (BTC) is trading at US$16,600.13 (-1.48% in 7 days) while Ethereum (ETH) is trading at US$1,197.74 (-2.11%). Major altcoins such as Binance Coin (BNB), Cardano (ADA), and Polkadot (DOT) have also been trading in red within the same period, but the worst hit have been Avalanche (AVAX, -8.45%), Tezos (TEZ, -11.59%) and Solana (SOL, -19.5%) – more on what's going on with the latter here.
Related: "Solana Isn't FTX!": SOL Gets Rekt By SBF But is it Truly Dead?
Overall, markets remain choppy, and investors are still cautious about more rate hikes and looming recessions around the globe. There has been little action around the two main cryptocurrencies in the past month, and Bitcoin's dominance of the crypto market still stands at 40.15%. The question on everyone's minds is whether the crypto market has bottomed, and how long it will take for confidence to return. But, as we've already seen in 2022, there will surely be more plot twists to come.
Crypto funding dries up
Building is tough in a bear market – global funding for VC-backed crypto startups has fallen steadily over the year, from US$8.8 billion in the first quarter of 2022 to US$6.2 billion in the second quarter to around US$3.4 billion in the third quarter. In the current quarter, which is almost over, crypto startups have only managed to raise US$2.4 billion, according to data from Crunchbase.
Forbes listed of the biggest crypto funding rounds in 2022 (they mostly took place in the first half of the year):
Fireblocks (US$550 million, led by D1 and Spark)
Yuga Labs (US$450 million, led by a16z)
ConsenSys (US$450 million, led byParaFi)
Polygon (US$450 million, led by Sequoia)
FTX (US$400 million, led by Paradigm and others)
Circle (US$400 million, led by BlackRock)
Animoca (US$358 million, led by Liberty City)
NEAR (US$300 million, led by tiger)
Amber (US$300 million, led by FENBUSHI US)
Mysten Labs/Sui (US$300 million, led by FTX)
Alameda's curious transactions
Suspicious crypto transactions have surfaced from Alameda Research just days after SBF was released on US$250 million bail.
Some US$1.7 million worth of tokens from Alameda-linked wallets were sold in the open market on Wednesday, with crypto twitter expressing concern that the sale could trigger a fall in prices. "Alameda Research have been on the move, with multiple t/x's passing through known addresses. Many of these t/x's have been swapping Altcoins > ETH. The potential price impact if they sold their holdings could be catastrophic, with up to 99.47% downside," wrote one Twitter user.
On-chain data revealed that USDC, DAI, CRV, ETH, CVX and others were consolidated from several wallets into two wallets, before being sold for USDT.
Cryptocurrency detective ZachXBT discovered four Bitcoin wallets where the money was being combined.
Ex-Commissioners under fire
Securities and Exchange Commission (SEC) general counsel Dan Berkowitz, who was formerly a commissioner at the Commodity Futures Trading Commission (CFTC), has resigned after being found to have accepted bribes from Sam Bankman-Fried/FTX. The Los Angeles Times carried a report this week about how SBF wooed officials in DC to the firm in an attempt to influence crypto industry regulation.
FTX hired several former federal regulators, who provided the links with with officials at the agency he hoped would ultimately regulate the crypto industry. These include Ryne Miller, who previously served as legal counsel to Gary Gensler, who was at that time the chairman of the CFTC and now chairs the SEC; and Mark Wetjen, FTX's former head of policy and regulatory strategy and current director at FTX-affiliated company LedgerX, who previously served as the acting chair and a commissioner at the CFTC.
Trading Volume
According to data from CoinMarketCap, the global crypto market cap currently stands at US$796.51 billion, a 0.27% increase since yesterday, but over US$50 billion down from a week ago, when it stood at US$849.38 billion. The total crypto market volume over the last 24 hours is US$26.41 billion, a 15.15% decrease.
Fear & Greed Index
Risk appetites in crypto remain sapped as we close out the year – the Crypto Fear and Greed Index currently stands at 28, indicating " fear." The index uses 5-6 measurements to assess the current sentiment of the market and then rates that level of emotion on a scale of 1-100 – 1 is extreme fear and 100 is extreme greed.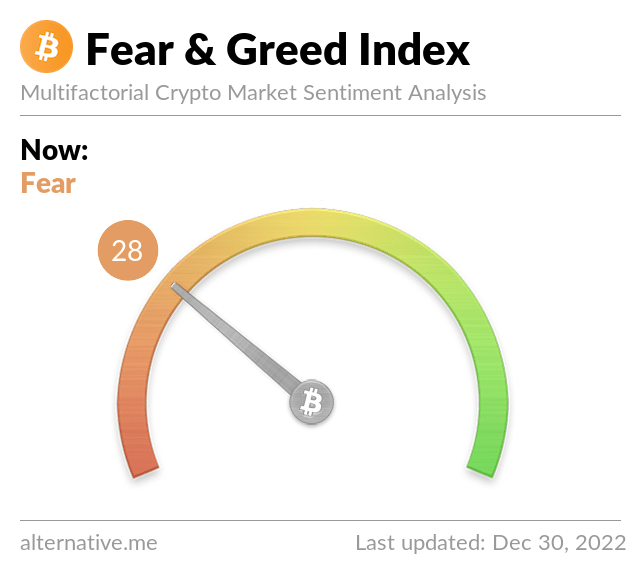 The current level shows that investors are skittish, though sentiment has remained unchanged over the past month, remaining in the mid-20s.