Table of Contents
2022 has pulled off the greatest Uno Reverse in crypto history. In what was supposed to be a solid year for crypto, markets have tanked, projects have failed and some of the largest industry leaders have crumbled.
To see this disastrous year out (and good riddance to it), Blockhead is presenting you with the best backfiring quotes of crypto in 2022.
Sam Bankman-Fried
FTX co-founder Sam Bankman-Fried is the newest addition to 2022's crypto villain list. Previously regarded as a bright, pioneering figurehead of the crypto space, it took shy of just a few weeks in November for him to be revealed as a fraud of colossal proportions.
Read more: Sam Bankman-Fried Set for US Extradition
Prior to FTX's collapse, SBF was a regular on Twitter, offering nuggets of wisdom as an industry leader. These gems continue to live on at Twitter, with potentially longer lifespans than his now-defunct exchange.
SBF on "preventing financial crimes"
SBF, who now faces upto 150 years in prison, had previously professed that it the "gateways to the financial world" who should "take their duty extremely seriously to prevent financial crimes." If only he had taken on some diligent duty upon himself…
SBF on "transparency"
FTX's collapse was triggered by the revelation that Alameda Research had a too-close-for-comfort relationship with FTT, which was obfuscated by SBF and his partner in crime Caroline Ellison. In a case of 'do what I say not what I do', SBF had previously encouraged transparency in the crypto space.
"We need to have transparency, anti-fraud controls, and checks that customers understand the products they're investing in," he tweeted in April. "And we need federal oversight and licensure of crypto exchanges–especially clearinghouses–to make sure that the risk-reducing innovations in risk models aren't canceled out by other negligence."
The irony didn't stop there either. Just one mont before FTX's fateful day, SBF still professed, "we should work towards public disclosures and transparency for assets."
Oh SBF, you belong in jail, is that transparent enough for you?
SBF calls out Do Kwon for not acting "morally"
Pot, kettle, Bankman-Fried. LUNA founder Do Kwon was the crypto industry's first significant crypto villain of 2022. Just as Alameda Research's incenstual relationship with FTT caused its downfall, UST being algorithmically linked to LUNA for stabilisation led to the latter's crash.
In a tweet, which now rings of hypocrisy, SBF called Do Kwon out for standing by LUNA when he "morally should have backed off." SBF is certainly correct in his criticism but if only he had taken his advice and applied it to himself…
SBF thanks CZ
Up until November, the battle for the most successful global crypto exchange was solely pitched between Binance and FTX. As a result, no love was lost between Binance founder Changpeng Zhao and SBF, but one final tweet of praise for his rival has now left SBF more than red in the face.
Chronologically, FTX collapsed shortly after Zhao declared he would be selling Binance's entire FTT holdings following the reveleations about Alameda. Critics will say that Zhao sneakily crushed his rival with just a few simple tweets but like everyone else, Zhao was correct in pulling his funds from the corrupt exchange.
Read more: CZ Naughtily Pulls Out of FTX Deal, Leaves SBF Hanging
Nonetheless, SBF praised CZ, perhaps in a hope that the Binance founder would return pleasantries. "A *huge* thank you to CZ, Binance, and all of our supporters," SBF rather desperately tweeted on 8 November, just before the rest of the world cottoned on to his crimes. "This is a user-centric development that benefits the entire industry. CZ has done, and will continue to do, an incredible job of building out the global crypto ecosystem, and creating a freer economic world."
Of course, SBF's warm tweet was not well received by CZ who proceeded to with his FTT firesale and further withdrew from buying out FTX.
Do Kwon
LUNA founder Do Kwon was 2022's first crypto villain. Having already gained notoriety for his sheer arrogance, Do Kwon's reputation rapidly shifted from cocky to criminal following LUNA's crash to 0. As 2022 comes to a close, take a closer look at Do Kwon's timeless tweets that haven't aged well.
Do Kwon on the brilliance of LUNA
Whilst it's perfectly understandable for project founders to express confidence in their work, said confidence becomes laughable when said project is trash. This isn't conjecture either. UST (now known as TerraClassicUSD) has a current market price of US$0.02. Yet, there was once a time in the not too distant past of 2022 when Do Kwon was proclaiming that the altcoin "should be the currency people pay all their crypto with."
And why? Because of Terra's infalliable ecosystem of course. "The Terra ecosystem is one of the most vibrant in the crypto industry," Do Kwon declared in May. "With hundreds of passionate teams building category defining applications within. As long as these builders, TFL among them, continue to build – we will come out of this together."
Oh Do Kwon, you lunatic.
Do Kwon on the importance of "integrity"
"Integrity" is not a word that was synonymous with the crypto industry in 2022. Largely omitted from crypto vernacular as well as behaviour, integrity was sorely missed this year but was nonetheless professed by the LUNA founder.
"Integrity is paramount," Do Kwon virtuously tweeted in January 2022. "Those of us fighting in the vanguard of this new movement have a responsibility to overprove that web3 is not about numbers go up only, but rallying communities around common values of self sovereignty."
It wasn't a matter of 'do as I say not what I do' either, at least according to Do Kwon, as he claimed Terraform Labs (TFL) was a beacon of integrity. "TFL always strives toward the highest standard of integrity, and we work to creating environments for our builder peers to do the same," he said in another tweet.
"I've been here for the last five years, and I hope to be building in web3 the same for the rest of my life," he also said, not yet knowing that this would be his last.
Read more: "You're Not Answering the Question": Laura Shin Grills Do Kwon
Even when LUNA came under fire, Do Kwon still claimed to be working with "integrity", tweeting "we are in the process of defending ourselves in multiple jurisdictions – we have held ourselves to an extremely high bar of integrity, and look forward to clarifying the truth over the next few months."
Do Kwon on web3's lack of control
OK, Do Kwon isn't exactly alone in this, but the irony of the LUNA founder celebrating web3's lack of control is not aging well. "Random musing between calls: traditionally successful founders have a hard time grasping the essence of crypto Web2 is about maximizing control – web3 is about relinquishing control," he tweeted in March. "The great transition to democracy left feudal lords in the dust. History repeats itself."
Perhaps he shouldn't have relinquished that much control…
Do Kwon on crypto living on but not exactly helping the process
Do Kwon's 14 April 2022 tweet seems rather innocent on the surface.
"Long live crypto," he simply tweeted alongside an orange heart. However, considering the crypto villain single handedly brought down the entire industry by igniting seemingly inextinguishable contagion, his message wreaks of shameless irony.
Su Zhu
If the collapse of LUNA was the fire that ignited crypto contagion, 3AC's demise was the fuel that spread it. Su Zhu, half of the 3AC mastermind duo, was largely well respected before the world unearthed the truth. As a regular tweeter, Su Zhu never shied away from imparting wisdom to his followers. Sadly, or fortunately, depending on your sense of humour, these "lessons" are still alive on Twitter.
Su Zhu on criminals using crypto
It doesn't get more ironic than this. Sure, we're all aware of criminals using crypto for ill gotten gains, but to hear it from a crypto criminal is next level. "Dont let the boomers gaslight crypto," he advised his followers. "If they ask whether crypto is useful for criminals, reply: Anything which is useful for ppl is useful for criminals bc criminals are a subset of ppl. Enforce existing laws without abridging existing human rights."
Read more: "People May Call Us Stupid": 3AC Founders Break Silence But Say Nothing
In a separate tweet, Su Zhu even went as far as to discourage people from making crypto less useful for criminals. "A corollary here is the less useful you make crypto to criminals, the less useful you make it to ppl also," he tweeted. "In theory when cars were invented, govts couldve argued for the ability to turn your engine off remotely in order to catch more criminals. We must not allow such violations."
Perhaps Su Zhu was several steps ahead, fighting for the rights of criminals such as himself.
Su Zhu also took another swing at boomers, stating "boomers thought Luna1 collapse would take down the crpto industry." Well, they weren't exactly wrong were they?
Kyle Davies
Su Zhu's 3AC partner in crime Kyle Davies loves the limelight and continues to remain at the forefront of media exposure. Recently slamming 3AC liquidators, his most recent quotes are absurd as his the pre-3AC ones, but our focus here today is highlighting his better-forgotten gems.
Kyle Davies on "nocoiners"
The crypto space is still very much in its infancy, and even the brightest industry leaders would be forgiven for not knowing absolutely everything about its current state. However, for crypto villains who ran their companies to the ground, along with everyone's money, it is beyond disappointing to learn that even the higher ups had no clue what they were doing. Yet, Davies was previously quick to call out normies who "know not what they do."
Read more: 3AC's Kyle Davies Slams Liquidators While Su Zhu Quotes Bible
In a tweet in May 2022, Davies wrote "I see a lot of dunking on crypto peoples from nocoiners. Forgive them, for they know not what they do." Well, Kyle, did you know? If you did, you belong in jail.
Kyle Davies on the future of crypto
Criticising Davies for being optimistic about crypto seems futile, but considering his involvement in the space ultimately contributed to the crippling of crypto's future, his messaging encouraging people to remain confident in crypto feels criminal.
"There are many more crypto denominated firms now. Trading firms, exchanges, believers. People who understand the future of freedom and have no reason to sell," he tweeted in March 2022. Ironically, Davies himself was a reason to sell.
In another tweet, Davies wrote, "I view crypto as a 20+ year investment in freedom. The best teams will do phenomenally well regardless of ups/downs in BTC or relative valuations. I prefer to invest continuously in talent." Perhaps he was right in this one… 3AC was a prime example of not being one of the "best teams."
Alex Mashinsky
Alex Mashinsky on Celsius not being a ponzi
Former Celsius Network CEO Alex Mashinsky was obviously an avid supporter of the crypto lending firm. However, his words of support and defence for Celsius have not aged well. Whilst Celsius was not a Ponzi scheme by the traditional definition, its flawed leveraged structure resulted in it collapsing like a house of cards.
"You calling @CelsiusNetwork a Ponzi?" Mashinsky fired back at a Twitter user calling Celsius a Ponzi. "Do you know what we do? We earn our yield, I guess you were not embarrassed to sit next to me on the CNBC interview ? If you have any specific thing you want to air when it comes to Celsius then say it otherwise go pick on the real Ponzi."
Read more: "Very Sorry": Celsius Network CEO Alex Mashinsky Resigns
In another tweet, Mashinsky claimed "Celsius Network improves financial freedom and good will", whilst in another he questioned, "do you know even one person who has a problem withdrawing from Celsius?" Neither have aged particularly well.
Exchanges
Many an exchange have met their maker this year. Whilst we take no pleasure in their demise, we've dug up some of their final tweets of unfounded optimism.
FTX is "fine"
FTX filed for bankruptcy on 11 November 2022, but as late as 7 November 2022, the exchange was declaring it was "fine".
"FTX is fine, withdrawals were slow as we refill hotwallets but have been processing all day," the firm tweeted/lied.
FTX says "there is no need to be upset"
Just days before FTX filed for bankruptcy, the exchange felt it appropriate and seemingly funny to post a meme declaring "there is no need to be upset." Clearly, there was a need.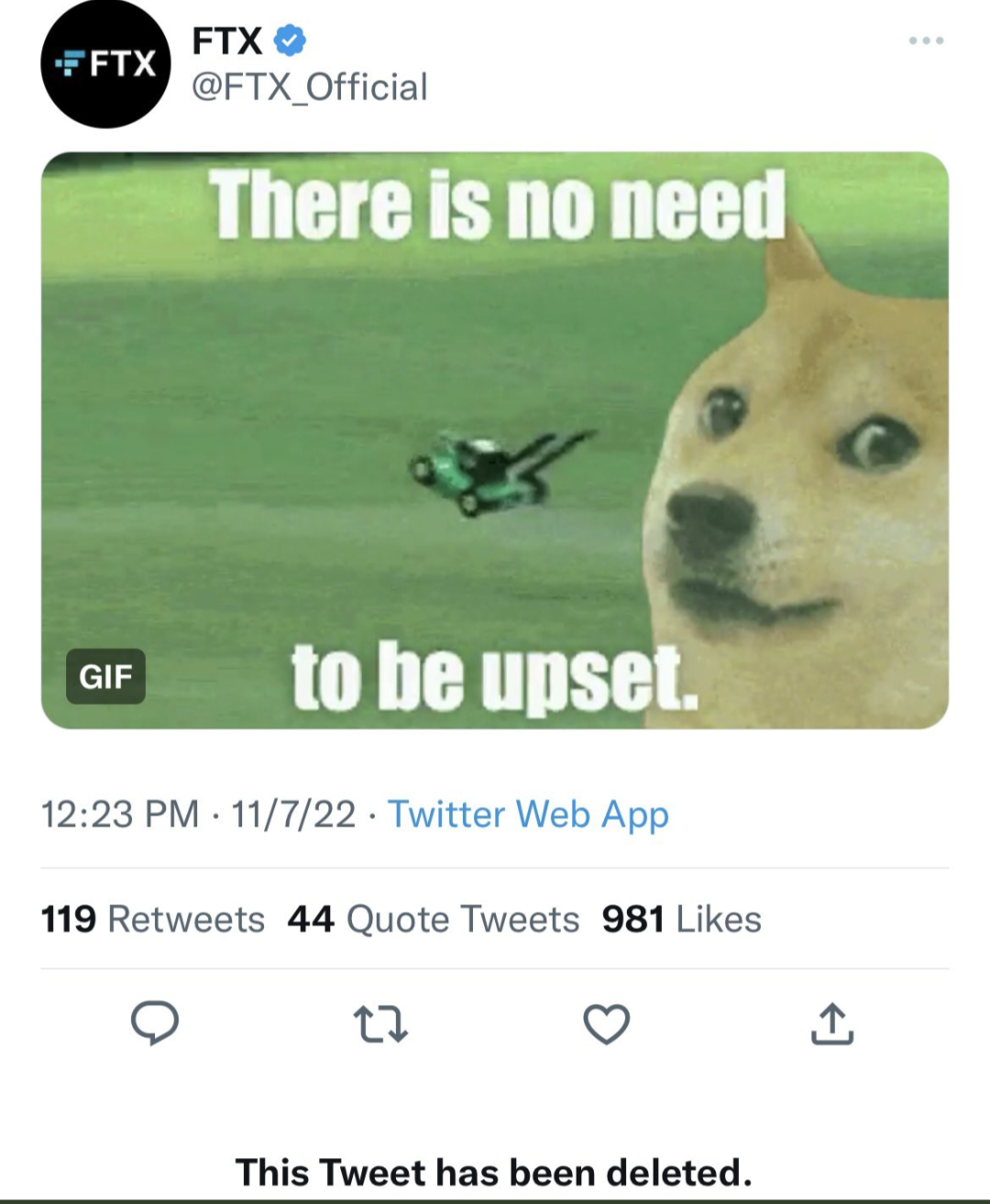 BlockFi surviving until 2023
With FTX already in its coffin, all eyes were on BlockFi, which had already stared death in the face before being valiantly saved by SBF.
In an early November tweet, BlockFi COO Flori Marquez attempetd to convince the market that BlockFi was an "independent business entity" that will "remain an independent entity until at least July 2023."
BlockFi filed for bankruptcy later that month.
Voyager Digital uses Alameda Research to restore confidence
Voyager Digital met its demise in June 2022, with their assets being purchased by Binance in December 2022. Whilst Voyager would not have known the dangers of SBF yet, the crypto brokerage had once used Alameda Research in an effort to restore confidence to the market about their security.
To better serve and protect our customers in current market conditions, today we announced that we signed a term sheet for a $200 million and 15,000 BTC revolving line of credit with industry leader, Alameda Research," Voyager tweeted in June, just ahead of their collapse.
Hodlnaut waits for "Hodlnaut payday" one week before halting withdrawals
Singapore based Hodlnaut unapologetically halted withdrawals on the eve of Singapore's National Day. But if their timing wasn't riling enough, a tweet posted just one week prior to them screwing their customers over teased a Hodlnaut "payday".
"Rainy Monday with a view, waiting for #HodlnautPayDay ☔💰" the firm tweeted on 1 August 2022.
Celsius Network boasts how easy it is to "swap" two days before halting swapping and withdrawals
The irony of Celsius bragging about their "swapping" capabilities just two days before "swapping" their stance to halt "swapping" is timeless. On 9 June 2022, Celsius heroically tweeted, "Celsius helps over a million customers worldwide to find the path towards financial independence."
Two days later on 11 June 2022, the lending platform tweeted, "PSA: Swapping coins with Celsius takes less time than it took to write this tweet."
Two days after that on 13 June 2022, Celsius announced it would be "pausing all withdrawals, Swap, and transfers between accounts."
That tattoo
Saving the best for last, Galaxy CEO Mike Novogratz earns the crown for the most humorous blunder of 2022. Just five days into 2022, Novogratz declared he was "officially a Lunatic", boasting a LUNA themed tattoo, whilst thanking Do Kwon himself. Lunatic indeed.