Table of Contents
Bitcoin and other cryptocurrencies rallied over the weekend, with the world's largest cryptocurrency eclipsing US$21,000 and posting its biggest weekly gain since February 2021.
At the time of writing, Bitcoin (BTC) is trading at US$21,279.96 (+2.69%) while Ethereum (ETH) is trading at US$1,576.60 (+3.41%). Major altcoins such as BNB, Avalanche (AVAX), and Polkadot (DOT) have also been trading in green within the same period.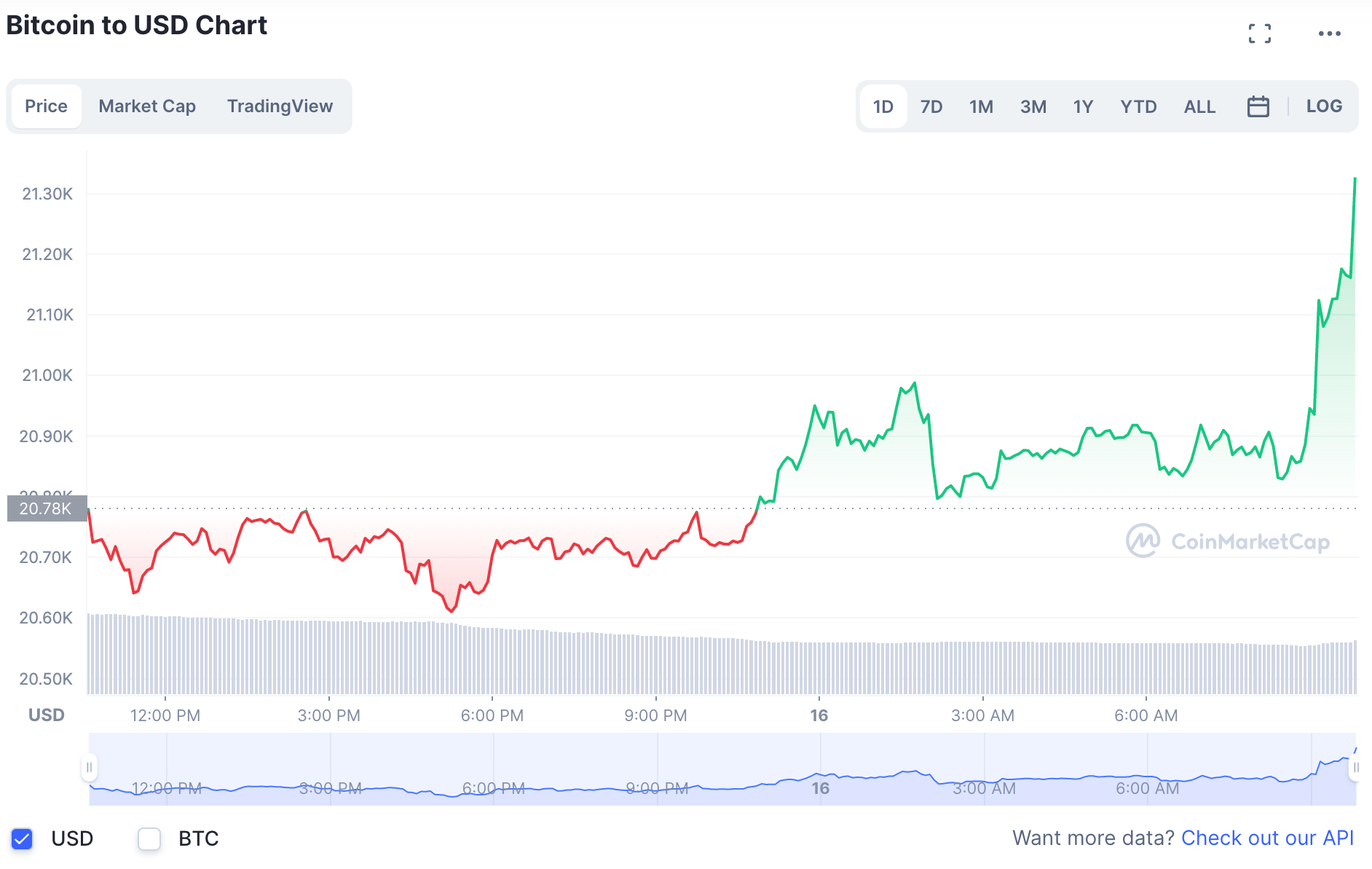 The crypto markets, which have been highly correlated with traditional equities, are likely rallying due to the positive macroeconomic data released by the US Federal Reserve last week. However, investors should also be wary about such sudden spurts of activity, as it can be an indication of traders seeking to exploit short term liquidity gaps left by bigger market participants.
Data also shows that BTC's relative strength index (RSI) is currently more than 70, which indicates that the asset is overbought, with a possible trend reversal or correction on the horizon.
"I believe that we'll have more of an up-and-down all the way through 2023 - and won't experience a sustained pump now. If this disappoints you, sorry, not sorry. I think there is a lack of substance for a real uptrend," Cake DeFi CEO and co founder Julian Hosp said in his email to subscribers on Monday.
Justin Sun eyes DCG assets
Justin Sun is reportedly looking to purchase the assets of Digital Currency Group (DCG), the parent company of embattled crypto broker Genesis.
In an interview with Reuters, the Tron founder and Huobi advisor revealed that he would be willing to spend up to US$1 billion to buy some of DCG's assets, "depending on their evaluation of the situation."
Related: Tron Founder Justin Sun on the Emerging Trends, Challenges, and Opportunities Shaping Crypto
Genesis is currently embroiled in a dispute with crypto exchange Gemini – it owes users of the Gemini Earn program some US$900 million. It was the program's exclusive yield source and sent a lot of those funds on to DCG, which bought some mixture of GBTC and DCG stock.
Earlier this month, Cameron Winklevoss, co-founder of Gemini, wrote an open letter earlier this week to Barry Silbert, chief executive of DCG, Genesis's parent company, accusing him of "bad faith stalling tactics," claiming that DCG owes Gemini a total of US$1.675 billion. Winklevoss has so publicly demanded the removal of Silbert from his position as DCG CEO.
Genesis halted withdrawals in November, citing heavy exposure to 3AC and FTX. Last week, it laid off almost a third of its workforce, which now stands at 145 employees
CyberX receives US$15 million boost
Hong Kong-based digital assets market maker has announced the completion of a US$15M Series A+ funding round from Foresight Ventures.
According to a press release, the company plans to use the funding to expand its team in Asia and North America, integrate more exchanges and DeFi protocols into its liquidity network, and strengthen its trading infrastructure.
"Liquidity is fundamental for further developments in this nascent crypto industry. It is pivotal to have experienced market makers like CyberX to retain market efficiency," said Forest Bai, CEO of Foresight.
"We believe CyberX has the advanced technology, experienced team, and extensive market knowledge to emerge at the forefront of the competition, which is why we have made this substantial investment of $15M into their future," he added.
Founded in 2016 by a group of ex-Wall St professionals, CyberX now has offices in the US Canada, Hong Kong and Singapore.
According to CyberX, its trading volume has increased nearly 10 fold in the past year, and its liquidity network has grown its daily trading volume to US$400 million, which includes more than 30 venues and 5,000 tokens.
Blockchain.com cuts jobs
Blockchain.com is cutting its workforce by 28%, acounting of over 100 staff. The layoffs follow Blockchain.com's 150 staff member cut in July last year.
"The crypto ecosystem is facing significant headwinds as its course corrects from the challenges of the last year," said a Blockchain.com representative.
"To better balance product offerings with demand, we've made the difficult decision to reduce operating costs and headcount to right-size the company."
Last week, Crypto.com also announced job slashes of around 20%, approximately 1,000 staff.
Read more: Crypto.com Slashes Jobs as Industry Struggles Continue
India's central bank wants to ban crypto
Reserve Bank of India (RBI) Governor Shaktikanta Das has compared cryptocurrencies to gambling and said that they should be banned completely.
Speaking at Business Today's Banking & Economy Summit in Mumbai on Friday, Das said that the RBI's position is "very clear" and "all cryptos should be banned". However, he also maintained that the "technology of  blockchain" has to be supported due to its many applications.
"The volatility in prices is based on the make-believe concept where a particular crypto's price can go up or down. So, anything that comes without any underline whose valuations is entirely dependent on make-believe is just 100 per cent speculation or it can be bluntly termed as gambling," Das added.
Last month, Das warned that private cryptocurrencies could cause the next financial crisis if they continue to be unregulated.
"It [trading private cryptocurrencies] is a hundred percent speculative activity, and I would still hold the view that it should be prohibited … because, if it is allowed to grow, if you try to regulate it and allow it to grow, please mark my words, the next financial crisis will come from private cryptocurrencies," he said.
Das' comments come as the central bank pushes to introduce its own CBDC (central bank digital currency). In December, the RBI commenced the testing of its retail CBDC, the e₹-R (e-rupee), in Mumbai, New Delhi, Bengaluru and Bhubaneswar, with the initial participation of four banks, including the State Bank of India, ICICI Bank, Yes Bank and IDFC First Bank.
Read more: Inside India's Growing Web3 Ecosystem
Trading Volume
2022's bloodbath saw crypto's market capitalisation stuck below the trillion-dollar mark for most of the year. However, crypto's recent rally has sent the crypto market cap above US$1 trillion again.
According to data from CoinMarketCap, the total crypto market volume over the last 24 hours is US$46.67 billion, a 32.78% decrease.
Fear & Greed Index
The index uses 5-6 measurements to assess the current sentiment of the market and then rates that level of emotion on a scale of 1-100 – 1 is extreme fear and 100 is extreme greed.
Risk appetites in crypto have improved – the Crypto Fear and Greed Index currently stands at 45, indicating "neutral". Today's score is a significant and sudden improvement from last Friday's score of 31.