A leaked affidavit has revealed that Genesis Asia Pacific, a subsidiary of Digital Currency Group, is the biggest creditor of embattled crypto hedge fund Three Arrows Capital (3AC), having provided the now insolvent firm with a US$2.36 billion loan that was under-collateralised and had a margin requirement of 80%.
According to the 1,157 page-long court document, a loan totaling US$2,360,302,065 was agreed between Genesis and 3AC on 10 January 2019 and 24 January 2020. The loans were collateralised with more than 17 million shares of Grayscale Bitcoin Trust, over 400,000 shares in Grayscale Ethereum Trust, as well as approximately 2.7 million AVAX tokens and 13.6 million NEAR tokens – all of which have been liquidated by Genesis.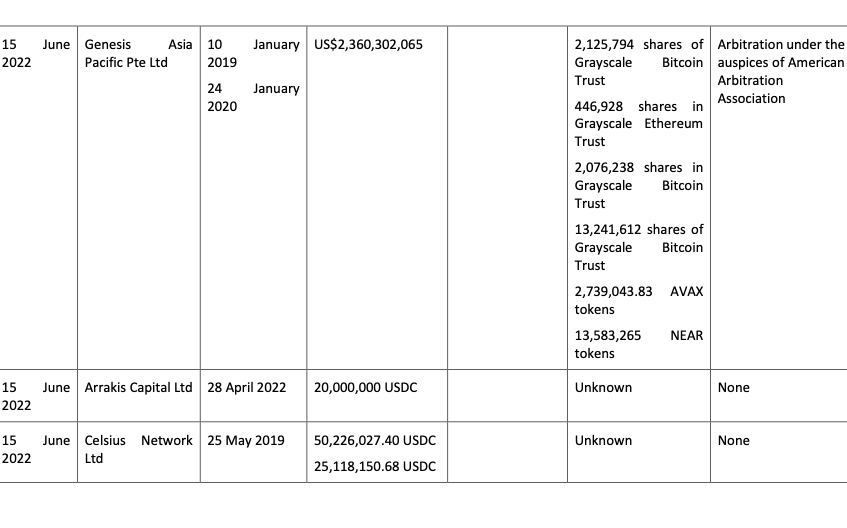 Correspondence between Genesis and 3AC shows Genesis issuing a margin call to 3AC on June 13, asking 3AC co-founder Kyle Davies to acknowledge the developments. While Davies did reply to the emails, it is unclear if any action was taken and Genesis eventually issued a Notice of Default on June 13, stating that 3AC was in breach of its obligations under both loan agreements.
The affidavit also revealed that on the same day (June 13), Davies informed Blockchain.com's chief strategy officer Charles McGarraugh that he tried to borrow another 5,000 BTC (valued at approximately US$125 million at that time) from Genesis to pay a margin call to another lender.
It's believed that 3AC currently owes US$3.5 billion to creditors, which means that over 67% of 3AC's debt is owed to Genesis. The firm has since sought preliminary injunctive relief, and has requested an emergency arbitrator to order 3AC to place US$1,105,191,619 of "outstanding unsecured borrowings" in escrow for the length of the arbitration proceedings, along with another US$28 million in unsecured loan fees, late fees and alt tokens in escrow until the resolution of the arbitration – to protect what Genesis concedes are "unsecured lending positions".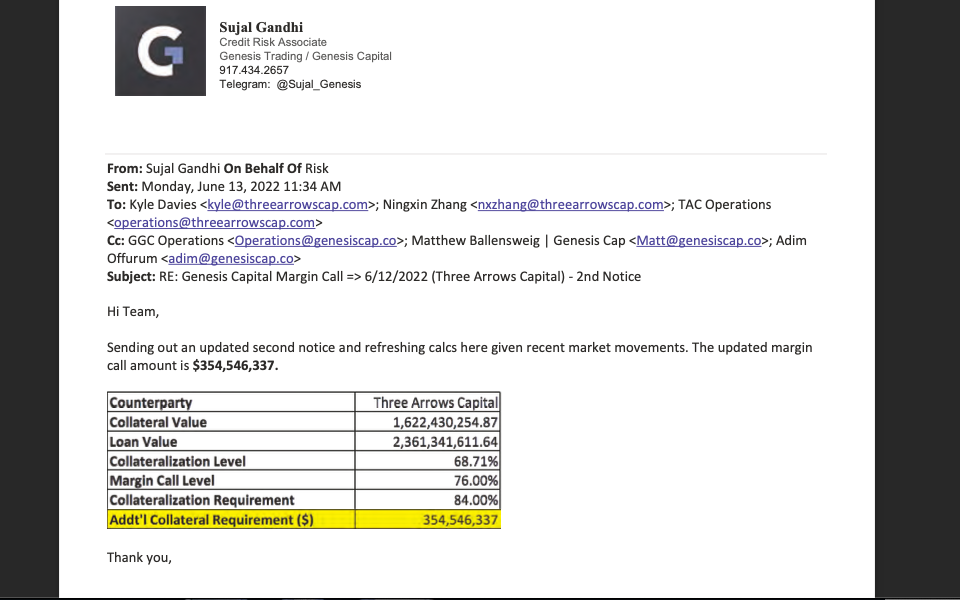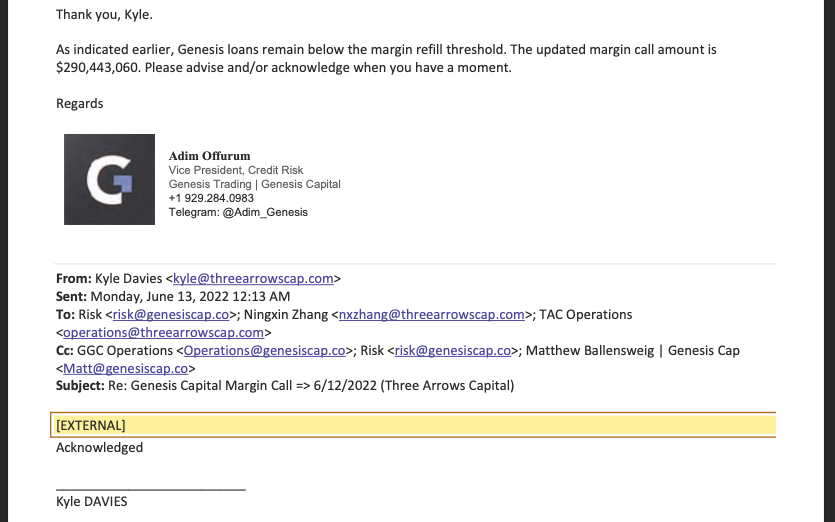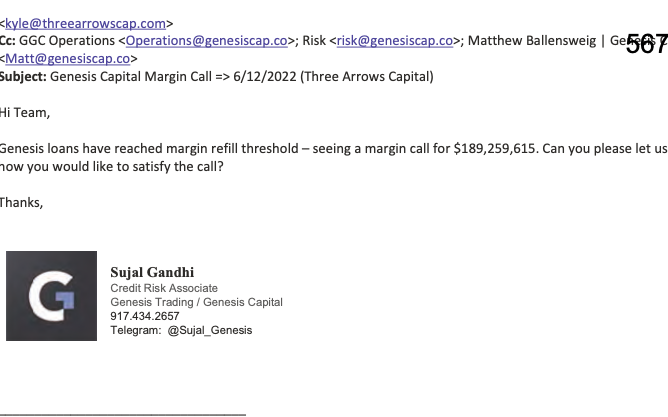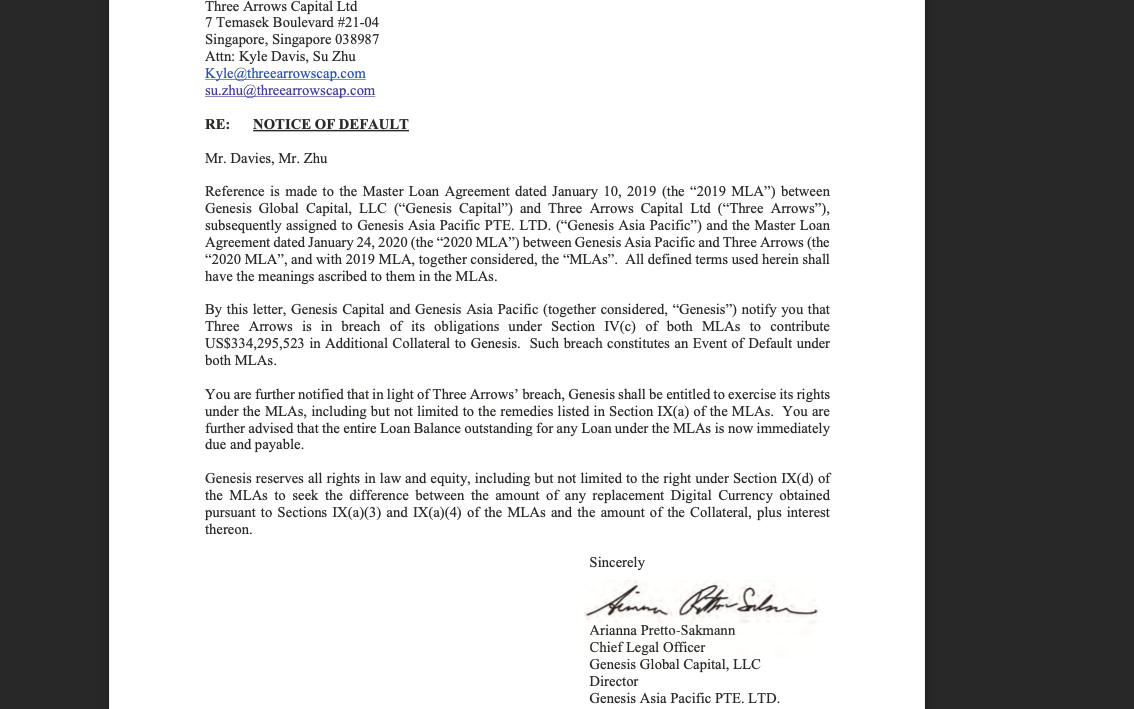 Other creditors of 3AC include Celsius Network and Voyager Digital, which have both filed for bankruptcy in recent weeks. Deribit, a crypto derivatives exchange, has a US$80 million claim filed under the entity name DRB Panama Inc. Co-founder Su Zhu himself also submitted a US$5 million claim, while Chen Kaili Kelly, the wife of Davies and a majority shareholder of Three Arrows Capital BVI (British Virgin Islands), filed a claim of about US$66 million. The whereabouts of both Zhu and Davies remain unknown.
3AC's troubles first emerged during the Terra (LUNA) implosion, which caused cascading liquidations and huge financial losses across the crypto markets. Davies later admitted that 3AC bore a loss of roughly US$200 million following Terra's collapse, although reports have speculated that the fund's exposure was around US$560 million.
Read more: Mansions, Yachts; 3AC Affidavit Offers Look at Founders' Lavish Lifestyles