Table of Contents
Brace yourselves, World Cup fever is upon us, and its no surprise that its spilling over into crypto given that 70% of crypto investors will be watching the 2022 FIFA World Cup according to a Kucoin report. With the world cup starting next Monday, we've decided to put in some football themed findings on how Web3 has been implemented into football. (and, yes it will be referred to as football and not soccer for the remainder of this article).
Additionally, 48% of those World Cup watching degens investors are gearing up to trade sports fan tokens during the FIFA world cup. But how exactly are crypto investors related to football? Among the crypto community who were interested in sports, 24% of crypto investors were reported to have chosen football as their sport of choice.
Read more: Nike, Adidas Gear Up For a Web3 World Cup With NFT Branding
In case you weren't aware, both Binance & Kucoin have dedicated pages on their websites to trade fan tokens. Needless to say, football is big business here. There is even a Football Fan Token Index on Binance that trades the 10 top European football team fan tokens. However, the fan tokens segment is competitive, and MEXC has the lead in recent trends, showing up with fan tokens from the national teams of Portugal, Argentina, Brazil, Spain & Peru.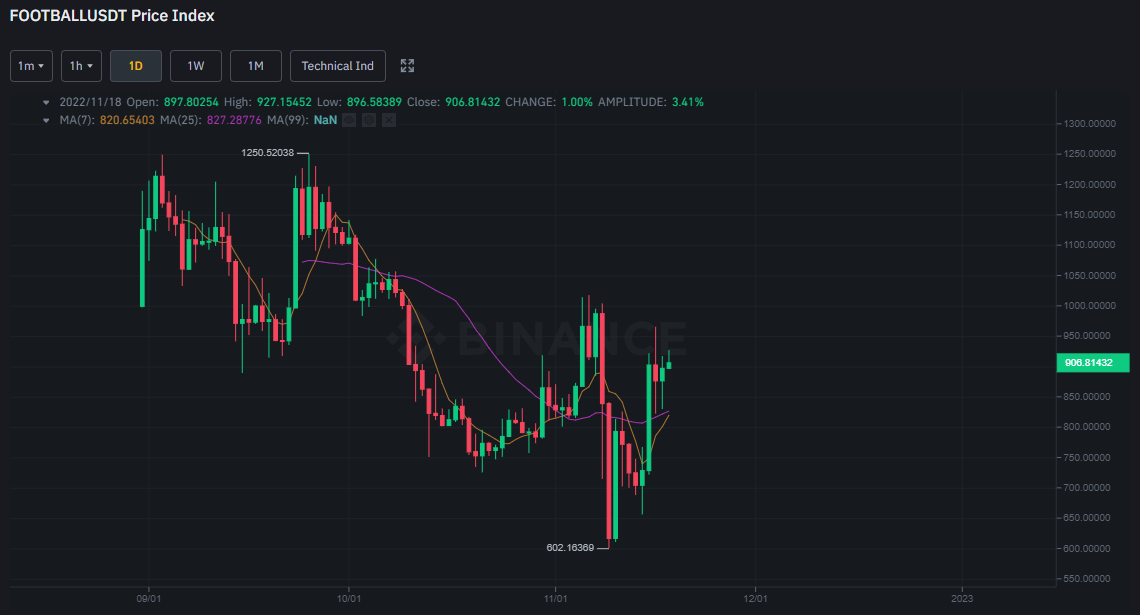 Investing into sports NFTs were also shown to be of recent interest albeit not as much as trading the fan tokens. 35% of football fans among crypto investors have been trading NFTs, and another 42% of crypto investors were interested in getting a sports NFT on their own.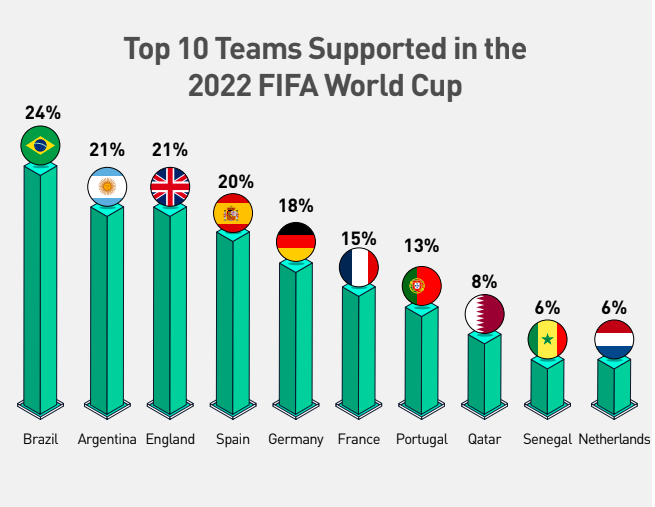 Now that we've got the validation stats out of the way, lets talk about application in world cup marketing. FIFA has 3 main collaborations with Web3 companies. They are Algorand, Crypto.com & Roblox. Each of them were selected to solve different verticals in their Web3 related campaigns and in exchange, they get the chance to slap the FIFA sticker all over their branding.
Algorand for blockchain onboarding – Hit ⚽
Algorand was announced as the official blockchain partner for FIFA back in May 2022, and the deal would have Algorand support FIFA in blockchain-supported wallet solutions. At the same time, help develop FIFA's digital assets strategy as Algorand becomes a Regional Supporter in the World Cup for North America & Europe. This was big, as this would be FIFA's first entrance into the world of blockchain.
Algorand's answer to this, was an NFT trading platform called FIFA+ Collect. It comes with a built in browser wallet onboarding solution that is tied to your email address. Very seamless & frictionless. It serves as an onboarding strategy, looking to bridge existing FIFA fans into the collectible NFT world. The NFTs here are cool and flashy. Viewable on the marketplace, the NFTs are collectible highlight videos on some of the best moments in FIFA world cup history.
The monetization happens in the form of booster pack NFTs, where fans can buy a pack for US$ 9.99 for 3 random NFT video highlights, randomly selected from "FIFA's legendary 92-year history". In all honesty, this feels like a traditional in-app purchase model for booster packs. The closest comparison that comes to mind would be the FIFA Ultimate Team game title because the NFTs you own, serve as tickets to complete puzzle-game challenges that rewards you with even more NFTs.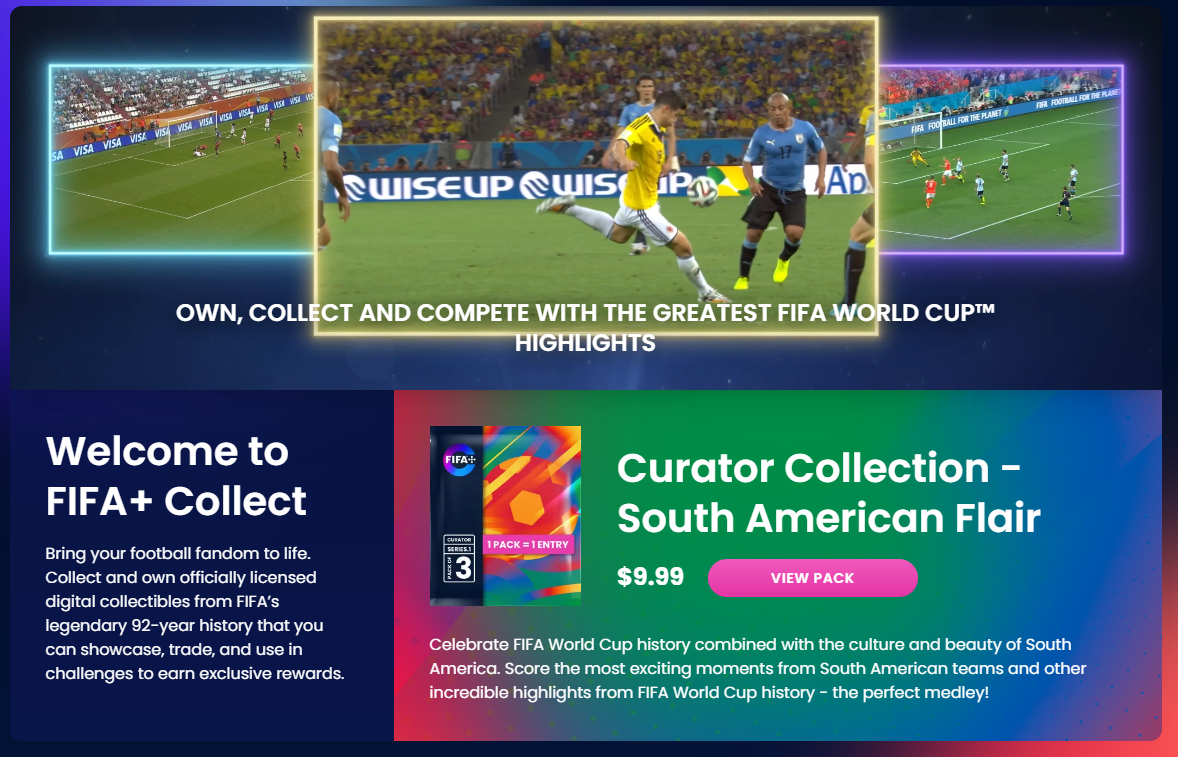 Crypto.com for Awareness & Engagement – Hit ⚽
Singapore-based exchange platform Crypto.com was selected as an Official World Cup sponsor early in the first half of the year in March. Their partnership here is abit more traditional and uses mass awareness strategies on the marketing, leveraging on the user base and experience that Crypto.com has in being major sponsors for other Tier 1 global sport events.
The first strategy they've announced, is a partnership with YouTuber, Thogden, to attempt attending all 64 games in 28 days in an engagement campaign called the "Impossible Challenge". Thogden has over 1 million subscribers and an average reach of 120k views per video upload.
According to the press release, the Impossible Challenge "will capture Thogden's epic challenge as he races across Qatar in his audacious attempt to see every game live. Packed full of adrenaline and adventure, daily videos will showcase the best of the tournament's atmosphere on the ground and the challenges of trying to get to four games a day and even, occasionally, two simultaneous matches."
Read more: Crypto.com Favours the Shib as FUD Ensues Post-FTX
The second strategy is more online to offline strategy with Visa card for also, an NFT activation campaign that will live on Crypto.com's platform. The mechanics around the campaign, is a charity auction for 5 video NFTs of iconic goals followed by the offline element of a digital space, where fans can capture themselves moving before it gets showcased as a digital representation at a dedicated physical location. Nothing too spectacular here, but the Impossible Challenge should be a bit of entertainment to watch.
Budweiser Budverse NFT Hype Activation – Hit ⚽ & Yellow Card 🟨
Budweiser joins the FIFA campaigns with a limited edition 'Live scoreboard NFT" campaign. The idea with these are that you can monitor the game through an animated 3D Budverse NFT, in case you're not able to watch the game live, for whatever reason.
The partnership was announced in September for Budweiser to be the official beer partner for the 2022 FIFA World Cup. Not quite sure what to think of this one given that drinking beer during matches is only allowed in dedicated areas inside the stadium. Everywhere else and especially in the crowd seating areas is considered haram so this gets a yellow card.
However when it comes to value and fan experience, this is a hit. The fan-experience here is quite interesting as it promises a whole bunch of rewards and perks from winning luxury 5 star hotel stays to world cup finals packages. To keep customers engaged, it the NFTs come with an online mini-game and merchandise redemptions during the world cup period that supposedly, has a global reach.
Read more: Crypto's Focus on Sports Advertising Reinforces Its Dude-Culture
The press release for this hopes to heighten the fan experience and to set a precedence for NFTs to go mainstream as it continues adoption within global brands. We'll have to see how this plays out but taking a glance at their campaigns, they seem to be killing the game with existing collaborations with football superstars like Raheem Sterling and Lionel Messi.
Roblox for… early metaverse adopters? – Miss ❌
Roblox fits into the final piece of the campaigns with an agreement signed in October, and if you're still here, I've saved the best for last. In a one liner, FIFA's world cup game is just some Roblox nonsense with bowling. The collaboration was meant to be a jump into melding football and the metaverse but it somehow failed quite spectacularly.
The strategy here was obviously designed for the young Roblox user in mind, where their 50 million daily active users have a higher threshold for low quality game acceptance. In here, users trade their time in exchange for pixels and customisable World Cup kits. The game element, plays more like a round of mini golf sprinkled with floating Visa coins on the course.
Given the social element of games, the monetization strategy banks on flexing your football kits to induce FOMO into your friends, causing them to purchase Roblox tokens with their parent's credit card. The FIFA World game event has also received reviews on Youtube that it is poorly made with bugs featured with slow, repetitive gameplay.
In the press release, Barcelona and Spain midfielder Pedri said "It's incredibly exciting to see FIFA and Roblox come together, I can't wait to be a part of FIFA World as it continues to evolve! The football fans I see in the stands every week love gaming."