Table of Contents
All this FTX drama may be stealing headlines, but lest we forget that the World Cup is starting next week, and we cannot contain our excitement.
Altough not directly linked, the timing of Nike and Adidas's web3 announcements are surely not coincidental of World Cup anticipation.
Just swoosh it
Nike has announced the debut of its new metaverse platform ".SWOOSH." According to its website, ".SWOOSH is a new community experience, designed to give you the opportunity to co-create the future of Nike."
The platform will enable users to "create, collect, trade and flex" their digital collections including wearables and immersive experiences.
Falling under Nike Virtual Studios, .SWOOSH will allow users to have access to real world events.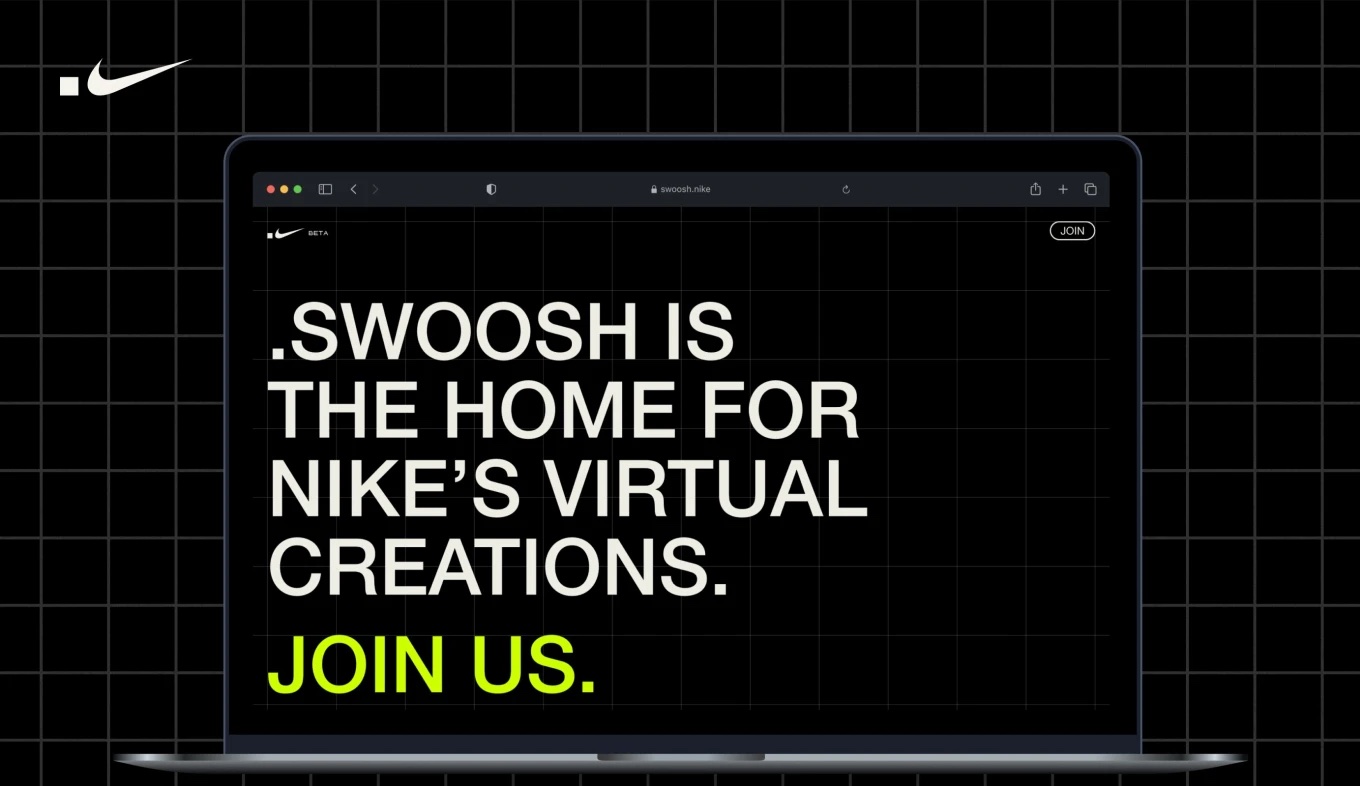 The platform isn't the brand's first foray into web3 however. In December 2021, Nike acquired digital studio RTFKT to "extend Nike's digital footprint and capabilities."
To create .SWOOSH, Nike consulted with the RTFKT team. "We've learned a lot from our friends at RTFKT about how to do this right," said Ron Faris, GM of Nike Virtual Studios. "We talk to them weekly about what are the best practices and how we can start to take certain learnings and really broaden them."
Faris worked as the VP of Nike's SNKRS app and was brought on to lead Nike Virtual Studios in January.
.SWOOSH is currently in an invite-only beta. Nike is inviting its most engaged customers, remote cities that seldom have first access to new tech and partners from diversity, equity, and inclusion groups. Users will be able to claim their .SWOOSH handle by registering their own domain from Friday.
Faris also added that .SWOOSH will not be selling anything, at least for the meantime. "We're not gonna sell stuff right away," he said. "We really want to be careful and thoughtful about how we invite the community in. And so we're going to start with a month of education—a six-city tour where we'll be going to select spaces to help educate."
Indigooooals
In a more subtle blink-and-you'll-miss-it nod to its web3 emrbace, Adiadas has released a promotional trailer ahead of the World Cup featuring their very own BAYC.
The German sports giant purchased  BAYC #8774 AKA Indigo Herz in September 2021 for 46 ETH (US$156,000 at the time).
In the promo trailer, Herz is seen on a cereal box called "Indigoooooals" that Real Madrid forward Karim Benzema eats for breakfast. The ad also features Dortmund's Jude Bellingham and the legendary Lionel Messi, and is narrated by British rap icon Stormzy.
Whilst the BAYC inclusion is some what of an Easter egg, it demonstrates the utility offered by Yuga Labs to its holders, which agrants them full IP rights.
Adidas is also set to unveil its Capsule Collection NFT later this week. The brand has been working on metaverse products since December 2021 with the help of Bored Ape Yacht Club, PUNKS Comic and gmoney.
"Into the Metaverse NFT Phase 1" granted physical utility including exclusive clothing, which has since sold out. Phase 2 will see more physical merch and is expected to offer even more IRL utility.
Sports' budding web3 relationship
Crypto and sport have maintained a strong relationship and even throughout crypto winter. With Crypto.com taking over the Staples Centre, the NBA partnering with Coinbase, ByBit signing a multi-year deal with the F1, and OKC parading the Manchester City team in awkward adverts, the relationship doesn't seem to be dying anytime soon.
Understandably, leading sports brands such as Nike and Adidas want their piece of the pie too. However, whether the metaverse and web3 can win over sports fans is yet to be seen. At the moment, crypto brands partnering with sports teams seems like a flex, whilst Nike and Adidas toying with web3 and metaverses could go either way – just ask Zuckerberg.
Nonetheless, Nike and Adidas's announcements this week is a refreshing break from the chaos ensuing in the market, and serves as a reminder that innovation is still rampant in web3.