Backlash against web3 gaming is falling on deaf ears in Japan as Konami and Sega are pushing forward with blockchain developments.
Konami, the powerhouse behind AAA titles such as the Castlevania, Metal Gear and Silent Hill franchises, has announced it will introduce web3 and metaverse technologies into its games.
The developer isn't taking the foray lightly either, opening 13 different job openings for three departments to spearhead the new projects. Konami said these openings will "provide new experiences such as Web3 and Metaverse."
NFTs are also on Konami's radar too as it plans to "launch a service where players can trade their in-game NFTs (digital items) through a unique distribution platform using blockchain."
Meawhile, Sega is also launching its first blockchain gaming project. The Sonic developer is basing the new game on the Sangokushi Taisen franchise, allowing players to use virtual cards in the virtual field.
double jump.tokyo will build the game using Oasys blockchain, but has not revealed exactly how blockchain technology will be implemented into it. Final Fantasy developers Square Enix also recently partnered with Oasys in similar manner too.
"The participation of Japan's traditional gaming giants is key to the flourishing of the blockchain gaming industry. They are holders of globally recognised IPs that can be leveraged as a source of value in blockchain games", Daiki Moriyama, director of gaming blockchain Oasys, told Blockhead.
Levelling up or game over already?
Web3, NFTs and blockchain have long been on the tip of the tongues of Japanese gaming companies, but their foray has been met with nothing but backlash from their immediate communities.
When Konami announced the Konami Memorial NFT collection, featuring 14 unique artworks from the Castlevania series to celebrate its 35th anniversary, fans loudly expressed their disapproval.
"If there's one thing Konami excels at, it's desecrating beloved franchises and spitting on their fans", one concerned gamer tweeted in response to Konami's NFT announcement.
"Just to set the record, fuck NFT's and fuck off Konami with this shit!!!" a rather angry fan tweeted.
However, despite the pushback, Konami's NFT collection sold rather successfully in January. With an average NFT price of US$12,000, the 14 NFT Castlevania artworks earned over US$162,000 in Konami's debut's NFT auction.
Dracula's Castle map from the original Castlevania game alone sold for 7.72 ETH = a whopping US$26,538.96 at the time.
Capcom also enjoyed similar success in the crypto space. Collaborating with WAX to release a Street Fighter 2 themed NFT trading card game collection, NFT sales reached US$7,355. Considering only 1,000 packs containing 10 NFTs were released at US$100 each, sales were remarkably high. One card featuring fan favourite fighters Ryu and Chun Li sold for 8,000 WAX (US$2,676).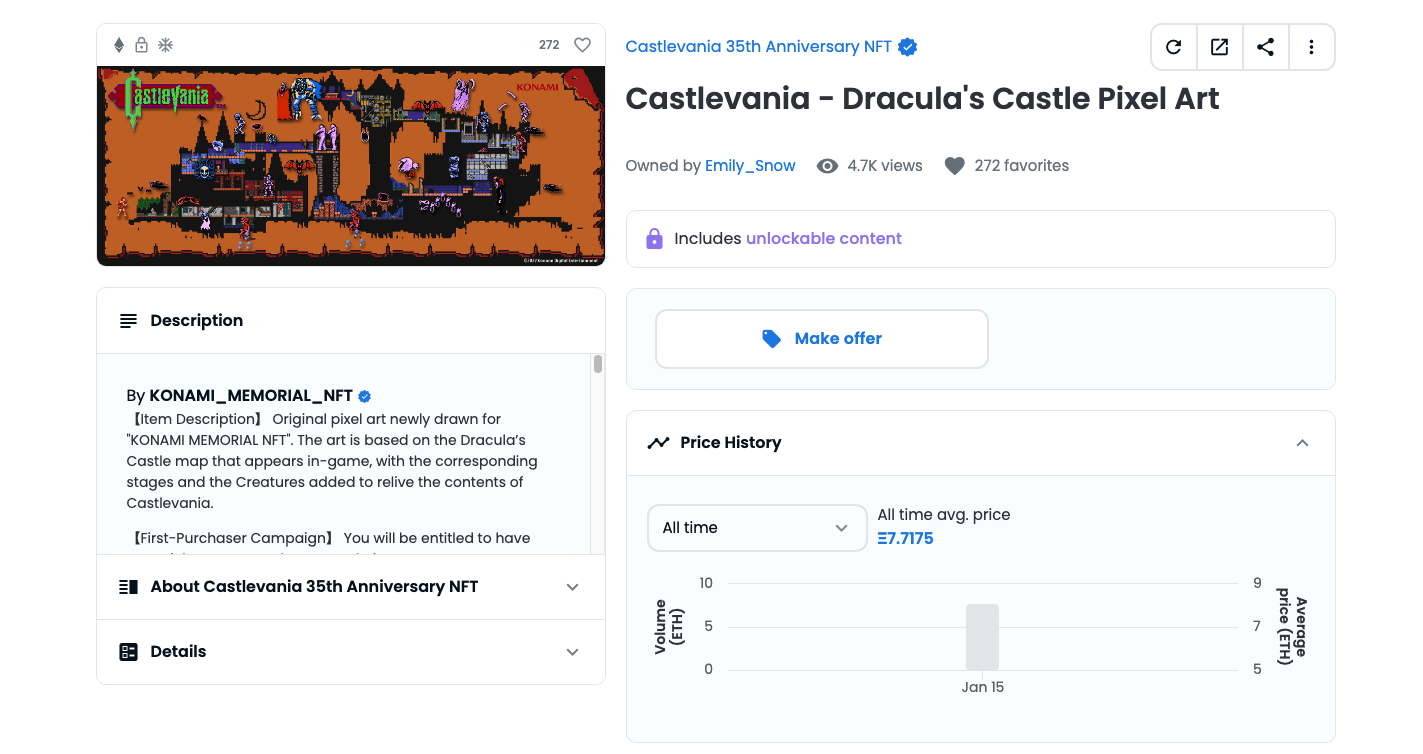 Respawning in web3
Initial backlash towards web3 and NFTs was fierce from traditional gamers. However, NFT sales figrues tell a different story. Konami, which had been a once-loved Japanese developer had already found itself in the gaming community's bad books over recent years.
Severing ties with Metal Gear creator Hideo Kojima in 2015 and shamelessly reducing its classic titles to pachinko machines have irreversibly soured Konami's fanbase relationship.
Nonetheless, fans seemed to have flocked towards the Castlevania NFTs. Esport.net's gaming report points towards Japanese culture and the wants from collectors as a driving force behind the NFT demand.
"Within Japan, people of different ages and walks of life engage with the collector culture that has sweeped the nation for many decades now," the report states. "Whether it be physical or digital, the Japanese enjoy the ownership of their favourite brands, characters etc."
According to Moriyama, Japan's Web3 market environment is unique in that the sense that the blockchain gaming industry was slow to launch and none of the Japanese companies had created their own chain.
"Unlike in South Korea where major game developers had built their individual chains thus hindering the coming together of the industry, there is an opportunity for blockchain gaming players such as Oasys, with the backing of both traditional and crypto gaming firms, to help facilitate the industry's transition from Web2 to Web3", he said
If a company with as much hate behind it as Konami can find new life in web3 and thrive in the NFT space, fan favourites like Sega may just reap success in the field too. That said, we're yet to see whether the NFT gaming market is sincerely comprised of traditional gamers, or just NFT degens playing their usual flipping game. Either way, Japanese gaming companies resilient web3 push is certainly worth watching.