Bitcoin and other cryptocurrencies traded side ways throughout the week, with Bitcoin briefly touching US$43,000 before paring gains.
At the time of writing, Bitcoin (BTC) is trading at US$40,559.60 (-2.73%) while Ethereum (ETH) is trading at US$2,998.78 (-3.18%). Altcoins such as the SoLunAvax trio have also been trading in red over the past 24 hours.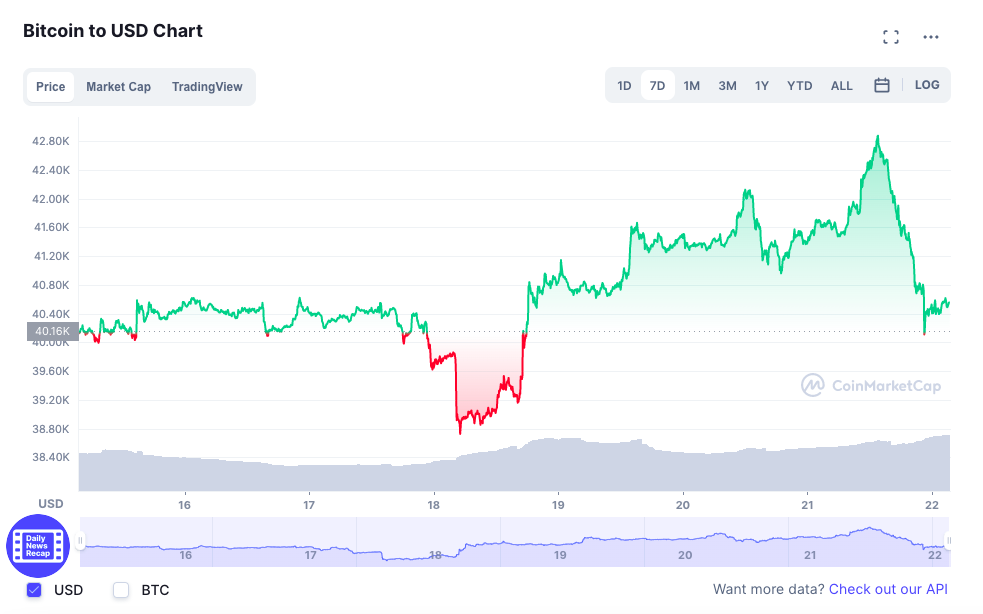 Investors remain skittish over the tightening of monetary policy. On Thursday, Federal Reserve Chair Jerome Powell said that the raising the benchmark U.S. interest rate by 50 basis points "will be on the table" for the next Federal Open Market Committee (FOMC) meeting in May.
Moonbirds, a collection of 10,000 pixelated-bird NFTs, has become the top NFT collection on OpenSea with over $281 million in sales volume.
Interest in the collection was mostly due to the people behind it: the Proof Collective – a group of 1,000 well-known NFT collectors. Members include include artist Mike Winkelmann (aka Beeple) and Gary Vaynerchuk.

Sales of Moonbirds accounted for nearly 40% of OpenSea trading volume over the past week, with more than US$110M worth of Moonbirds changing hands on Apr 16 alone.
The collection's floor price has already exceeded that of the more established MAYC (Mutant Ape Yacht Club) NFTs.
Germany has been named the world's most crypto-friendly country, overtaking the city-state in Coincub's global rankings for Q1 2022.
Crypto-friendly countries are those that actively create a legal framework in which cryptocurrency can thrive, while boosting consumer confidence and reducing the risk of fraud.
Singapore dropped to second place due to government decisions to restrict crypto services advertising by Virtual Asset Service Providers (VASPs) outside of their websites and a clampdown on Bitcoin ATMs. The country ranked highly in institutional acceptance, financial services, wallet availability, crypto spending, regulation, bank crypto activity and transparency, but fell short in DeFi acceptance.
In recent months, Dubai has emerged as a possible haven for the global crypto industry, with major players such as Crypto.com, FTX, and Binance all setting up shop in the gulf nation.
The price of ApeCoin surged on Wednesday following rumors that the altcoin could become a key payment token in BAYC's metaverse land sale.
On 20 April, APE soared 28% to over US$17, rebounding from its three-day low of less than US$11. Over the period, APE gained 55%.
Rumors have it that BAYC and Mutant Ape Yacht Club (MAYC) NFT owners might receive virtual lands on Yuga Labs' Otherside metaverse platform and that public land sale will be priced in APE.
However, Apecoin has steadily declined over the past 24 hours, and is currently trading at US$13.97 (-11.7%).
Trading Volume
The global crypto market cap is US$1.88 trillion, a 2.47% decrease over the last day.
The total crypto market volume over the last 24 hours is US$106.72 billion, which makes a 17.51% increase. The total volume in DeFi is currently US$13.89 billion, 13.02% of the total crypto market 24-hour volume. The volume of all stable coins is now US$90.44 billion, which is 84.75% of the total crypto market 24-hour volume.
Fear & Greed Index
The Crypto Fear and Greed Index uses 5-6 measurements to assess the current sentiment of the market and then rates that level of emotion on a scale of 1-100 – 1 is extreme fear and 100 is extreme greed.
The current score of 26 (Fear) is a significant change from Monday's score of 24 (Extreme Fear). More volatility should be expected as risk appetites remain sapped.