The Malaysia Digital Economy Corporation (MDEC) recently announced in a media release that its Malaysia Digital Content Festival 2023 (MYDCF) will be held from 27 September to 1 October at the Kuala Lumpur Convention Centre.
MYDCF is a merging of core regional digital content and gaming events, namely LEVEL UP KL, Kre8tif, and IMMERSE KL. The five-day festival is an integral lead-up to serve MDEC's upcoming MDX 2023 event, which aims to seal Malaysia's position as Asean's unrivalled digital hub.
Mahadhir Aziz, MDEC chief executive officer said the event "presents a
unique blend of creativity, innovation, and industry expertise. Aligning with the
Malaysia Digital (MD) national strategic initiative and PEMANGKIN programmes, this event provides an exceptional platform for collaboration and inspiration."

The festival promises an unmatched experience celebrating gaming showcases,
tournaments, animation screenings, exhibitions, digital comics displays, workshops and immersive technology demonstrations.
MYDCF's media partners include Digital Braves, Animation Xpress,
Kakuchopurei, XGA Media, Blockhead, and 80LV. RTM serves as the strategic
broadcast partner, while Unifi is the official technology partner for MYDCF. Xbox is the official sponsor of LEVEL UP KL Indie Zone.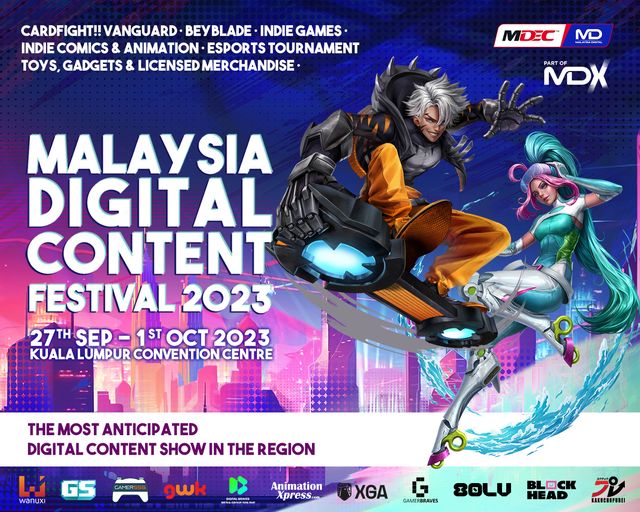 MYDCF Highlights
B2B Conference (27–29 September): Exclusively tailored for industry
professionals, the conference offers a platform for networking, insights from
experts, and exploring potential collaborations.
SEA Game Awards and SEA Kre8tif Awards (28–29 September):
Recognising excellence in games and animation films across ASEAN,
celebrating creativity and innovation in Southeast Asia's digital content
landscape.
XR Asia Summit (27–29 September): In collaboration with Broadcast
Elements, experts and enthusiasts gather to explore the latest advancements
in Virtual, Augmented, and XR domains.
Find the full line up and itinerary for MYDCF on their official social media page here.
Pudgy Penguins announces their Malaysia Schedule
Pudgy Penguins Malaysia recently announced the main team's visit to Malaysia happening in the middle of September. The three-day schedule lovingly named "Pudgy Boleh," promises the Web3 community a meet with Pudgy Penguins CEO Luca Netz.
For the uninitiated, @lucanetz is a well known figure in the global Web3 NFT community for famously turning the Pudgy Penguins NFT collection into a global IP and toy collection. The toy collection debuted with an astounding $500,000+ sales within 48 hours from launch, which quickly positioned himself as a respected Web3 leader for harnessing the potential of NFTs.
The three-day schedule posted on the official community page, is an open invitation to the community packed to join other Pudgy Penguin holders with activities that range from dinners to go-karting.
However, if community events aren't your thing, the team are also hosting a more formal event in collaboration with MDEC for Netz to deliver a keynote and a fireside chat about his journey into turning the NFT brand into a tangible global IP sensation.
Upcoming Events

6th September, Wednesday, 7:45 PM: Lepak session with Kleros: Let's Talk Governance in DeFi, SS 15, by Eth KL

8th September, Friday, 8:00 PM: Web3 Wave: The Future of the Internet, Boci Bar One, Petaling Jaya, by ICP
18th September, Monday, 11:00 AM: Pudgy Boleh! Event#4 - Building A World Class IP Via Blockchain & Mass Adoption with Luca Netz, Pudgy Penguins & MDEC , Common Ground Bukit Bintang, by Pudgy Malaysia
27th September, Wednesday, 10:00 AM: Malaysia Digital Content Festival 2023, KLCC, by MDEC