Table of Contents
Over the past weeks, the APAC region saw a deluge of Web3 deals, conferences and side events with a focus on VCs and founders to be matched with the right partners. Conference season is coming to an end, and middleware and investment DAO founders have had their thirsts quenched after raising liquidity to keep afloat.
The needle in the region seems to be moving back to the bear market narrative and transitioning from "RAISE FUNDs" to "BUIDL MODE". While most hungry crypto networkers have been served the best meals of APAC conference season, Master chefs @ETHKL1 are stirring up the pot for one last finale to end APAC Web3 appetite on a sweet note.
A homage to Ethereum and the global blockchain industry, all eyes are aimed at ETHKL as they organise Malaysia's first Ethereum event, Ethereum Kuala Lumpur 2023. This event marks the first Ethereum conference and hackathon supported by the Ethereum Foundation in the country and a step forward for the country's tech and Web3 to move forward towards global competitiveness.
The event as stated on their website, focuses on Ethereum smart contracts and related technologies, aiming to foster understanding and adoption among the budding developer communities. The event is a blend of a conference and a hackathon, providing a platform for blockchain builders, developers, and enthusiasts to converge, share knowledge, and innovate through talks, workshops, and hackathons.
Conference Details
Topics: The conference spans a wide array of subjects including Zero Knowledge Proofs, Layer 2, DeFi, Data infrastructure, security, and more. It serves as a nexus where industry experts and pioneers discuss and explore the latest advancements in Ethereum technology.
Hackathon Details
About: The ETHKL 2023 Hackathon is a physical event where developers, entrepreneurs, and blockchain enthusiasts can showcase their skills on the Ethereum blockchain. With a $10,000 prize pool, it offers participants an opportunity to explore new frontiers, network, and potentially kickstart their careers in the blockchain industry.
Upcoming Events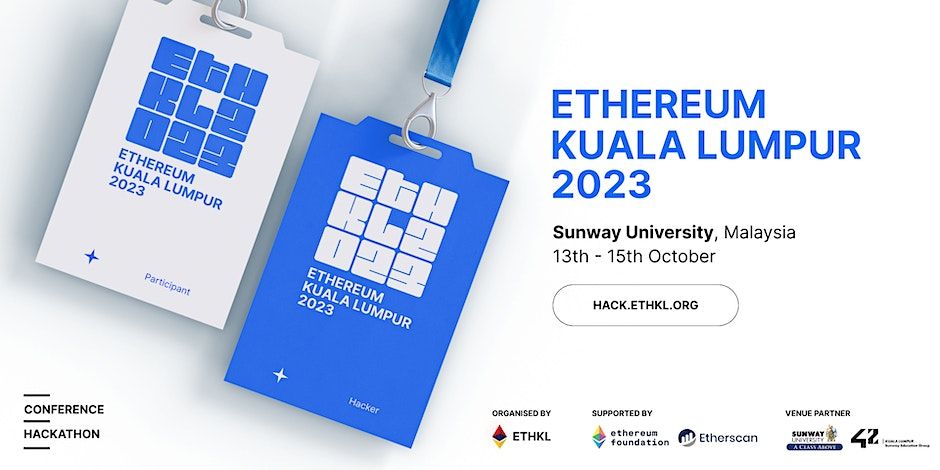 Blockhead is a media partner for Ethereum Kuala Lumpur 2023.

13th October, Friday, 9:00 AM: Ethereum Kuala Lumpur 2023, Sunway University, by ETHKL & Etherscan
14th October, Saturday, 5:00 PM: Consensys Builder Nights Kuala Lumpur, by MetaMask 🦊, BUIDL, Linea, 1inch.io
14th October, Saturday, 6:30 PM: imToken Connect Night at ETHKL 2023!, by imToken
For a full list of EthKL Side Events: Click here!