Welcome to Blockhead's Daily Digest, your go-to source for staying informed on the dynamic and ever-changing world of cryptocurrency. Whether you're a seasoned investor, blockchain enthusiast, or simply curious about the latest developments, we've got you covered with the most comprehensive news and analysis.
---
The Monetary Authority of Singapore (MAS) has come out in full force over the past 24 hours, bolstering the Little Red Dot's credentials as a regional crypto hub.
Last night, MAS published a whitepaper suggesting a standardized protocol for using digital money, including central bank digital currencies (CBDCs), tokenized bank deposits, and stablecoins on distributed ledgers.
Purpose Bound Money (PBM) was introduced in the whitepaper, allowing sellers to set usage parameters for customers. It's essentially a voucher in which money is only transferred upon fulfilling goods or services and is compatible with various ledger technologies. Fintech firms and financial institutions are trialling the tech.
The whitepaper also builds on MAS' Project Orchid and aims to encourage further research and experimentation in the use of digital money. Source codes and prototypes developed under Project Orchid have been made publicly accessible to boost interoperability across platforms.
Furthermore, MAS granted Ripple an In-Principle Approval (IPA) for a Major Payments Institution License. The approval will allow Ripple's Singapore branch, Ripple Markets APAC Pte Ltd, to offer digital payment token products and services in Singapore.
Ripple's IPA comes when the firm is still at loggerheads with the SEC in a legal battle dating back to 2020.
With the US becoming increasingly hostile to the crypto space, making room for other jurisdictions, and Hong Kong urging its banks to welcome crypto clients, Singapore is increasing its pace to become an integral player in the space.
MAS's latest moves could be just the start of things to come for the Little Red Dot.
Elsewhere:
Cake DeFi has rebranded its retail arm previously known as Cake, to Bake. Announced at the exchange's 4th birthday party on Wednesday evening, Bake will launch a new mobile app in July and will bring new features like ELITE membership, YieldVault for passive income, and expanded token options for its Staking service. Cake's retail users earned US$94 million in rewards in the past year according to Julian Hosp, CEO and co-founder.
Happy 4th Birthday #cakedefi or should we say BAKE @bake_io !

Congrats @julianhosp @uzyn 🎂🍰🍾🥂 pic.twitter.com/zLAqDL5I2j

— Blockhead (@blockhead_co) June 21, 2023
Remember Hodlnaut? Well, the firm crypto platform is officially winding up. Its interim judicial managers have filed an application to end the company. The High Court will decide whether to dissolve or restructure at a hearing scheduled for 7 August. Hodlnaut's major creditors were unwilling to continue negotiations for a restructuring deal. 55.8% of Hodlnaut's debtors preferred dissolution. The company currently has approximately S$409 million in claims from creditors, and there is no apparent "white knight" to rescue the company.
Where do you turn if the US doesn't want you and Europe isn't exactly welcoming? Kazakhstan apparently. Ostracised by America, the UK, the Netherlands and France, Binance has sought comfort in the arms of Kazakhstan. Following the acquisition of a permanent license from Kazakhstan's AIFC Financial Services Authority (AFSA) last year, Binance is now launching a digital asset platform in the country. Binance will offer Kazakhstani users various services, including exchange and conversion of cryptocurrencies, fiat deposit and withdrawal, and custody of crypto assets. The platform's offerings are expected to expand over time as the exchange works with local regulatory authorities.
June 21, 2023
BlackRock is proving to be a trendsetter, in its own way. Following BlackRock's Bitcoin ETF application on June 15, other TraFi companies like WisdomTree and Invesco have submitted filings to the SEC to launch Bitcoin ETFs. Crypto index manager Bitwise Asset Management, a major crypto index also filed for a Bitcoin ETF the following day. If approved, the ETFs would trade on the CBOE BZX Exchange. The SEC has previously rejected all spot Bitcoin ETF applications it received. News of the ETFs has driven Bitcoin's price up over 20% this week, returning it to the $30K mark.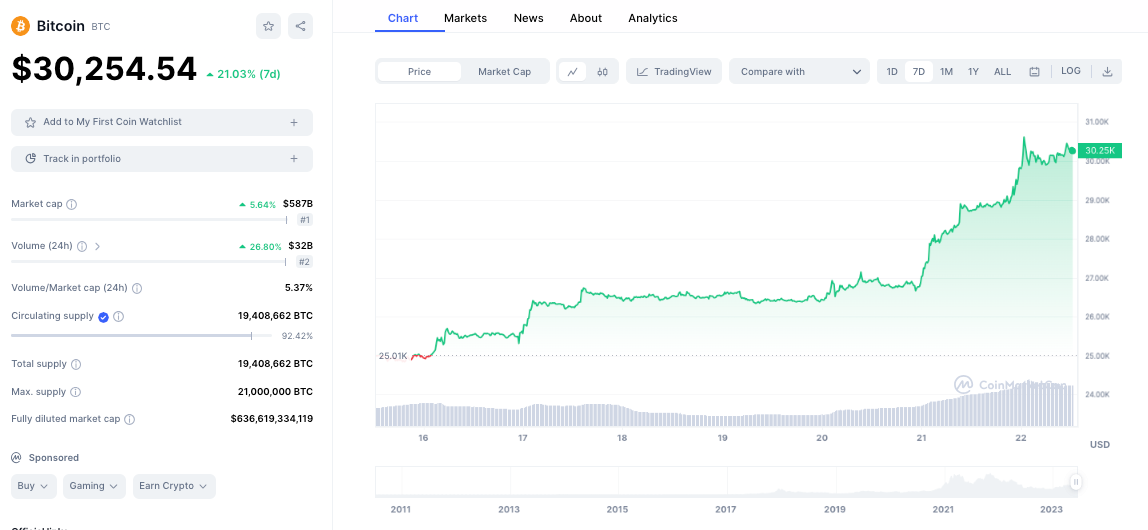 3AC has returned in the form of a venture capital firm called 3AC Ventures. Partnering with bankruptcy claims exchange OPNX, which was co-founded by 3AC former members, 3AC ventures will invest in projects within the OPNX ecosystem. According to its website, the new firm "is focused on superior risk-adjusted returns without leverage."
We are excited to announce OPNX's ecosystem partner— 3AC Ventures.

The partnership will invest in projects building in the OPNX ecosystem and working towards a decentralized future.

🐂🐂🐂
🏹🏹🏹 https://t.co/EUi5bejTlH

— OPNX 🐂 (@OPNX_Official) June 21, 2023
A bathhouse and spa in New York City called has caused controversy by heating their pools through Bitcoin mining. Bathouse, located in Brooklyn, uses heat generated by their mining operation to warm the pools, whilst the water later cools the mining hardware. Its founders implemented the process in March 2022 to find an efficient engineering solution whilst conserving energy. Some expressed concerns and called for transparency regarding the mining operation, whilst others praised Bathouse for supporting the Bitcoin network and promoting financial freedom.