By charging Coinbase Global of operating an unlawful exchange, the Securities and Exchange Commission (SEC) has broadened its comprehensive assault on the cryptocurrency industry, which may make it more difficult for the business to function and for U.S. people to trade on the platform.
The SEC filed a 101-page complaint against Coinbase on Tuesday in federal court in New York. The SEC claims that Coinbase violated its standards by allowing customers to trade multiple crypto tokens that were unregistered securities.
The regulator filed a suit against Binance Holdings just the day before, accusing it of many infractions.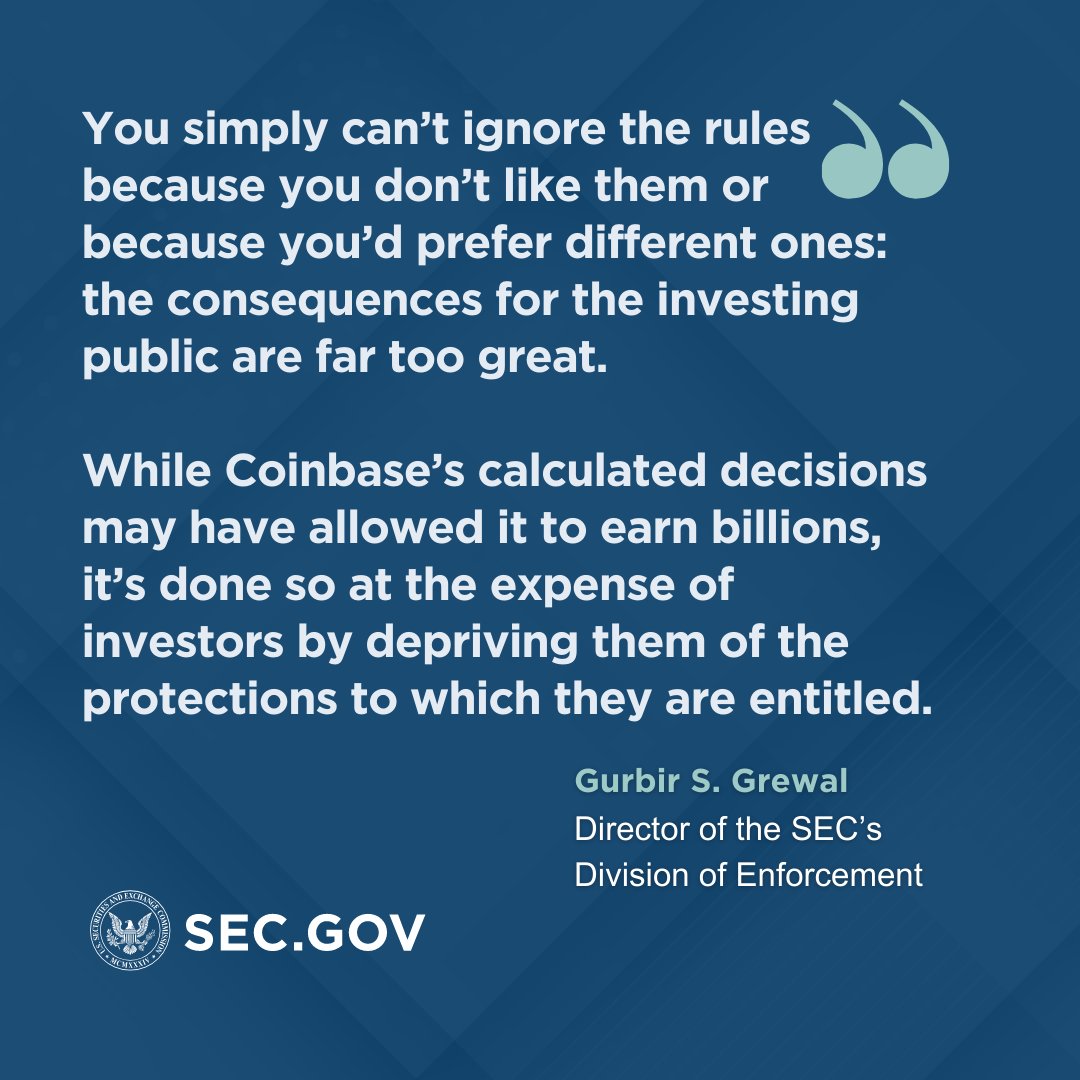 After filing lawsuits against Binance and Coinbase because they mismanaged client funds and deceived investors, SEC chair Gary Gensler warned that the cryptocurrency business might damage confidence in the capital markets.
Of course, Binance defied those allegations vociferously.
"While we take the SEC's allegations seriously, they should not be the subject of an SEC enforcement action, let alone on an emergency basis," Binance said. "We intend to defend our platform vigorously," added the crypto exchange.
Now, the US markets regulator has added over US$120 billion worth of cryptocurrency to its list of digital tokens classified as unregistered securities.
The Binance complaint named many cryptocurrencies, including Binance's BNB (with a market cap of US$44 billion), the stablecoin BUSD, Cardano's ADA, Solana's SOL, Polygon's MATIC, Filecoin's FIL, and Algorand's ALGO.
Tokens like NEAR and Dfinity's ICP were mentioned in the Coinbase case.
SEC chair Gensler has long held that trading platforms should register with the regulator as most tokens fall under the agency's investor-protection rules.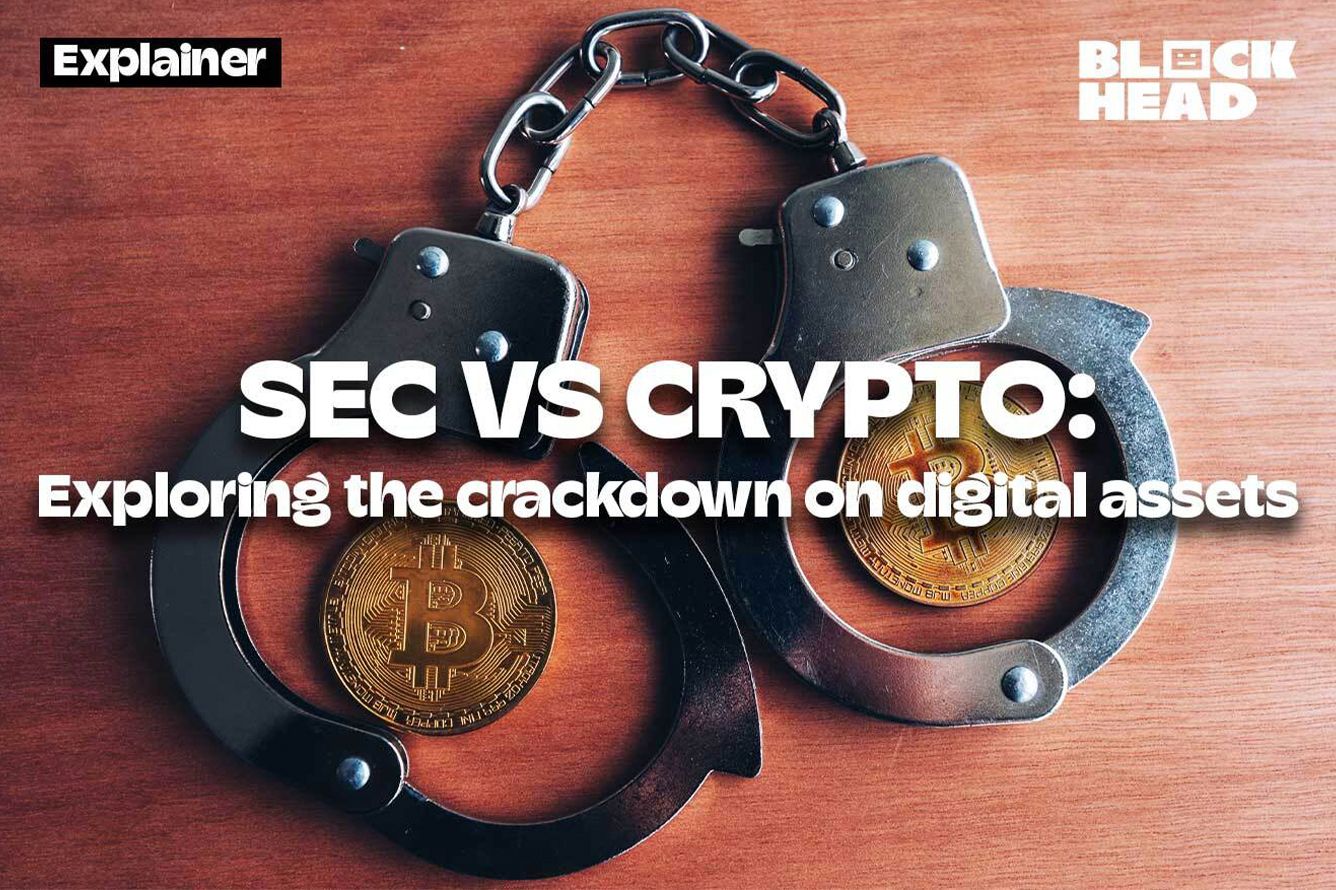 However, putting labels on individual tokens is more difficult. After a series of blowups in 2022, including the collapse of the FTX market, US regulators have tightened down on digital assets this year.
The crypto space has been plagued by whether or not some tokens constitute securities for years.
The SEC sued Ripple Labs in 2020 on claims that the XRP coin it issues is security. A decision on the matter is anticipated later this year and could have major implications for US crypto rules.
Until a definitive court judgement is made, Coinbase has indicated it may not delist coins the SEC considers securities.
Cryptos Markets Carry On
The cryptocurrency exchange Coinbase Global and Binance came under scrutiny from the US securities commission, causing its stock price to drop initially and set a new low for a single trading day since late March.
Trading companies are abandoning cryptocurrencies as volumes fall; for example, BlockTower Capital closed its "market-neutral" cryptocurrency fund earlier this year. Using data from Nansen,
Fortune magazine reports that the dollar worth of token holdings at three prominent VC firms – Andreessen Horowitz (down 25%), Paradigm (down 37%), and Polychain (down almost 70%) – has all plummeted.
When prices stop growing, the speculative bubble that fuels the supply of larger bets bursts.
But those who support cryptocurrencies appear to be unfazed by the SEC's intensifying onslaught on the digital asset industry.
Despite the agency's accusations that Coinbase Global was operating an unlawful exchange, token values were mostly higher or unchanged on Tuesday.
When the regulator filed suit against Binance Holdings, citing several breaches, many currencies were close to recouping their Monday losses.
According to blockchain data from two analytics businesses, the to and fro movement of tokens between the two exchanges has returned to normal following an early spike of client outflows on Monday.
According to Nansen, Binance had a net outflow of almost $839 million over the previous 24 hours, with positive flows beginning on Tuesday.
During the same time period, almost $500 million was transferred out of Coinbase and Coinbase Custody.
Nansen does not yet support Bitcoin, thus this data is not included. On the data portal CryptoQuant, comparable flows were also displayed.
According to CryptoQuant's chief of research, Julio Moreno, trading has been rather quiet since the SEC took action against Coinbase.
Funds Still Confident in Digital Assets
While SEC chair Gensler repeatedly warned investment advisors to avoid cryptocurrency holdings, fund managers are confident digital assets will ride out this regulatory crackdown storm.
"With regulation adding to the agony of increasing interest rates and waning FOMO (Fear Of Missing Out), the crypto ecosystem will continue to hear the whooshing sound of money being dragged out shortly," said the chief investment officer at a large U.S. asset manager group in Boston.
"But crypto proponents think time and politics can revive the industry. A boom has followed every crash, and when the get-rich-quick impulse returns, a recession might lower interest rates," added the CIO.
Still, even if crypto makes a rebound, this is a watershed event.
In the Binance-FTX age of crypto, big offshore exchanges offered high-risk derivatives bets to bettors through opaque black-box structures with minimal regulation.
Although Binance dominates the international market, the U.S. is dominated by Coinbase.
Coinbase's chief lawyer, Paul Grewal, has previously stated that the tokens do not constitute securities.
"The SEC's reliance on an enforcement-only approach in the absence of clear rules for the digital asset industry is hurting America's economic competitiveness and companies like Coinbase that have a demonstrated commitment to compliance," Grewal said in a statement on Tuesday.
BundlrNetwork's head of business development, Connor King, said "In many ways, crypto mirrors the Cleveland Browns. Always downing garbage like nobody's business, yet still has the most devoted following."
Coinbase's lawyer got support from Jeff Dorman, chief investment officer at Arca. He tweeted: "Don't care -- call them all securities if you want. There's nothing illegal about being a security. But if you (the SEC) are hellbent on calling them all securities and regulating them, then make it cheaper and easier to get licenses to trade and issue them."
But the SEC may have jurisdiction over a digital currency if its purchasers intend to profit from their investment.
The judgement relies on a 1946 ruling by the US Supreme Court that established the legal status of investment contracts.
Since authorities spotlight everything non-standard, even traditional financial institutions like Nomura Securities and Societe Generale are cautiously entering the cryptocurrency industry, where they anticipate being disrupted.
The strike can be lethal this time.
---
Like what you read? Our weekly Business Bulletin wraps up the most important business and economic developments in the industry, along with macroeconomic views and opinions. To avoid FOMO and access member-only features, click here to subscribe. It's free.