Welcome to Blockhead's Daily Digest, your go-to source for staying informed on the dynamic and ever-changing world of cryptocurrency. Whether you're a seasoned investor, blockchain enthusiast, or simply curious about the latest developments, we've got you covered with the most comprehensive news and analysis.
---
The Securities and Exchange Commission (SEC) has lashed out at Binance with multiple legal allegations, sending shockwaves through the crypto industry.
In a filing on Monday, the SEC accused Binance of engaging in "an extensive web of deception, conflicts of interest, lack of disclosure, and calculated evasion of the law."
One charge alleges Binance commingled customer funds worth billions of dollars, which it funnelled to a company controlled by its CEO Changpeng Zhao.
The SEC also said Binance misled investors about how effectively it detected and controlled manipulative trading activities, and that it failed to take adequate measures to prevent U.S. investors from accessing its unregulated exchange.
Binance described SEC's allegations as "misguided" and "unjustified," and expressed its "disappointment" in the regulator.
"We now join a number of other crypto projects facing similarly misguided actions from the SEC and we will vigorously defend our business and the industry," Binance said. "We want to be clear that while we take the allegations in the SEC's complaint seriously, they should not be the subject of an SEC enforcement action, let alone on an expedited basis."
Crypto-related stocks saw their prices drop in response to the news. Coinbase alone saw its share price fall as much as 10.1%. Bitcoin also retracted to the $25K mark.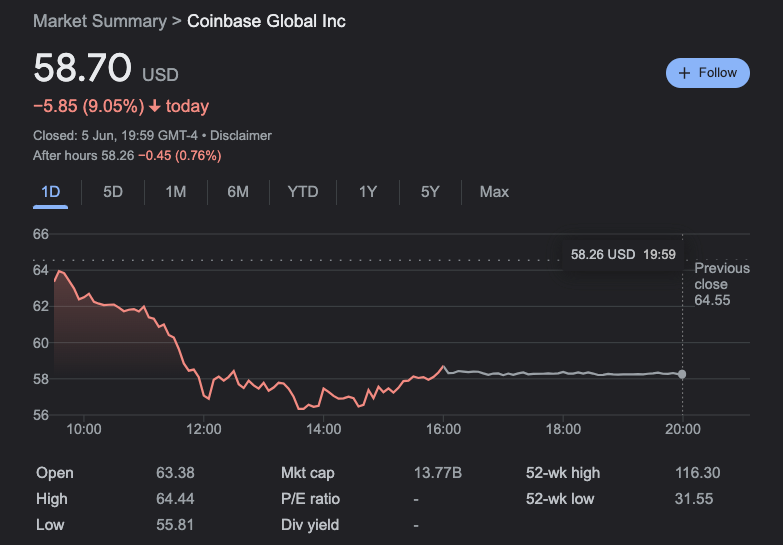 Elsewhere:
Coinbase, Robinhood, and representatives from the CFTC will testify before Congress on a proposed crypto bill that could classify certain tokens as digital commodities. The bill is part of a push to provide a statutory framework for digital asset regulation in the U.S. that provides clarity, fills regulatory gaps, and fosters innovation while providing adequate consumer protections. Coinbase's Chief Legal Officer, Paul Grewal, will express support for the proposed bill and argue that the US is falling behind in the crypto sector. Other witnesses include former CFTC chair Chris Giancarlo and former CFTC commissioner Dan Berkvitz.
Illuvium and GameStop have teamed up to release a collection of 20,000 nonfungible tokens (NFTs) called "Illuvitars" starting from June 12. Featuring unique digital artworks representing different avatars from the Illuvium game, each NFT has a distinct expression and power rating based on rarity. 108 potential combinations of Illuvials, expressions, backgrounds, and finishes. These NFTs can be traded on the Illuvi decentralized exchange. Benefits include early access to Illuvium's games, Illuvium Overworld and Illuvium Arena, as well as other perks. GameStop previously partnered with Immutable X to power its NFT marketplace.
🚀Get ready for a groundbreaking collaboration with @illuviumio for exclusive, branded D1SKs!⁰Stay tuned for sale details and exclusive opportunities to own a part of digital collecting history. 🎮🌌 https://t.co/85Cq2PZSgT pic.twitter.com/w9Flysaac6

— GameStopNFT (@GameStopNFT) June 5, 2023
Tether has partnered with El Salvador to invest $1 billion in renewable energy. The Central American nation, which made Bitcoin legal tender three years ago, is now harnessing solar and wind energy for Bitcoin mining operations. Tether and other investors are backing Volcano Energy, a renewable energy park in Metapán that aims to generate electricity to power Bitcoin mining farms. Tether expects the park's power to be one of the top 20 globally.
Apple announces its new augmented reality headset. Priced at US$3,499, the Apple Vision Pro is taking AR and VR to the next level but the tech titan made no mention of the metaverse, unlike rival headset maker Meta.
Stay curious, stay informed, and have a great day!
---