After falling to its all-time low of US$40.61 yesterday (down 85% YTD), Coinbase (COIN) were quick on the rebound, relieving itself from the crypto negativity left behind from the FTX contagion. They continue to add more value to their services with strategic manoeuvres by announcing a WooCommerce partnership leading into Ark Invest's uptake on COIN shares.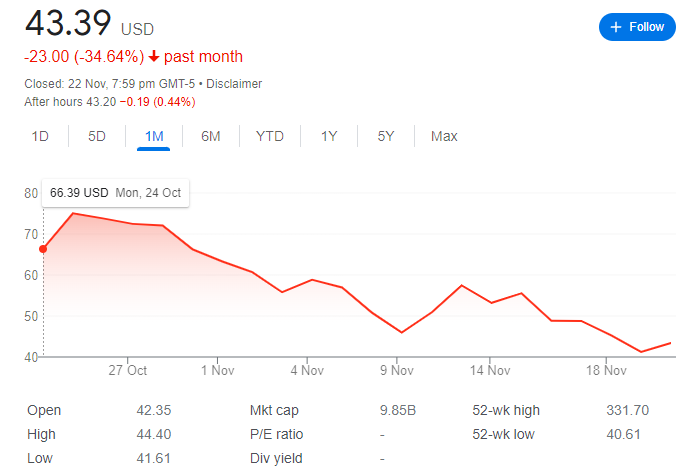 The crypto payments partnership with WooCommerce adds a level of increased offerings to ecommerce customers, given that WooCommerce powers over 25% of the top millions of online stores, according to the press release.
There are currently over a dozen cryptocurrency payment plugins for WooCommerce available, including Metamask & Bitpay, albeit the supported cryptocurrencies for payments are limited. Naturally, this gives Coinbase an extra edge with the support for more cryptocurrencies (up to 10 cryptos) for payments and at the same time, more legitimacy as it trumps survival over losing competitor FTX.
"At a practical level, Coinbase Commerce offers full-featured merchant tools to accept and manage crypto payments from customers. We're excited to watch what happens when one of the world's biggest and most trusted brands in crypto becomes easily available to WooCommerce merchants around the world," said Dave Lockie, Web3 Lead at Automattic in the press release.
The global e-commerce market for crypto payments is reportedly valued at US$545.1 million with a CAGR (compound annual growth rate) of 16.1%. It was also reported that the majority of these payments geographically come from the global north, with the bulk from North America and Western Europe.
Continued investment from Ark Invest
Crypto fund superstar Cathie Wood was also seen playing a part in peddling Coinbase, telling a Bloomberg reporter recently that her purchase of Coinbase shares was from a convicted bet that Coinbase is in fact a legitimate entity with fundamentals (as opposed to FTX). Wood's Ark Investment Management funds have bought more than 1.3 million shares of Coinbase since the start of November, increasing their total holdings of Coinbase up by 19% to roughly 8.4 million shares.
"As for Coinbase, this is an on shore regulated company, wanting to help shape the regulations of the industry. The Coinbase CEO & CFO team have been leaning into the industry now and are telling regulators, we need more clarity to protect investors. Those who wanted to get involved with certain types of crypto, were forced off shore and look at what's happened (in reference to FTX)," she said.
Ark Investment now holds about 4.7% of Coinbase's total outstanding shares, currently worth a total of US$364 million at time of writing. Wood's renewed interest into Coinbase is a polarizing manoeuvre amid fearful sentiment since the market meltdown of FTX. However she remains unshaken in perspective in being a big believer in bitcoin & blockchain technology.
"Despite the market, the infrastructure & technology of blockchain has not skipped a beat. Bitcoin's hash rate is at an all time high. That is an indicator of the network's security. On Ethereum, we're seeing US$24 billion worth of total value staked, that is an all time high," she told Bloomberg.
Steady lads, deploying more capital
Wood was also seen deploying more capital into crypto related assets in recent times. ARK Next Generation Internet ETF had purchased more than 315,000 shares (~US$4.8 million) of the Grayscale Bitcoin Trust last week as well as 140,000 shares (~ US$3.5 million) of crypto bank Silvergate Capital Corp in the same week.

While this seems like an unconvincing decision considering Ark ETF's underperformance, Wood's move signals her role towards catching the knife as a serious player despite achieving crypto fund managing superstar status. The Ark Innovation ETF has dropped 61% so far this year and is down 77% from its February 2021 peak. The increased buying comes amid crypto related stock plunges & selloffs of Bitcoin & Ether tokens. Coinbase and Silvergate Capital have both lost more than 80% of value this year.