Table of Contents
Bitcoin and other cryptocurrencies extended their free fall over the weekend, with the world's largest cryptocurrency bobbing up and down near the US$16,000 level for now.
At the time of writing, Bitcoin (BTC) is trading at US$16,142.04 (-4.58%) while Ethereum (ETH) is trading at US$1,189.93 (-6.03%). Major altcoins such as Solana (SOL), Avalanche (AVAX), and Polkadot (DOT) have also been languishing in a sea of red throughout the weekend.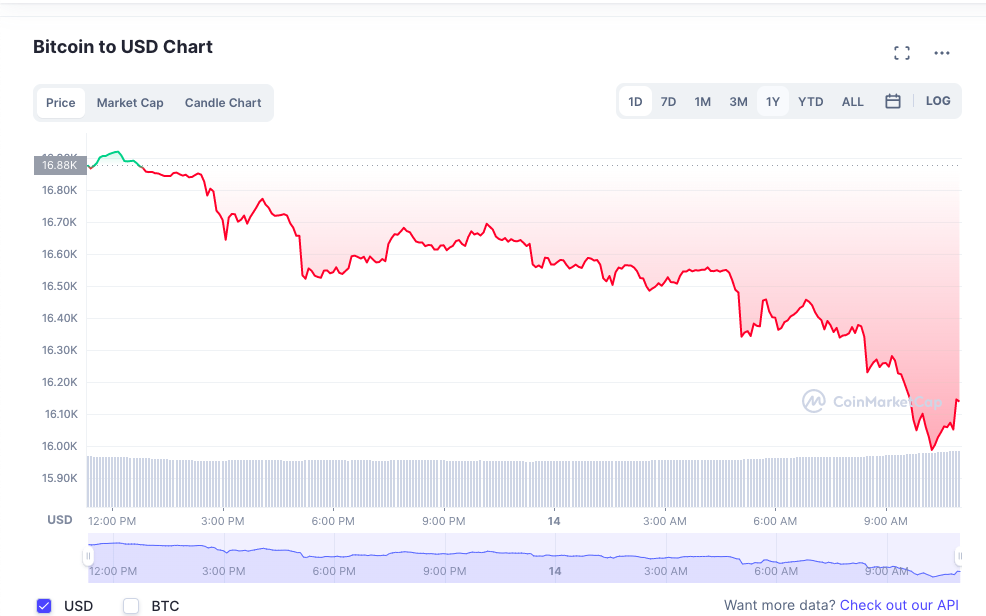 Investors are evidently still spooked about FTX's swift collapse, with speculation about a potential contagion now rife. It's still not entirely clear which counterparties might have interacted with FTX and Alameda, which is why the full extent of the "damage" remains a mystery.
"This will hurt badly, more so than any other crisis our industry has faced before. Trust, the most expensive commodity outside of time, has been lost, and it will take a whole lot of of time to build back as a whole," trading firm QCP capital said in its latest note.
"Even steps taken now by other CeFi institutions to publish their assets area step in the right direction, but insufficient if they omit the other side of the ledger. Especially exchanges with liabilities consisting of their own token in particular," it added.
The man of the hour has also weighed in on the situation, albeit just with a simple "What", sparking an immediate uproar from crypto Twitter and very predictable "complete the sentence" contributions. However, the most surprising response thus far came from fellow crypto runaway Zhu Su, with the embattled Three Arrows Capital co-founder merely replying with a nonchalent "sup".
That's also the crypto space summed up in one word.
Stay updated on our coverage of the FTX fallout:
FTX hacker identified
According to Nick Percoco, CSO of US-based crypto exchange Kraken, the Kraken team has identified the alleged hacker of FTX.
Percoco was responding to Mario Nawfal, founder and CEO of IBCgroup.io, who tweeted that Kraken was used throughout the hack to offload funds and that the hacker is "very likely an inexperienced insider."
It was previously speculated that FTX were behind their own hack in a bid to make off with users' funds, but according to crypto Youtuber Satoshi Stacker, the hacker's sloppy movements means that they can be easily identified.
Following the announcement Friday that FTX filed for Chapter 11 bankruptcy, FTX general counsel Ryne Miller had tweeted that FTX was "investigating abnormalities" in wallet movements "related to the consolidation of FTX balances across exchanges".
In a tweet on Saturday, Miller said that the company "initiated precautionary steps" and moved all its digital assets to cold storage.
According to blockchain analytics firm Elliptic, US$477 million has been moved out of FTX's wallets in "suspicious circumstances," with stablecoins and tokens being rapidly converted to ETH on DEXs to prevent the stolen funds from being frozen.
Binance, Huobi suspend FTT deposits
Crypto exchanges Binance and Huobi blocked deposits of FTT, FTX's native tokens, after 192 million tokens (worth appoximately US$400 million) were released into circulation out of schedule.
$FTT are usually released in batches periodically by the token contract deployer. However, they were reportedly released all at once on Sunday, according to on-chain data.
Binance CEO Changpeng Zhao (CZ) tweeted that the exchange was stopping all $FTT deposits, and also urged other exchanges to suspend the token. Binance has since delisted $FTT from a number of its products, while Tron founder Justin Sun tweeted that Huobi Global has "echoed" CZ's advice on stopping $FTT deposits and will "closely monitor the situation".
At the time of writing, $FTT is trading at US$1.556, down more than 93% since the start of the fallout.
Bahamas launch criminal investigation into FTX
According to an official notice Sunday, a team at the Bahamas Financial Crimes Investigation Branch are "working closely" with the Bahamas Securities Commission to investigate if any criminal misconduct occurred following FTX's collapse and bankruptcy filing last week.
The Bahamas Securities Commission had already suspended FTX's registration and ordered assets tied to the exchange frozen according to a press release on Thursday, citing a "prudent course of action" to "preserve assets and stabilize the company."
The now-bankrupt exchange is also being investigated by the US department of Justice (DOJ) and the US Securities Exchange Commission (SEC), and host of other authorities globally.
The investigation is reportedly centred around the possibility that FTX may have used customers' deposits to fund bets at FTX CEO Sam Bankman-Fried's hedge fund.
The CFTC as well as California and other US local governments, and the Japanese Financial Services Agency have also said they would be investigating FTX.
Trading Volume
The global crypto market cap has fallen below US$900 billion, and currently stands at US$806.71 billion, a 4.95% decrease since yesterday.
The total crypto market volume over the last 24 hours is US$59.72 billion, a 9.12% increase.
Fear & Greed Index
Risk appetites are sapped – the Crypto Fear and Greed Index currently stands at 24 indicating fear. The index uses 5-6 measurements to assess the current sentiment of the market and then rates that level of emotion on a scale of 1-100 – 1 is extreme fear and 100 is extreme greed.