Table of Contents
FTX users are fleeing from the platform following troubling revelations surrounding Sam Bankman-Fried's hedge fund Alameda Research.
According to a private financial document reviewed by CoinDesk, Alameda's balance sheet is reportedly "full of FTX's FTT token." This effectively means that the hedge fund "rests on a foundation largely made up of a coin that a sister company invented, not an independent asset like a fiat currency or another crypto."
In response, Binance CEO Changpeng Zhao said his firm would be selling the rest of its FTT holdings. Binance had received US$2.1 billion worth of FTT in the form of BUSD last year after exiting FTX.
Read more: Binance "Not Against Anyone"… Sells FTX Tokens Following Alameda Revelations
Zhao isn't alone in his concerns either. Retail investors who share his sentiment are fleeing from FTX as well as selling their FTT positions.
According to Nansen, mass withdrawal outflows from FTX have surged to US$451 million, whilst Binance iteslf has seen net inflows jump by over $411 million over the same period.
As well as stablecoins being withdrawn, users have pulled $94 million worth of cryptocurrencies including $73.9 million in Ethereum.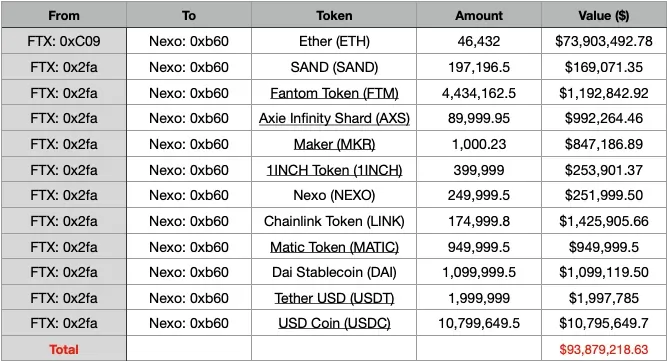 FTT FUD
Chatter on the FTX Official Subreddit suggests that users have been experiencing difficulties in withdrawing their funds from the platform.
"Can't withdraw my btc forever!" One thread reads. "I can't withdraw my btc for more than 15 Hours! Please fix this problem ASAP!"
"Cannot withdraw BTC or ETH," reads another thread. "Can't withdraw funds, been a few hours!" Another states.
One optimistic Redditor questioned "should I buy more FTT?" to which a top liked comment responded "it's going to zero like luna get out before you lose it all!"
The comment isn't entirely unfounded either. Wu Blockchain recently tweeted, "FTT suddenly plunged 14% in 1 hour, and SOL fell 14% in 24 hours. 1.9 million FTT ($44 million) was transferred from the Genesis OTC Desk to FTX 12 hours ago, but CZ said it was not Binance selling."
Sam says chill
SBF has responded to the mayhem in an attempt to reassure users taht "FTX is fine."
"A competitor istrying to go after us with false rumors," SBF tweeted, adding "I'd love it, @cz_binance, if we could work together for the ecosystem."
Meanwhile, FTX tweeted a doge-themed meme stating "there is no need to be upset."
Team CZ vs Team SBF
Blockhead is by no means a financial advisor but the case for withdrawing funds and selling FTT is rather compelling.
As VP of Research at The Block tweeted, the "sensible" move would be to withdraw from FTX. "The tough part is that it's always sensible to withdraw, even if you think the rumors are like 1% likely to be true. So no shit there will be backlog and liquidity issues," he tweeted.
Read more: Hodlnaut "Downplays" LUNA Exposure, Loses Almost US$190M
CZ also said lessons from LUNA has made Binance more cautious. Sure, CZ and SBF are rivals (despite what CZ may claim), but retail investors would be prudent to take heed from LUNA and apply their learnings to the current situation.
"Liquidating our FTT is just post-exit risk management, learning from LUNA," he tweeted. "We gave support before, but we won't pretend to make love after divorce."
Chief Investment Officer of Modular Asset Management told Blockhead that reducing exposure during the bankrun is reasonable.
"I believe that in times of market stress it makes sense to reduce counterparty exposure to exchanges, in particular when there is risk of a bankrun-like scenario," he said.
Indeed there certainly seems to be a bankrun fuelled by hysteria but which side would you rather be on?