Moods are swinging hard in the emotional rollercoaster that is the future of FTX post Binance pullout. Emotions are undoubtedly high for market operators as FTX users are still unable to withdraw US$8 billion worth of funds and are forced to mercilessly watch the market go into free fall with paper cryptos in hand. While the chaos happened, FTX CEO Sam Bankman-Fried played a game of League of Legends.
Read More: CZ Naughtily Pulls Out of FTX Deal, Leaves SBF Hanging
In an effort to soothe market sentiment and potentially make TRX investors whole, Justin Sun tweeted earlier that he is in the process of creating an exit plan for TRX holders on FTX.
H.E. has so far seemed to have made progress albeit his solution for making investors whole is through a whole new level of grift.
Read more: SBF "Worse Than Do Kwon", Plays LoL, Might be Saved By Justin Sun
CryptoTwitter remains on watch as FTX traders are now buying TRX on FTX at a near 18x premium in a desperate attempt to follow Sun's moves closely in order to cash out.
Read More: Withdrawals Frozen Again, Markets in Freefall… Thanks FTX, SBF, CZ
While some users go through some sort of fight to claw back any form of capital, other FTX users have capitulated to giving up completely. Part of the reason why some users had left deposits in their CEX accounts stems from the convenience and promises of greater financial returns offered from FTX. Staking FTT in exchange for free ERC-20 withdrawals among the other benefits seemed to be the reason why some users had treated the CEX like a bank account.

On putting out a call to find affected users among Blockhead followers, FTX victim and Malaysia-based degen Wwzrd0, told Blockhead that he currently has approximately US$30,000 worth of altcoins and stables in his FTX portfolio that he has "written off." He recounts his story on how he arrived at that decision.
"When I initially started crypto, I was against CEX, but after a while I got comfortable with the convenience of using a CEX, plus I thought I could leverage my portfolio to do some small leverage perps trading. So I slowly moved a chunk of my assets to FTX because FTX allows users to use altcoins and large caps as collateral."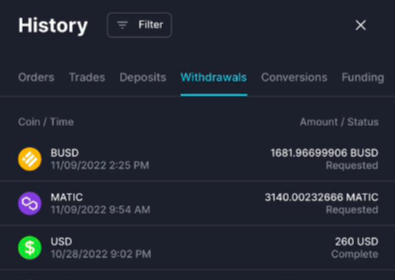 "I trusted SBF/FTX so much that I thought that things would be ok. At around midnight Tuesday when CZ tweeted that SBF went to him for help, that's when I started to feel anxious. The next morning, I tried to withdraw some Matic & some stable coins again in the afternoon. The withdrawal status has been pending since then."
"I was very anxious to wait for more news since yesterday. Then I decided that I should write it off my portfolio to be mentally prepared for the worse. You really need to have a clear mind to operate on this space."
Wwzrd0 later added that his trading strategies in queue went through after trading was paused. But after "shit hit the fan, my profits are "Monopoly" money for now. Big boys are having their wars and we plebs are the collateral damage."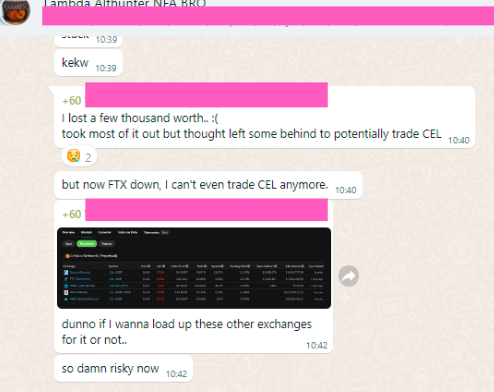 Sentiments in other Malaysian communities were similar to Wwzrd0 after being caught out as collateral damage. Users were left dejected after they were no longer allowed to continue trading on FTX for other altcoins. The community groups however soon turned into therapy sessions to share group hopium while some other degens whinged and were "upset for not being able to withdraw their profits after they shorted FTT on FTX."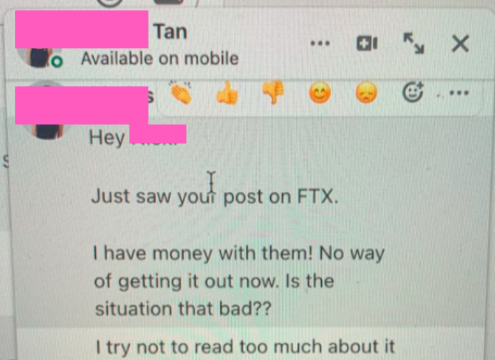 The most heartfelt messages were sprinkles of confusion that came from the newbies who were seeking advise on what to do next to recover their deposits into FTX.
This tale is not the first and last in this saga of blind faith as other users around the world go through a "world-around-me-is-burning" feeling. This ongoing moment of mass hysteria had some users turning into eight-figure degens and inciting both doubt and anger into micro twitter celebrities such as TraderMayne.
I think McDonalds might be looking for a quant.
---
Are you an FTX victim? Drop us a tweet @blockhead to share your story.
Follow the Blockhead Malaysia telegram group for more Malaysia-focused commentary and intel.