Singapore's state-owned investment fund Temasek has been "engaging" with embattled crypto behemoth FTX in its capacity as a shareholder after the exchange experienced a liquidity crunch, which saw it turn to its rival, Binance, for a bail out.
Last week, the sovereign wealth fund told Reuters that it was "aware of the developments between FTX and Binance, and is engaging FTX in our capacity as shareholder," but did not provide further details about how the developments would impact its portfolio.
News of Temasek's "engagement" with FTX was published before Binance decided to ditch the deal, and hence it remains unclear how Temasek and other FTX shareholders will be impacted. Temasek has also told media outlets that "given the ongoing discussions between both companies, it wouldn't be appropriate for us to comment beyond that."
Temasek had invested in FTX in its Series B, Series B extension, and Series C funding rounds in October last year, when the exchanged raised US$1 billion, US$420 million, and US$400 million respectively. In January, FTX was valued at US$32 billion.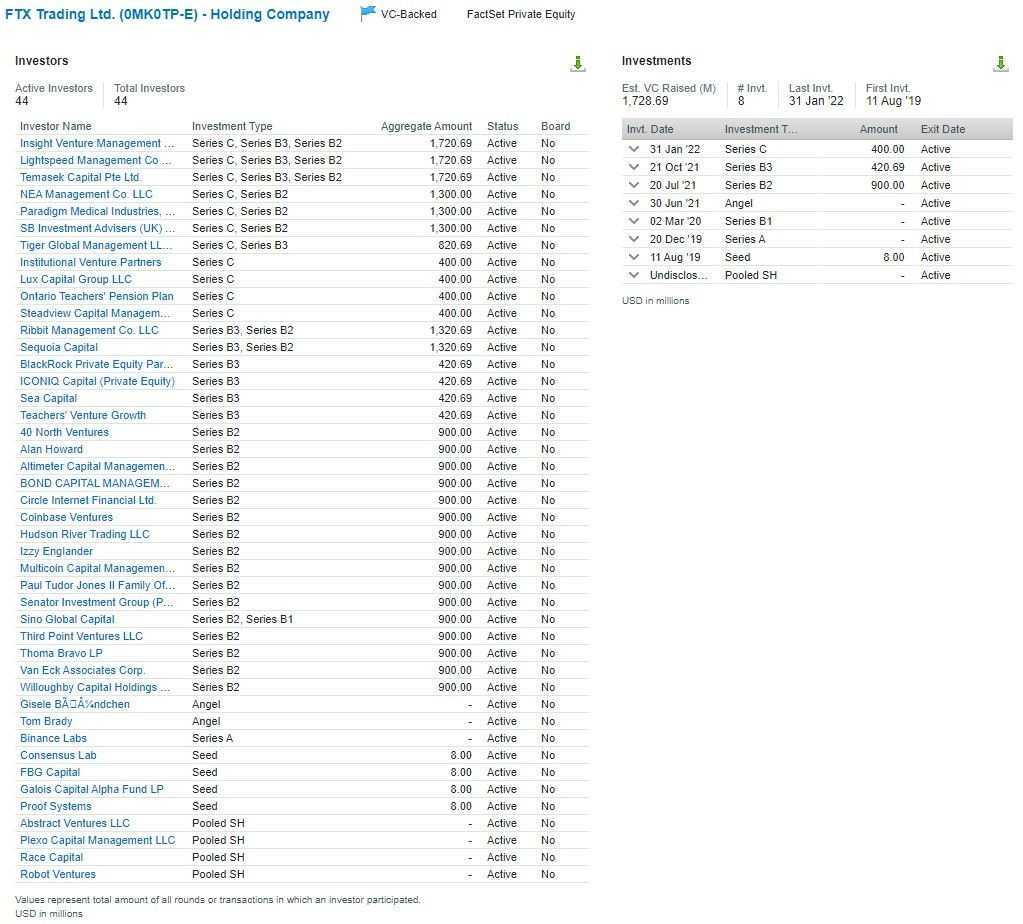 A leaked spreadsheet on Twitter shows that Temasek is the third-largest investor in FTX, but it remains  unclear just how much Temasek has invested into FTX.
A report by Forbes claims that Temasek has a 1% stake in FTX, and is the second-largest outside investor on the capitalisation table just behind Sequoia Capital, having invested approximately US$205 million across all three funding rounds. Its investment, which was worth US$320 million (if this report is true) during the January peak when FTX was valued at US$32 billion, is on the verge of being worthless.
Temasek did not respond to Blockhead's request for comments.
Do your own due dilligence
According to data compiled SG Crypto Investor, both GIC and Temasek (the two sovereign wealth funds of Singapore) have invested in a number of blockchain and crypto-related companies and projects in recent years.
GIC is invested in firms including Chainalysis, Nansen and Coinbase, while Temasek has stakes in FTX, Amber Group and Animoca, to name a few.
The Singapore Ministry of Finance states that the Singapore Government establishes the "overall investment mandates and objectives" of GIC, MAS, and Temasek. It also "systematically reviews" the overall risks of its whole portfolio of assets invested by all three entities.
It's clear that FTX's users and shareholders have been caught by surprise by the sudden collapse of the platform. But if even Singapore's Government and major institutions like Temasek have failed to identify the fragilities of FTX prior to the release of Coindesk's bombshell report on the exchange's phony balance sheet, and are on the brink of losing hundreds of millions of dollars in government reserves to the "unreal" economy, then what use is there to restrict retail investors to the extent that they can't even view crypto advertisements by an F1 track, all while stating that the the MAS "has been continually reminding the general public since 2017 that dealing in cryptocurrency is highly hazardous"?
Related: F1 Has 920M Global Viewership – Is MAS' Ban on Trackside Ads Futile?
Even its statement shared with the media on Monday, quoting an MAS spokesperson, noted that "It is not possible, however, to prevent Singapore users from directly accessing overseas service providers"
Just like retail investors, institutions can also be "oblivious" to the risks posed by bad actors in the space. This is why retail investors should be given the opportunity to do their own due diligence (they should also not blindly deposit their money into something just because it's "sovereign fund-backed"), because it's clear that no individual, government, or institution can claim to be a know-it-all when it comes to navigating the crypto space.