Table of Contents
Over the weekend, Indonesia was treated to an influx of crypto degens who traded in their OpenSeas for Bali seas, and what a sight it was. Emphatically embracing beach culture, intensely partying until 4 am and fearlessly riding backseat on Grab bikes, these degens were extracted from their cushy Discord homebody virtual lifestyles and thrown into the carnage of Seminyak, and Blockhead wasn't going to miss it.
So with the promise of sea, sand and shilling, Blockhead packed our bags and exchanged our sheltered Singapore lives for an unforgettable Bali blowout. This is what went down.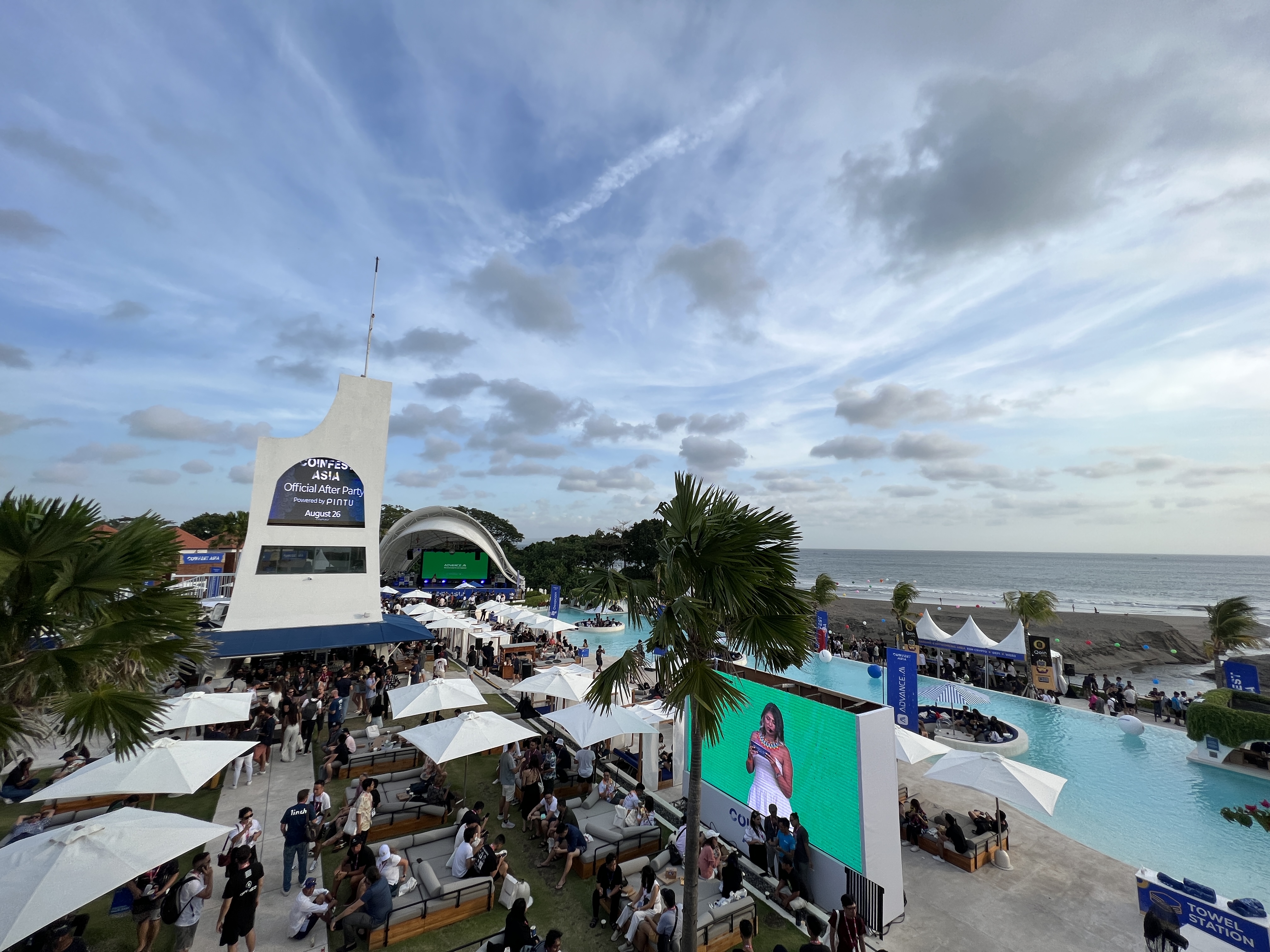 Panels are Cool But So are Pools
We musn't forget that the gravitating pull that brought us all together in Bali was Coinfest Asia, organized by Coinvestasi, a media company that is the subsidiary of Indonesia Crypto Network (ICN). Offering an enticing range of panels, Coinfest Asia's lineup of speakers and topics were nothing short of top quality. Panels including "Is Indonesia the Crypto Sleeping Giant in Asia" and "Unstable Stablecoins" were sure to attract a crowd, whilst the winner in our books went to "Who's the Real Ethereum Killer." Indeed, ahead of flying over, these panels were bookmarked by our team.
However, to our surprise, the main stage wasn't even the star of the show at Coinfest Asia. Truly immersing the crypto crowd in Bali life may have not been Coinfest Asia's initial goal, but they certainly achieved it. Sure the open air stage was impressive, but Coinfest's sprawling layout of sofa squares surrounded by their sponsored booths, adjacent to a rather lengthy pool made for a chilled, community-inspired environment. With speakers dotted around the venue, guests could enjoy the panels from the poolside, barside, and even whilst lounging under the generous number of parasols.
We've been to countless crypto conventions, but none have offered such a relaxing and serene way to enjoy the panels.
Fun, Games & Crypto Bros
No matter your age, silly carnival games will always be fun. Dotted around the venue were numerous activities to keep degens busy including beer bottle ring toss, a high striker hammer game and a 'how long can you hodl this for' challenge. Prizes ranged from free beer to an actual hard wallet worth hundreds of dollars.
Of course, the games leveraged on bro-culture with crypto-bros trying to out-bro each other, but it was all fun and games. Toxic masculinity aside, the free food, ice cream, cocktails and beer were appreciated by all throughout the event.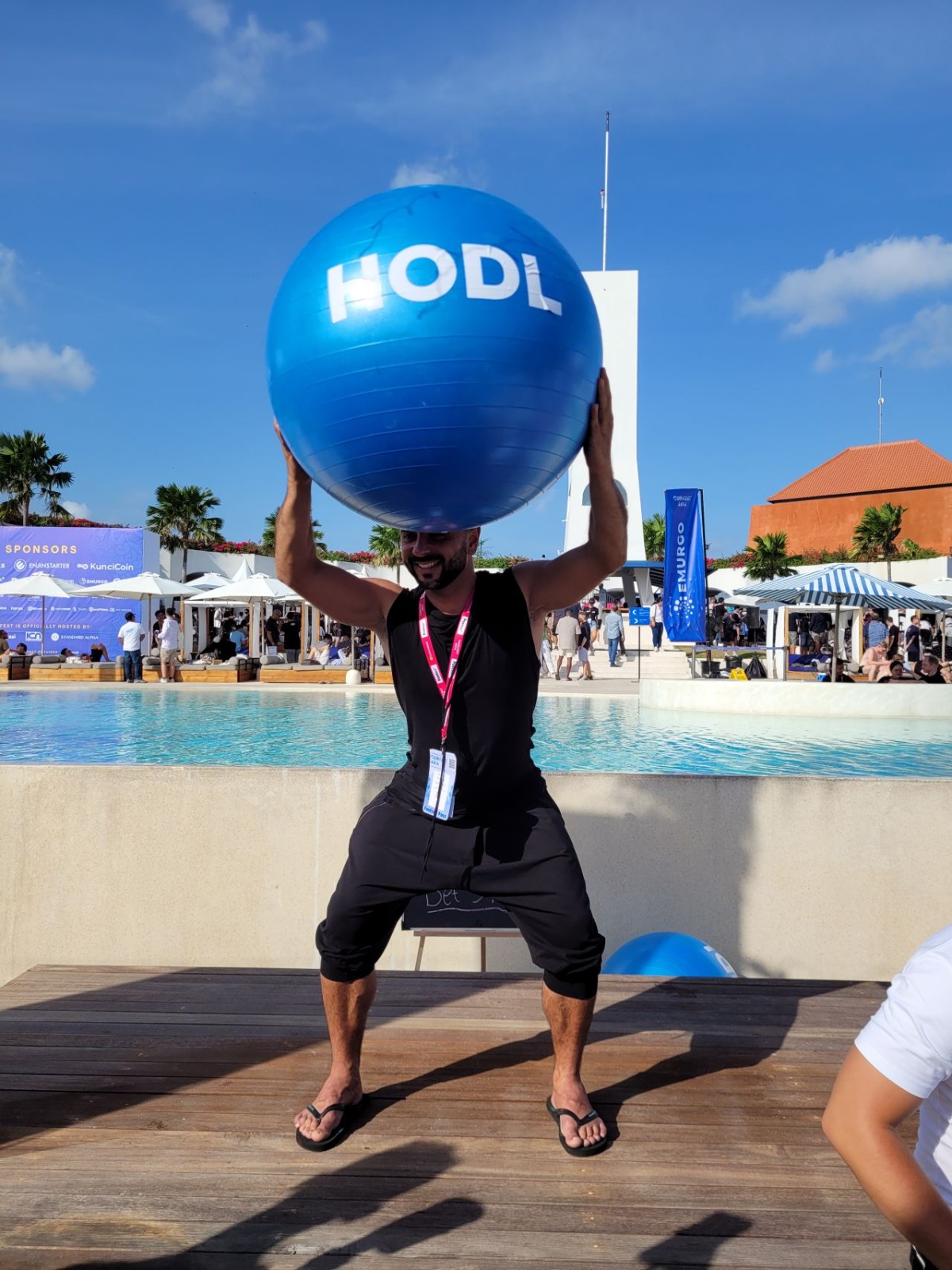 Networking Without Working
Whether it's rubbing shoulders or bumping uglies, the crypto community has its own unique way of networking. Compared to traditional networking of wine-sipping and business card trading, the crypto community enjoys a far more convivial exchange of clinking beers and Telegram-scanning.
This festival event was attended by more than 1,500 individuals including crypto experts, investors, developers, and regulators from across 52 countries around areas such as web3, blockchain, and NFTs and had attracted much attention in just around two days it was held.
Casually chatting and learning about new projects certainly feels like a more genuine way of connecting in the modern age, and the crypto Bali crowd fully embraced it.
With the majority of the crowd dispersed across the venue, rather than concentrated at the panels, energy remained high throughout the day, despite the blistering heat. Hats off to Coinfest Asia for attracting crowds from all around Southeast Asia, Australia and even Dubai.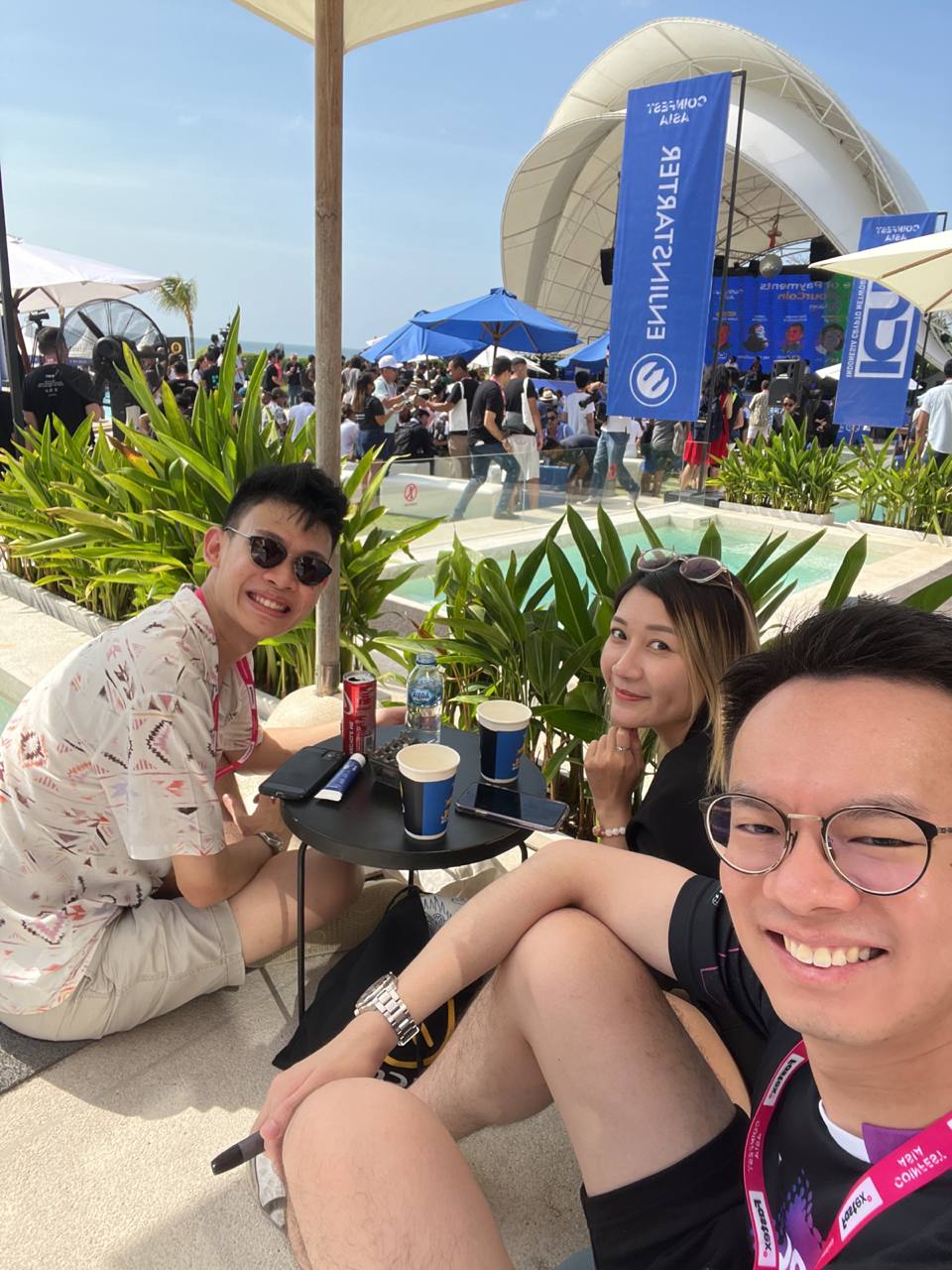 WAGMI til 4 am, Get Rekt, Repeat
The part you were all waiting for. What would a crypto convention be without side events (AKA afterparties, after-afterparties, after after-afterparties)? With an abundance of parties throughout the course of Coinfest Asia, it was greatly appreciated that panels only began at 1 pm each day.
Kicking off pre-proceedings was the 1inch Beach Party, held at Morabito Art Villa. Featuring an open bar and fire dancers, it may have not been the most intense of parties, but was certainly a sign of things to come.
The following night (the first official night of Coinfest) started at Tokocrypto's T-Hub, which is known to be Asia's first crypto-community hub. With an open bar from 6:30 pm, T-Hub made for the perfect pre-drinks venue for the night ahead. The collaborative nature of the crypto community shone here too, with projects from all around the world bonding over the free booze.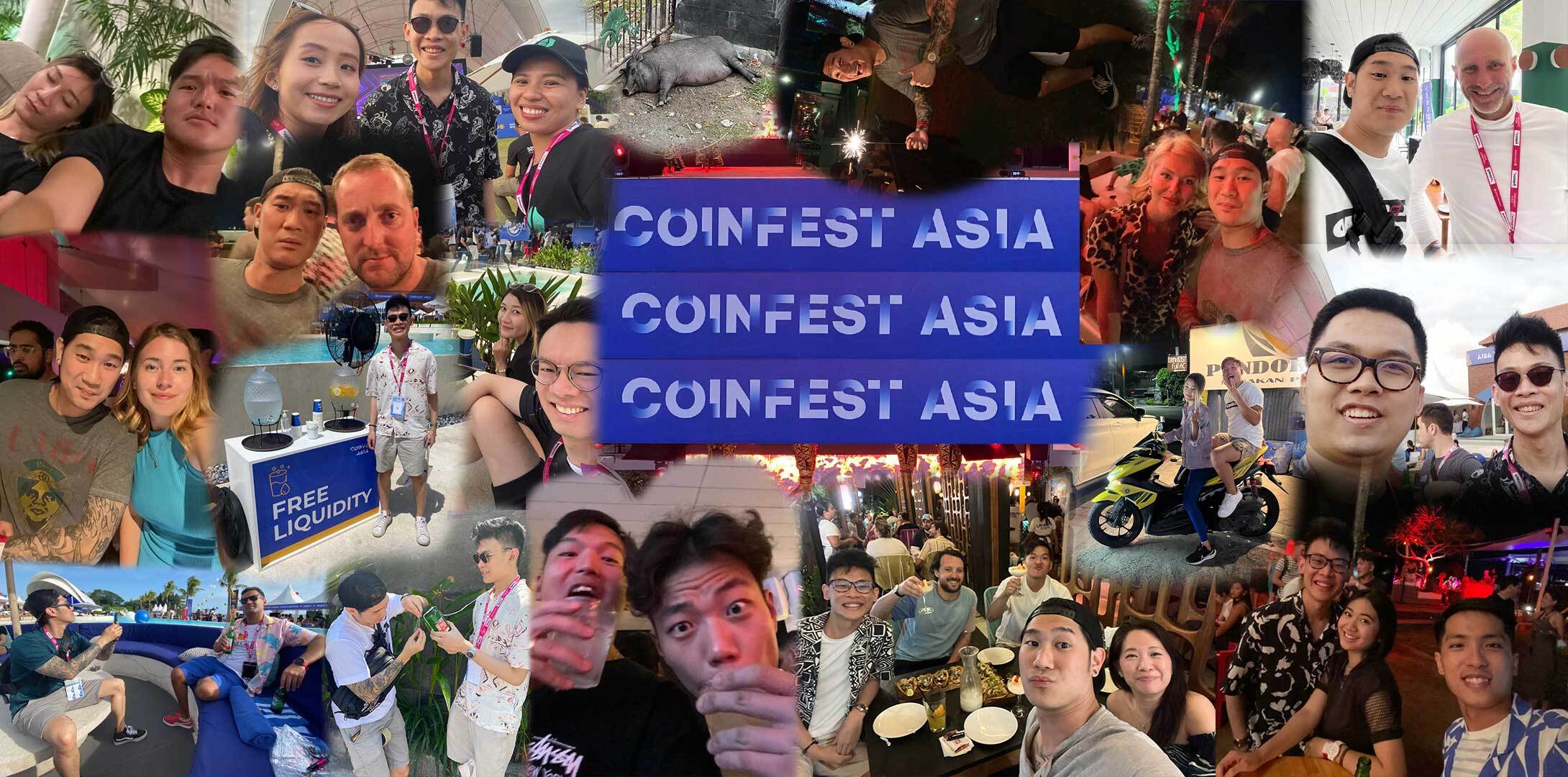 Once bonds were established and newly introduced groups were formed, batches of buzzed crypto folk bravely jumped on Grab bikes and headed towards W Hotel's WooBar. From there, the parties continued at local Bali clubs including Café del Mar and The Green Door, but the least said about what went down there, the better.
The second night saw the first night's groups of crypto crazies expand their entourage as they bounced around from OKC's T-Hub open bar to Bali's legendary Atlas Beach Fest. Standing in the pool whilst networking might not be ideal for some, but it was certainly for us. Night three was an amalgamation of Bali crypto carnage, with crypto parties happening everywhere up to Ubud.
Admittedly, I can't remember too much about the latter parts of each night, but riding pillion on Grab bikes at 4 am too quickly became the norm.
Lessons from Bali
Aside from "don't eat nasi padang at 3 am" and "don't trust drunk bike drivers", other valuable lessons were learned in Bali:
Vietnam loves crypto culture because of their love for gambling culture. Projects that offer high risk, high reward are thriving in the region.
NFT projects are the easiest segue into web3, but are no longer the focus of the wider crypto community in Southeast Asia.
Dubai remains the most popular location for crypto funding projects, even among Southeast Asia projects.
Australia's web3 appetite is fragmented but growing. Aussie eyes are on Southeast Asia.
Projects from Southeast Asia are stationing representatives in Indonesia to capitalise on the rapid growth there but to mainly connect with international projects rather than local ones.
Post Mortem
Somehow Blockhead made it back alive from Bali. Having lived to tell the tale, we're more than happy to report that Coinfest Asia raised the benchmark for how crypto conventions should be run. Was it all perfect? Well, some of the panels could've been less sponsor-heavy (although that's crypto-conventional), and the so-called "exclusive events" were an attendance deterrent for some. But on the whole, we had a blast in Bali, and are looking forward to Coinfest Asia 2023.
Token 2049 is just around the corner and whilst it'll offer a more "sophisticated" flavor of crypto conference, we'll unlikely have a Bali 2.0 experience there. Fortunately, Blockhead is hosting its own event just ahead of Token 2049, which we promise will be next level. Stay tuned for more…