Table of Contents
A moment of silence for every guild and VC that got their fingers burned for investing into GameFi projects that were Axie Infinity and STEPN or similar, thinking that it would be the next big play in the bear market.

For this week's macro montage, we take a look at the current GameFi ecosystem through a tech product lens. We identify the end goal, the struggles of gamers in the ecosystem, and direction offered by industry leaders during the Wild Digital 2022 panel in Malaysia.
Following the $ trail
The biggest challenge that games face is balancing the game experience and tokenomic sustainability. If web3's ambition is to bring a free-er world to all, the current efforts have been (pardon my French), merde. The majority of games available come with a US$250 price tag, are more grind than fun, and offer no guarantee that they will be around beyond 30 days.
The majority of the games on the blockchain are low quality and are basically nicely wrapped grifts. Games are incentivised to build vanity metrics very quickly in a short span of time to get guilds and retail to fomo invest into their tokens & NFTs. Games inflate their economies to promote the game and eventually follow the same inevitable fate of burning out bright and quickly.

Given the 1,637 games that exist on blockchains (and growing daily), it seems strange that there hasn't been a game to crack the code of sustainability (though to be fair they aren't that incentivized to either). Yet, VCs have been pouring capital into Series A rounds for over a year now, with each deal being consistently north of US$40 million across dozens of projects, showing that there are diamonds in this rough.
Where the real treasure of value lies
User adoption and retention is everything in GameFi and blockchain. Users stress test blockchains with math equations to make it more secure. The math equations that GameFi brings to the table are its transactional data from its internal micro economies made by a growing volume of users.
Game developers and crypto VCs know the value in this and are working together to aggressively push money into AAA game studios working on the blockchain. High-quality games with addictive gameplay solve part of the user retention conundrum, creating user staying power to grow the value chain.
In the current climate, both e-sports companies and VC-backed guilds are throwing marketing money at sub-par games in order to activate and retain their precious users (and protect their investments) that have navigated the complex web3 onboarding process. This retention strategy, however, will only serve as a temporary band aid as we cross the chasm from grindhouse games to fun, high-quality games.
Guilds crossing the chasm
The business model of a gaming guild stripped down to its core, is in both lead generation and lending. Guilds act as portfolio managers for VC funds to acquire as many users as possible and profit from mining game economies with their onboarded players. As the number of quality games that solve the tokenomic payouts are rare, games that get invested by these guilds often lead to play-and-dump situations. However, without a consistent flow of games with player-favored tokenomics, guilds will continue to face increasing user leakages as they wait for AAA games to arrive on the market.
Given the high grift levels on GameFi, the current landscape makes it difficult for guild managers to be capital efficient. Guild managers are given "either/or" strategies to remain competitive while keeping its users; invest into existing games to maintain their player base (prolonging the inevitable), or invest heavily into new game tokens and profit through SPAC model token strategies.
Ironically, both strategies lead to market cannibalism where retail ends up being the biggest losers, creating a more competitive PVP arena within the crypto markets and propagating bad new user UX. Smaller guilds will struggle to grow new players and eventually fade out. Larger guilds that do grow will attract only farm and dump players, something that new game projects would like to avoid completely.
Wisdom from the top
During a panel discussion at Wild Digital 2022, GameFi industry leaders did not shy away from the systemic problems that were raised in the discussion. They each stressed the importance of user adoption and were eager to share their experiences in addressing the current issues within the ecosystem of user adoption and retention.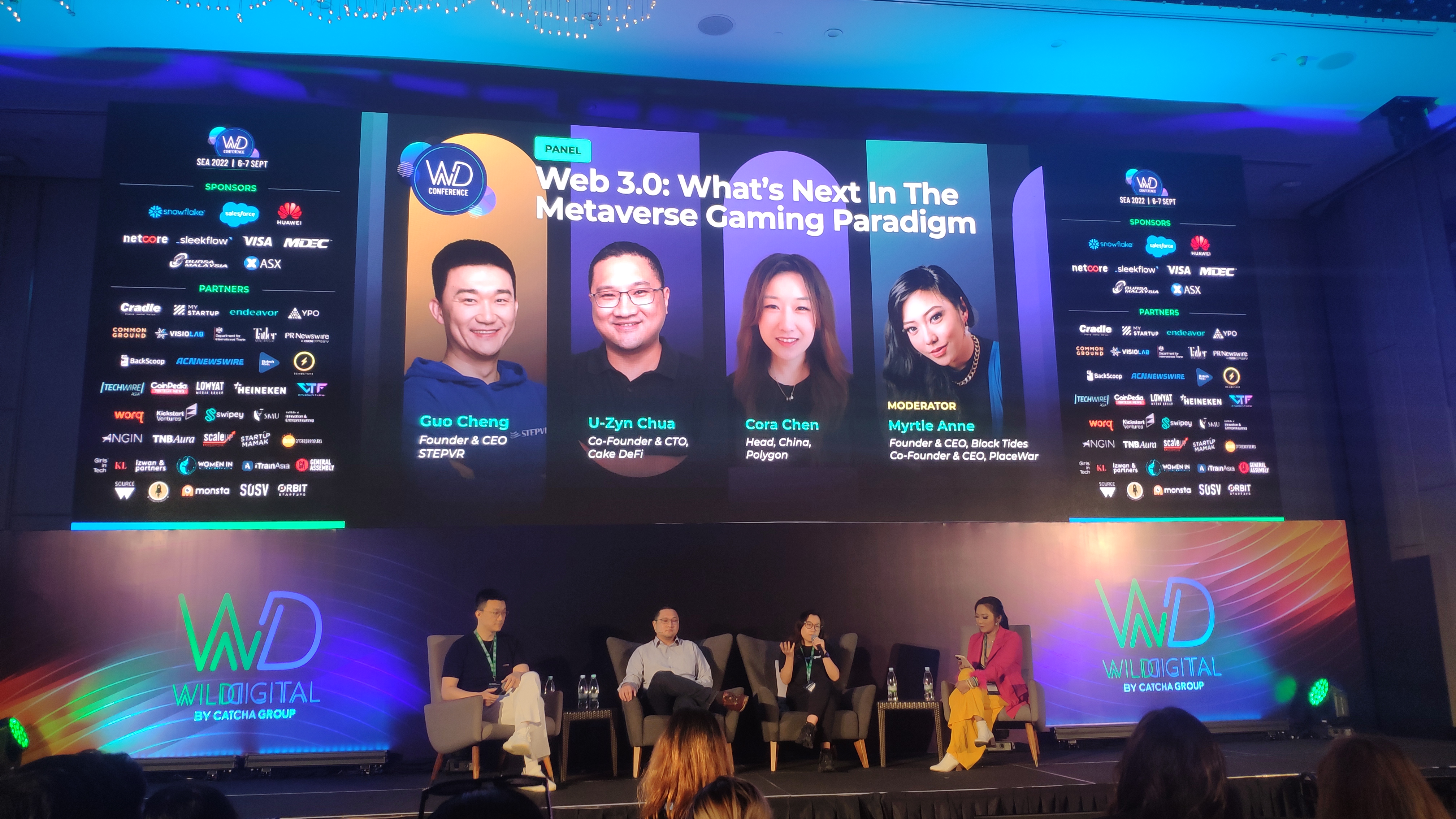 U-Zyn Chua CTO, Cake DeFi, took to a solution that changes user behavior: "When players mine the game, it's a selfish race to the bottom. Games have to think of ways to change user behavior that allows players to complete actions which enriches the game and everyone else".
Guo Cheng, CTO of STEPVR, pointed out that more tech infrastructure is needed to allow scalability in user adoption:
"Unless the current gaming infrastructure changes, the metaverse cannot happen. Infrastructure of games needs to include participation of guilds, collaboration of external professional skills & esports elements".
Cora Chen, Head of Polygon China, sided with improving UX for adoption. "For games to be ready for mass adoption, some of the most important things to consider are the payment methods for retail participation. We often ask our founders how confident they are in their game's adoption strategy and if they have thought about the possibility of connecting with consumer brands."

The industry-known wisdom comes from cumulative experiences of the last two decades in building and scaling tech products. User retention ultimately comes from overall value generation.
Perhaps new GameFi projects ought to take these into consideration as the landscape progresses. We remain optimistic as we'd love to see what happens when GameFi projects cross the grift chasm to become the infrastructural prince for blockchain application.