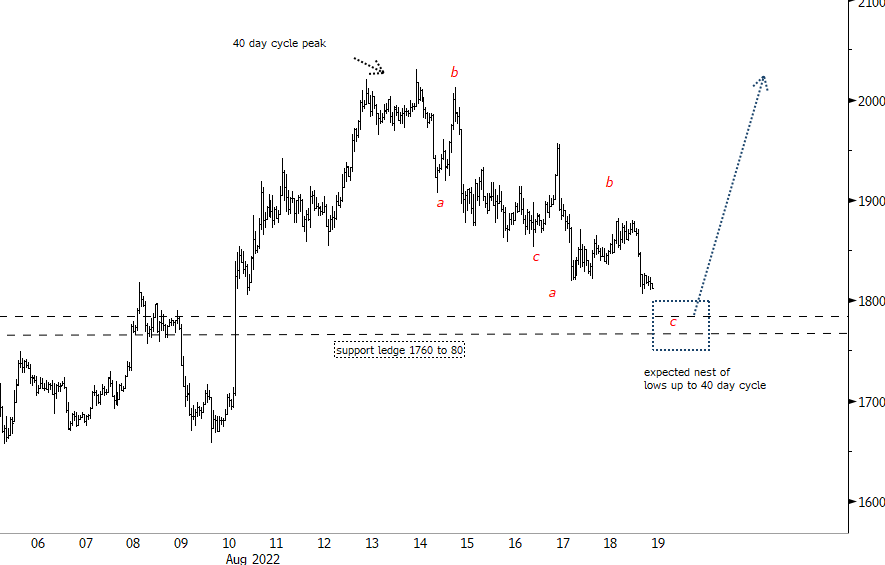 Because price is approaching a 40-day cycle trough zone, I thought it would be better to drop down to an hourly chart today.
The trend underlying the 40-day cycle is still bullish, largely because the big low on 19 June was that of a 40-week cycle. This is a meaningful trough and the long cycle is still young and pushing up. This is the reason, when looking at the fluctuating price action day to day, we see the shorter cycle upswings fast, non-overlapping and with reach. The dips on the other hand are muted, choppy and unimpressive. The tenor of price action is bullish and the expectation is that the current pullback shown here doesn't have legs.

Not only are we close to a decent cycle low area, price is also closing in on a support ledge between US$1,760 and US$1,780. This ledge served as resistance at the end of July and pushed back a failed upside break on 8 August. It has some authority. The price action down from the 18 August top, which was the 40-day cycle peak is clearly corrective. I have labelled it a double abc zigzag.
For now we are stalking a bottom and then looking for a meaningful push higher.  Once this is underway, we can start assessing upside target zones.