Table of Contents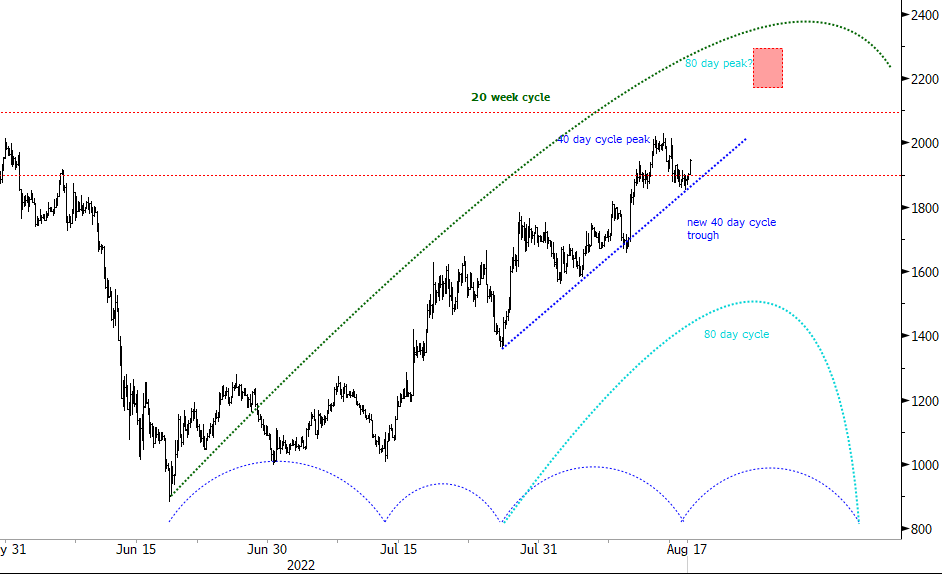 A 240-minute Ethereum chart is shown today. Its price just passed through a 40-day cycle low and is now building a new 40-day cycle. Its status is therefore up and price is surging across a key resistance zone with a top at US$2,100, the preferred view is that this level is exceeded to the upside potentially up towards US$2,400 and then a rest.
There are two 40-day cycles in the broader 80-day cycle which is also rising, but the view is that this cycle will top towards the end of the month or early September. This implies that there will be a slowing down in up power into this period and this will show up in RSI, which I have not included in today's analysis as it doesn't add much here.
More importantly perhaps is the 20-week cycle which will still be rising at the end of the month as the 80-day cycle starts to top. The 20-week cycle is the tailwind to the advance and is bullish. This should mute any downswings for now. The prognosis then is keep looking up for now ahead of navigating a pause zone in the next few weeks.