Table of Contents
The world's biggest crypto exchange, Binance, is looking at a $4 billion penalty from the US Justice Department as part of a potential resolution to the long-standing investigation against it.
Binance has been facing heat from US regulators, with the SEC filing 13 charges against the exchange and its founder Changpeng Zhao (CZ) in June.
Charges include mishandling customer funds, misleading investors, and having systems that apparently couldn't detect manipulative trading.
Then there are allegations of Binance's careless frolicking with U.S. investors on its unregulated exchange, despite the alleged "efforts" to rectify any wrongdoings.
However, the $4 billion resolution serves as somewhat of an end to this riveting chapter for Binance. And whilst $4 billion is quite the hefty fee, it's money well spent for crypto giant to bury the case once and for all.
"US$4 billion is not an insignificant number, it's probably a small price for Binance to pay to move forward from this," Anil Lulla, Delphi Digital co-founder explained.
Greg Moritz, co-founder and COO AltTab Capital, echoed a similar message.
"Binance isn't short on capital and monetary fines are often a cost of doing business in an environment where the rules are ambiguous," he said. "In the long term, this is almost certainly good news as it provides further clarity on what enforcement will look like, and markets love clarity."
What's more, the resolution is being regarded as a win for the industry. It "would be great to get this behind us," Lulla said. "It was an overhang in the industry."
A quick glance at Binance's own token, BNB, will affirm this. Since the news broke, BNB jumped as high as 8%. Even Bitcoin rose another 2%.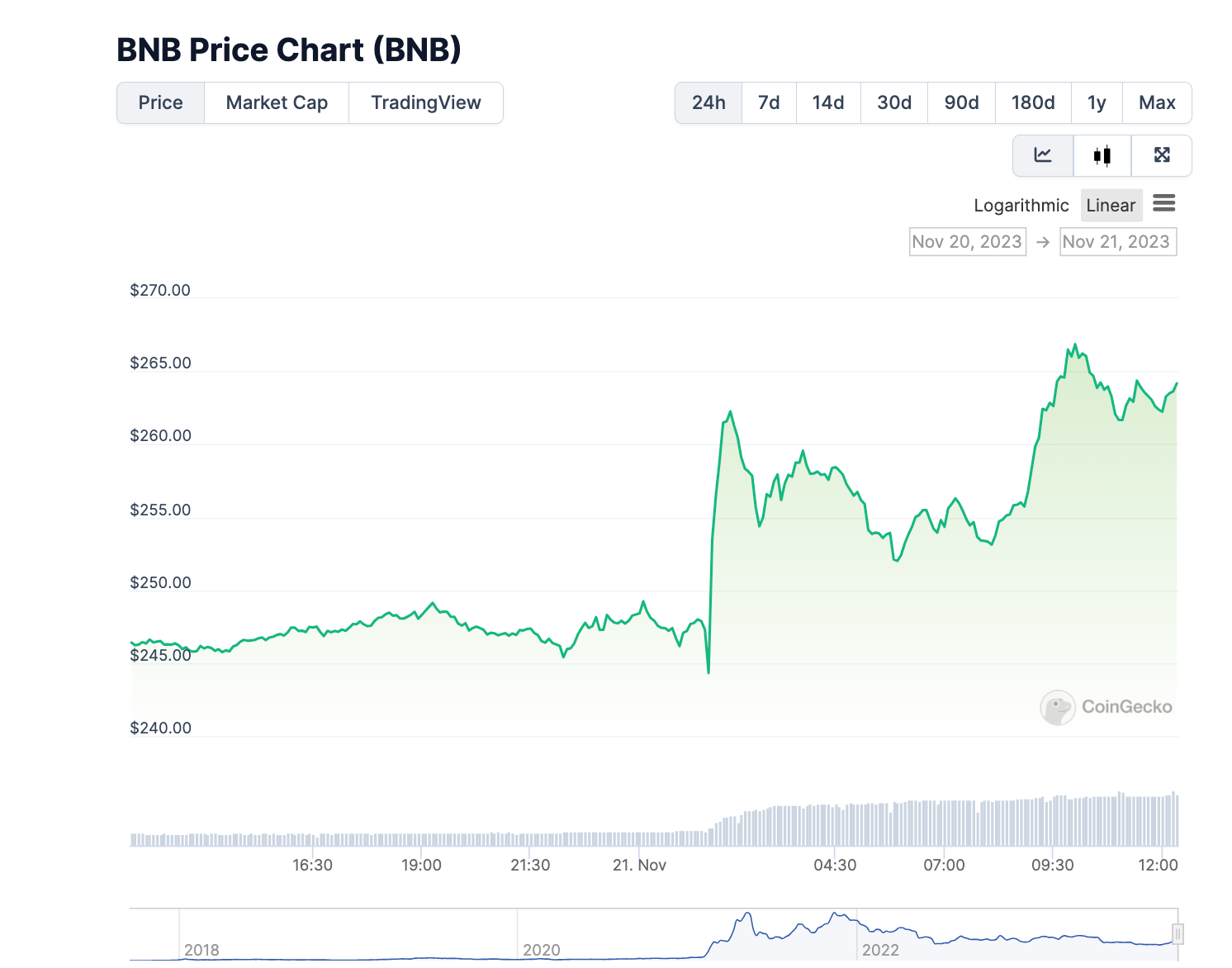 Only in crypto would a fine of such gigantic proportions result in a pump in the company's public asset.
Changpeng How?
Binance might be taking steps to put the drama behind it but the story isn't over for CZ just yet. According to reports, CZ could still face criminal charges in the US as the DOJ investigates alleged money laundering, bank fraud and sanctions violations.
Zhao currently resides in the UAE, which does not have an extradition treaty with the US. The CEO has been regarded as the "control" person behind Binance's operations that have been tied to other entities under his ownership.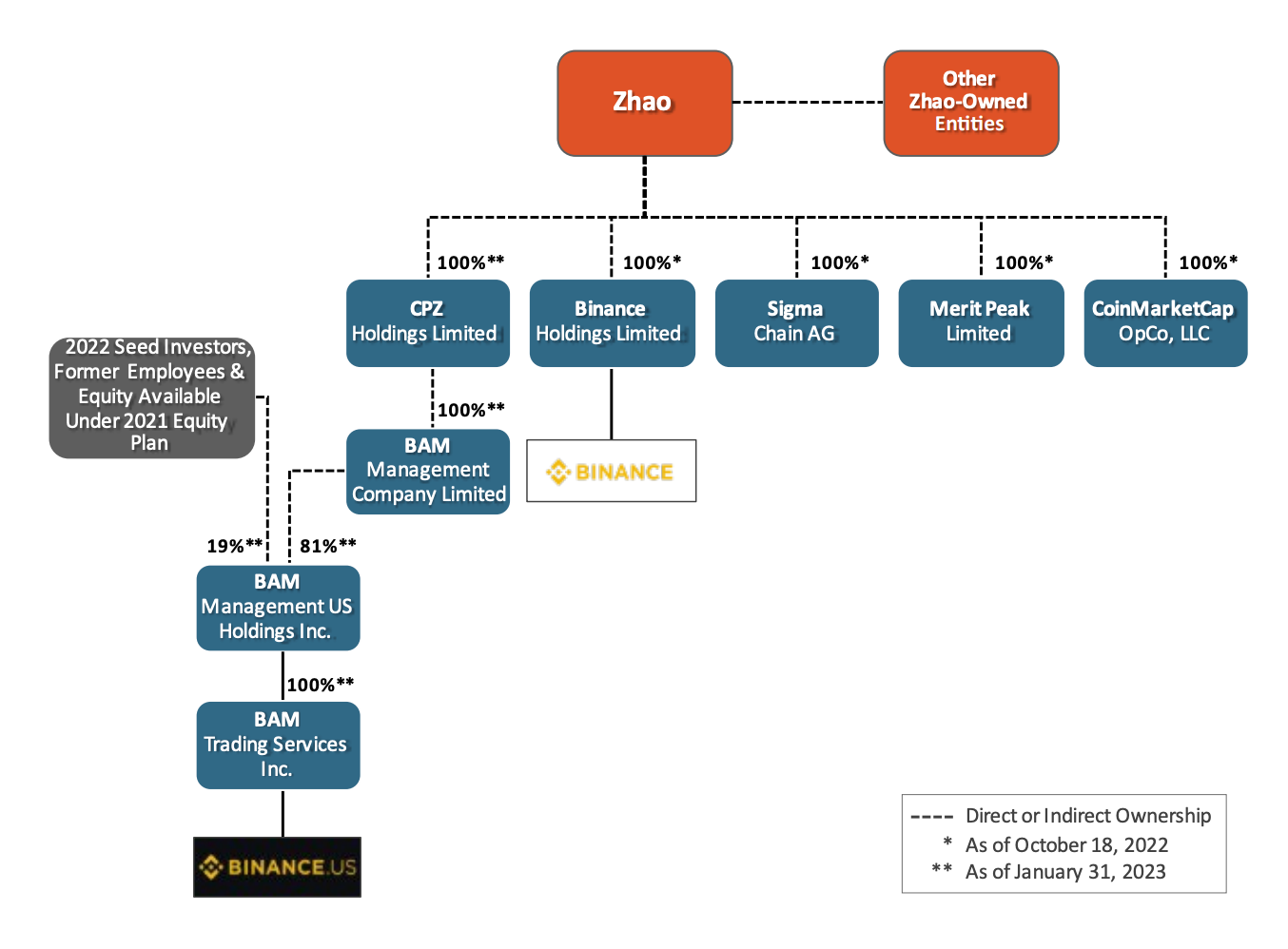 CZ and a mysterious executive Guangying 'Helina' Chen, allegedly received billions of dollars of customer funds through their holding company, Key Vision Development Limited. The funds were directed to Zhao's company Merit Peak via Key Vision Development Limited.
"The SEC has been unable to determine why a Zhao-controlled entity that was purportedly trading on the Binance.US Platform using Zhao's personal funds would have acted as a 'pass through' account for billions of dollars of Binance Platforms customers' funds," the SEC court filing reads.
$12 billion was allegedly sent to Zhao and $162 million to a Guangying Chen-controlled company in Singapore. Both controlled a number of companies that held no obvious connection to Binance. The funds are now in offshore accounts.
Binance and Zhao denied the allegations of mixing customer deposits and company funds and said Merit Peak is a vehicle for CZ to trade his "self-made wealth."
However, in the words of Binance's CCO in December 2018, they were "operating as a fking unlicensed securities exchange in the USA bro." Now, that's a blockchain blunder, CZ.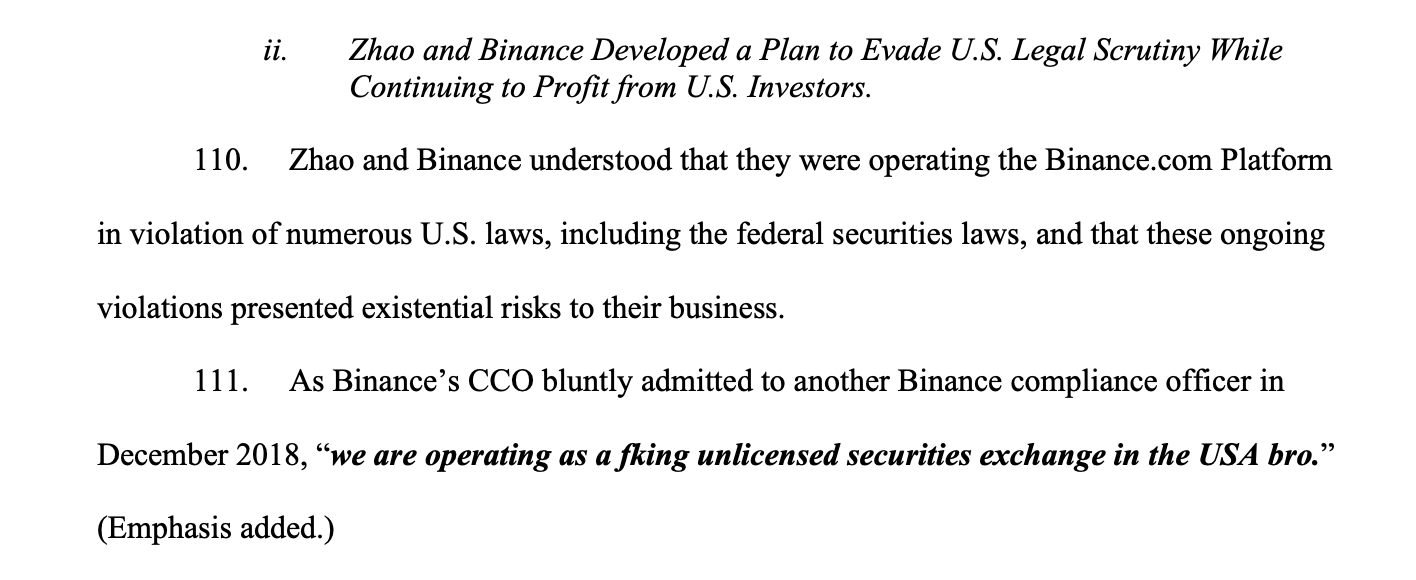 Although Binance and CZ are synonymous, the latter's fate is yet to be determined despite the former resolving its SEC beef to the tune of $4 billion.
Elsewhere