Table of Contents
For quite some time now, the US Securities and Exchange Commission has earned itself an increasingly despicable reputation in the crypto industry. Whether it's taking Ripple to court, throwing lawsuits at Coinbase or even claiming jurisdiction over the entire Ethereum ecosystem, the SEC is proving to be no one's friend in Web3.
However, in its countless attempts at coddling the industry, the SEC has succeeded in weeding out truly bad actors. Blockchain company SafeMoon, once valued at $8 billion, has been charged by the SEC for fraud and unregistered offering of crypto securities.
SafeMoon creator Kyle Nagy, CEO John Karony, and CTO Thomas Smith are all facing the charges. The SEC alleges that the firm promised to take the price of their token "safely to the moon" but instead of delivering profits, SafeMoon "wiped out billions in market capitalization, withdrew crypto assets worth more than $200 million from the project, and misappropriated investor funds for personal use."
Nagy allegedly assured investors that their funds would not be withdrawn by anyone and were locked safely in SafeMoon's liquidity pool. Instead, much of the funding was used by the firm's executives to purchase luxury cars, homes and other extravagant items.
SafeMoon's price temporarily mooned 55,000% between March and April 2021, reaching a market cap of over $5.7 billion. Its price plummeted by almost 50% towards the end of April that year when it was revealed that SafeMoon's liquidity pool was not locked as the firm had claimed.
Karony and Smith then misappropriated assets to purchase SafeMoon to manipulatively inflate its price. The former also allegedly wash-traded SafeMoon through a separate account.
News of the SEC charge sent SafeMoon's price plummeting over 50%.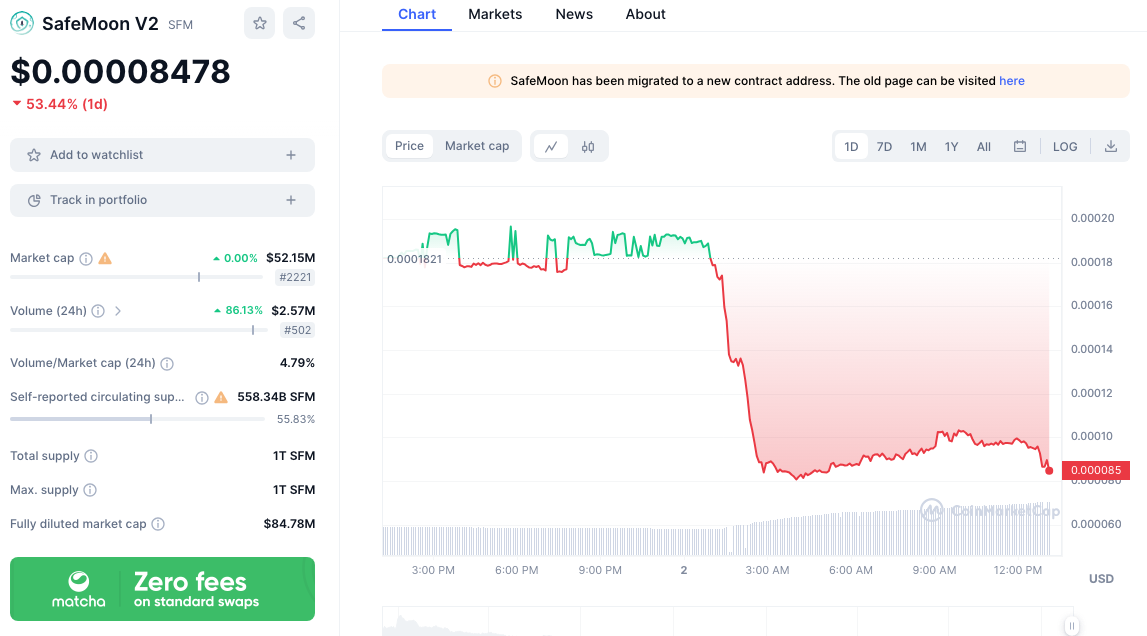 To the credit of the SEC's warnings, nefarious characters continue to lurk in the crypto space; its wild west reputation is not exactly unfounded. Uncovering this scandal at SafeMoon might be disastrous for those HODL-ing SFM but it serves as a reminder that the SEC's no-nonsense approach could ultimately strengthen the industry.
Dare we say it, well done, SEC?
Elsewhere: