Welcome to another edition of Bangkok Block, your weekly source of updates on Thailand's thriving Web3 community. D.Oasis announced the upcoming launch of a new virtual metropolis in the Sandbox, the TON Roadshow had an exciting stopover in Bangkok, and a researcher from a top Thai university developed a framework for identifying DeFi risks.
Meanwhile, the Pheu Thai Party shared its plans to pioneer digital handouts through blockchain wallets. As summer winds down into fall, here's your rundown of the latest news to hit the Thai crypto scene.
D.Oasis and Sandbox to Launch Virtual Metropolis
Thai NFT and metaverse consultancy agency D.Oasis has teamed up with The Sandbox to launch D.OASIS City, a sprawling virtual metropolis that will offer exciting new experiences in the metaverse. In collaboration with renowned brands such as Warrix Sports, Dhurakij Pundit University, and Eventpass, this virtual city offers players exclusive privileges.
This includes special discounts and unique events to enhance virtual experiences. Backed by renowned Thai companies, celebrities, and corporate partners, D.OASIS blends creativity, cutting-edge technology, brand-building, and asset development to offer one-of-a-kind digital collectables and entertainment in the virtual world.
Web3 Connect Brings Together Digital Innovators
Entrepreneurs, blockchain developers, investors, and Web3 enthusiasts from all around the country flocked to the decentralized tech summit Web3 Connect, the inaugural event hosted by Thailand Chief Information Officers Association DIFDA Chapter.
The invitation-only gathering went without a hitch, giving participants the chance to share insights on DeFi, GameFi, NFTs, and other groundbreaking applications on the decentralized web. Over 30 participants joined panel discussions and networking sessions with industry leaders, tech enthusiasts, and innovators.
Pheu Thai Party Promises New Digital Wallet Policy
The Pheu Thai Party reiterated its plans to offer 10,000-baht digital handouts through blockchain-powered digital wallets. The political condition has shifted in the months since the May election, and the party, which is at the heart of a new coalition, declared it will push through with its digital wallet policy.
This initiative, to be sent via smartphone to every Thai aged 16 and over, will be spendable within a four-kilometre radius of recipients' homes for six months. Eligible recipients without access to the application may use their national ID card to get a personal code instead.
One of the first of its kind in the world, such a move would help position Thailand among the pioneers of blockchain-powered digital payment solutions.
TON's Global Roadshow Makes a Splash in Bangkok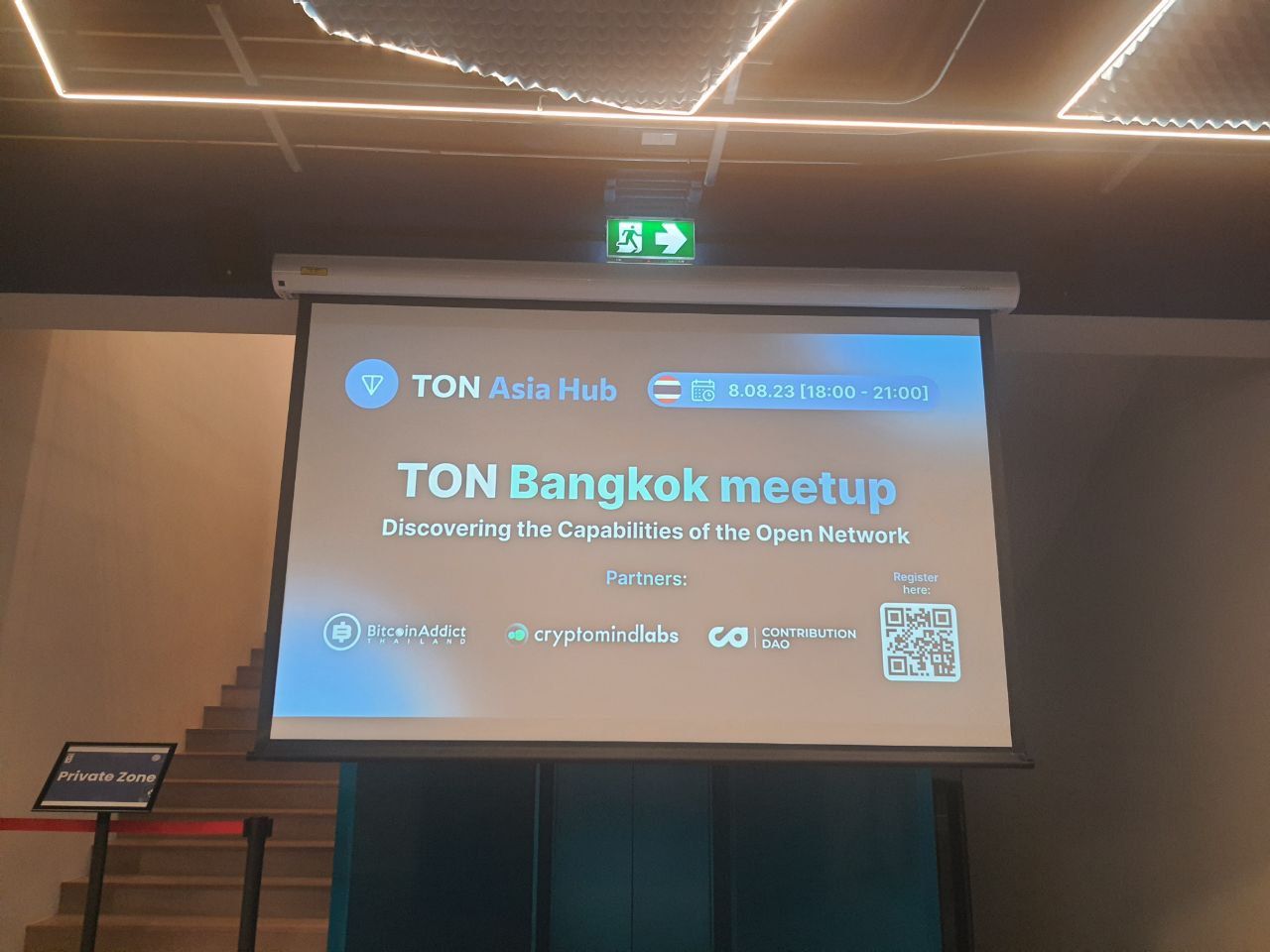 The Open Network (TON) also held a meetup in Bangkok with partners Bitcoin Addict Thailand, CryptoMindLabs, and Contribution DAO. The all-in-one meetup, workshop, and in-person training session, which was part of TON Foundation's ongoing Asian roadshow, encouraged early-stage builders to explore cutting-edge solutions in the blockchain space. Speakers introduced state-of-the-art developer tools and unpacked the benefits of running projects on The Open Network.
Thai Researcher Develops Framework for Identifying DeFi Risks
Kanis Saengchote, a Thai researcher at Chulalongkorn University, recently developed the Global Systemically Important Protocol (G-SIP), a framework to identify and measure systemic risk within DeFi institutions. Drawing inspiration from traditional banking measures for identifying critical banking structures and pinpointing potential weaknesses, G-SIP assesses DeFi nodes and protocols to predict potential financial collapses and contributes to prevention strategies.
To define G-SIP's parameters, Saengchote studied four top protocols in the Ethereum blockchain — Aave, Compound, Liquidity, and MakerDAO — hoping this framework will someday help stop the next market crash in its tracks.
Upcoming:
August 16-18: Explore the impact of Web3 technology on the future of the justice system at the three-day ASEAN Justice Innovation Fair 2023 in Bangkok. Organized by the World Justice Project, the event will explore how blockchain technology can make justice more accessible to all sectors of society in the 21st century.
August 24th: OffChain and SynergyLabs ICP.Hub will host "Building the Web3 Future: Turning the Dream into Reality" at Monkey Pod, Bangkok. Among the highlights to watch out for will be how VR and the blockchain will help pioneer a more immersive and user-friendly internet for all.
If you're around, please drop me a line! And reach out if you're in Thailand and have an interesting story or project you'd like to talk about.