Welcome to Blockhead's Daily Digest, your go-to source for staying informed on the dynamic and ever-changing world of cryptocurrency. Whether you're a seasoned investor, blockchain enthusiast, or simply curious about the latest developments, we've got you covered with the most comprehensive news and analysis.
---
Confidence is half the battle won... unless you're up against the SEC. Nonetheless, Coinbase is exuding confidence on the back of its encouraging Q2 earnings. Here are the key takeaways:
Revenue came in at $708 million vs estimates of $631.2 million.
Net loss reduced to $97 million from $1.1 billion last year.
Transaction revenue fell from $375 million last quarter to $327 million.
Total trading volume fell to $92 billion, compared to $145 billion in Q1.
Coinbase's share price rose as much as 10% after hours to $100.42 but has since fallen to $89.85.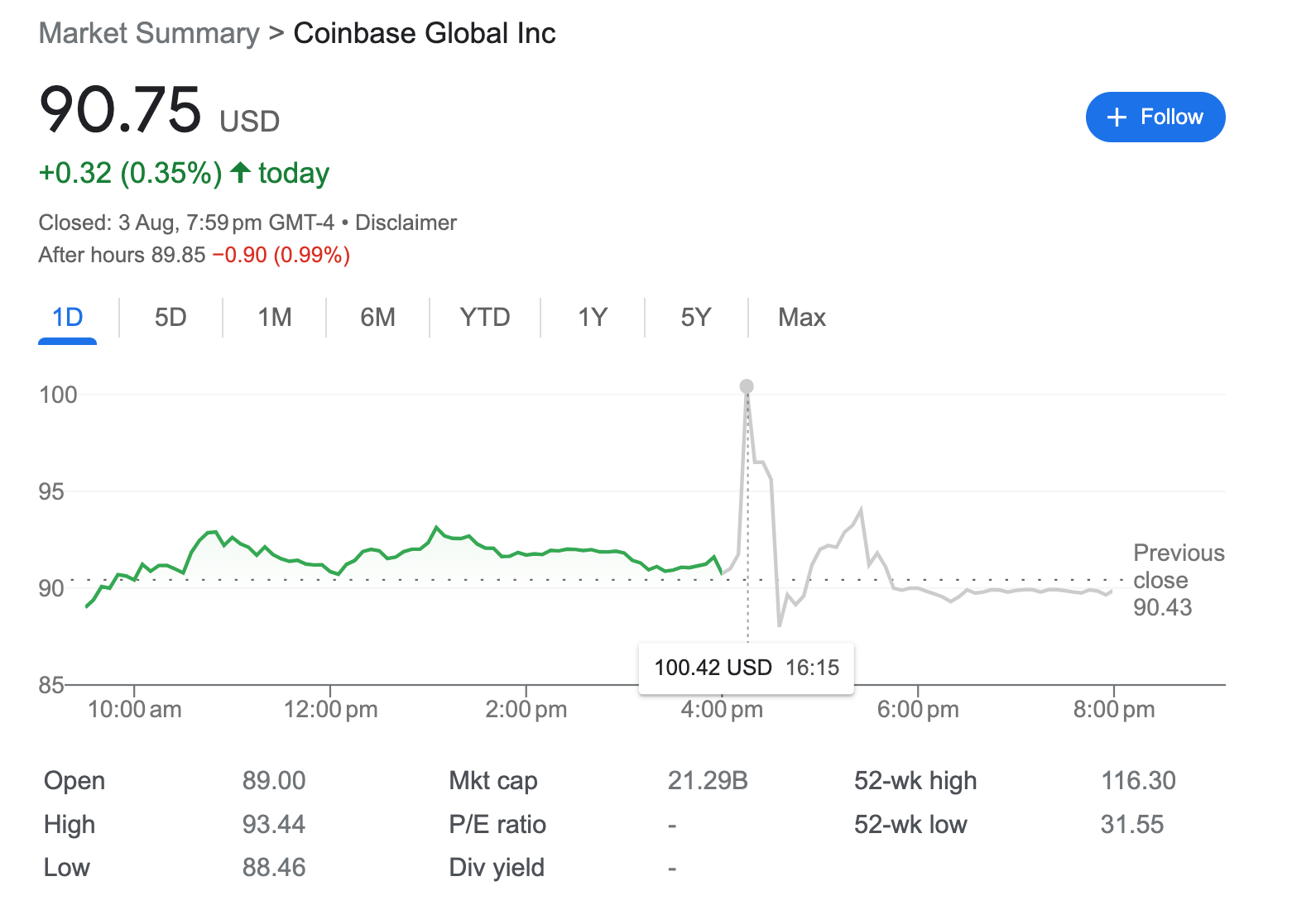 In the follow-up earnings call from their "strong quarter," Coinbase expressed further confidence in their battle with the SEC.
Paul Grewal, chief legal officer at Coinbase, said on Thursday's call, "With respect to litigation with the SEC, I want to be very clear — we do think we can win, we expect to win."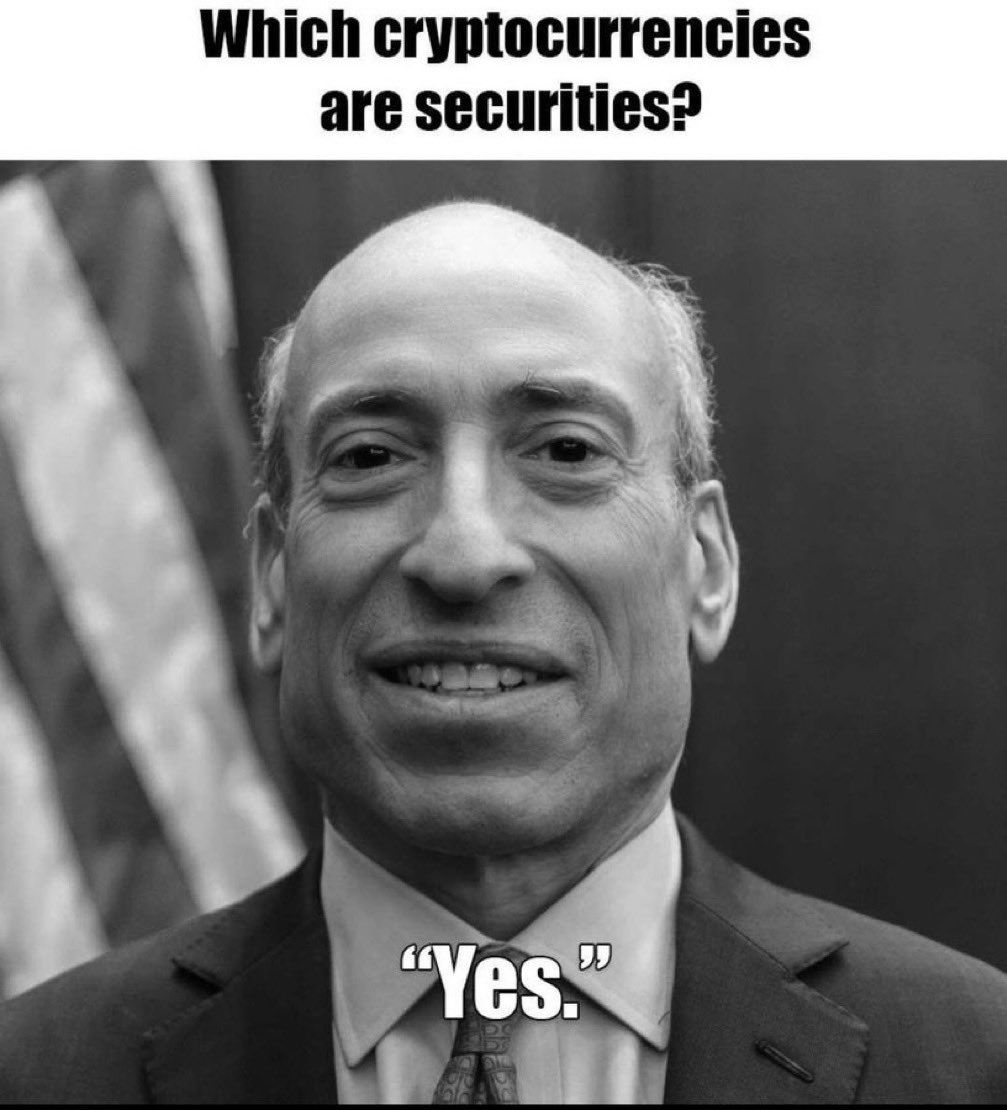 Furthermore, Coinbase plans to submit a court order on Friday to completely dismiss the SEC's lawsuit against the company.
"Well, tomorrow, as it turns out, in our case in the Southern District of New York, we will be moving the court for an order dismissing the case in its entirety," Grewal said.
Coinbase intends to submit a brief for consideration at the end of October and wants to work with the SEC to obtain "regulatory clarity."
Whilst beating the SEC is no easy feat, Coinbase could look to Ripple for hope. Earlier this month, a US judge ruled that Ripple did not violate federal securities laws by selling its XRP token, despite SEC allegations.
Timing might also be on Coinbase's side as SEC Chair Gary Gensler has declared that the regulator's new focus is now on AI. "[AI] is the most transformative technology of this generation," Gensler recently said. "We can get to crypto later."
What's more, the SEC is reportedly ready to publicly consider Ethereum ETFs. Although it does not guarantee their approval, it's a significant swing from the SEC's original stance in May in which the regulator asked firms seeking Ethereum ETFs to pause their efforts. based on information from two sources familiar with the matter.
Elsewhere:
Hong Kong Wasn't Bluffing: Hong Kong's retail-friendly stance is real. Local exchanges HashKey Group and OSL have become the first recipients of retail crypto licenses from the Securities and Futures Commission (SFC). Existing virtual asset trading platforms have until February 29, 2024, to apply for this license to continue operating in the city, showing Hong Kong's commitment to providing a clear regulatory framework for the crypto industry and protecting investors.
Razzle-con: Husband and wife Heather Morgan and Ilya Lichtenstein have pleaded guilty to attempting to launder $4.5 billion of stolen Bitcoin in a 2016 hack ($71 million at the time). Morgan had pretended to be a rapper and tech entrepreneur under the moniker Razzlekhan, releasing a series of music videos. "This song is for the entrepreneurs and hackers, all the misfits and smart slackers," Morgan raps in her 2019 track Versace Bedouin. Both Lichtenstein and Morgan pleaded guilty to money laundering with the latter also pleaded to a count of conspiracy to defraud the United States. Lichenstein faces up to 20 years whilst Morgan could get up to 10 years. Police tracked their stolen funds through blockchain analysis. The pair were arrested in New York as they were planning to flee to Russia.
eToro Goes Down, Down Under: Trading platform eToro's Australian division, eToro Aus Capital Limited, is facing a lawsuit from the Australian Securities and Investments Commission (ASIC) alleging that it improperly allowed retail clients to use high-risk and volatile contract-for-difference (CFD) products. eToro is accused of breaching its design and distribution obligations regarding CFDs. ASIC is seeking declarations, injunctions, and financial penalties against the company. Some 20,000 of eToro's clients lost money trading CFDs between 5 October 2021 and 14 June 2023. ASIC argues that the target market for these products included investors who were not experienced or sophisticated.
Fight for Your Right to SBF: The New York Times (NYT) is fighting against restrictions imposed on FTX founder Sam Bankman-Fried's ability to speak to the press during his criminal trial under the judge's gag order. In a letter to the U.S. District Court Judge Lewis Kaplan, NYT argued that the public as the right to be informed about the scandal, which led to catastrophic financial harm. Citing the First Amendment, the newspaper argued that news organizations have the right to receive information. Restraints on non-lawyers speaking to the press are justified only in limited circumstances, it argued. Bankman-Fried faces various charges related to FTX's collapse, including fraud and money laundering.
Copying Matters: Matter Labs, the company behind zkSync rollup, has been accused by Polygon of copying some of its open-source code without proper attribution. Polygon claims the code in question was used in Matter Labs' new proving system Boojum. This code is included without the original copyrights or clear attribution to the original authors," Polygon said. "Copy-pasting source code without attribution and making misleading claims about the original work is against the open source ethos and hurts the ecosystem." Denying the allegations, Matter Labs said the code was attributed in one of the files.