Welcome to Blockhead's Daily Digest, your go-to source for staying informed on the dynamic and ever-changing world of cryptocurrency. Whether you're a seasoned investor, blockchain enthusiast, or simply curious about the latest developments, we've got you covered with the most comprehensive news and analysis.
---
We've always known it. You've always known it. They've always known it. Now finally, the SEC is coming to know it: XRP is not a security.
In what is being regarded as a landmark case for the crypto industry, a US judge has ruled that Ripple Labs Inc did not violate federal securities law by selling its XRP token on public exchanges.
Dating back to a 2020 lawsuit, the SEC had accused Ripple of conducting an unregistered securities offering worth $1.3 billion by selling XRP. On Thursday, the judge in the Southern District of New York ruled that it XRP "not necessarily a security on its face."
"Accordingly, the SEC's motion for summary judgment on the aiding and abetting claim against Larsen and Garlinghouse is denied," the order from judge Analisa Torres details.
The crypto market understandably rejoiced at the highly anticipated verdict. XRP jumped as high as 70% following the news, Ethereum hit its seemingly elusive target of $2,000, and even Coinbase saw its stock price surge over 24%.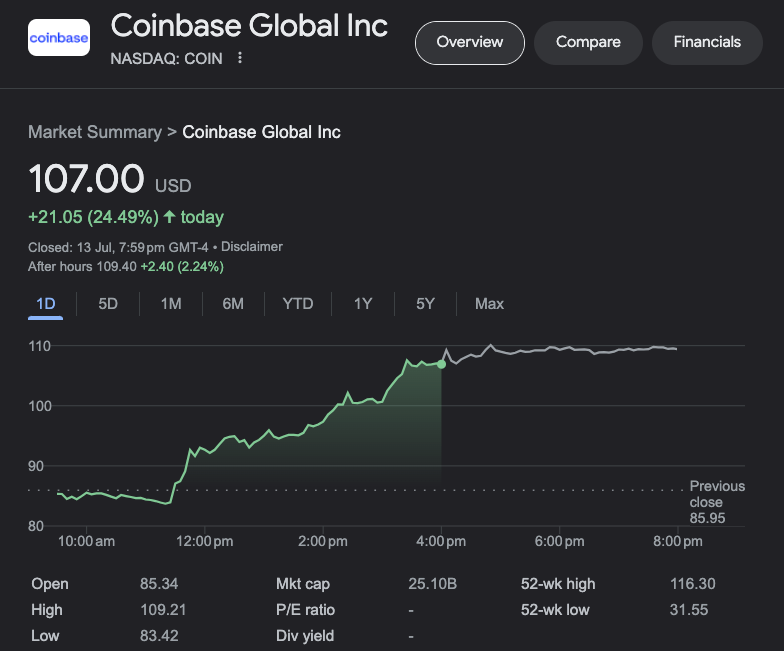 Elsewhere:
The former CEO of Celsius Network, Alex Mashinsky, has been arrested and charged with six counts including wire fraud. Prosecutors accused Mashinsky of deceiving customers about the financial health of the failed crypto ledning platform as well as manipulating crypto prices for personal gain. His arrest coincides with the anniversary of Celsius filing for bankruptcy with a $1.19 billion deficit. The SEC, CFTC and FTC have all filed lawsuits against Mashinsky and Celsius too. Roni Cohen-Pavon, Celsius's former chief revenue officer, has also been charged with four counts, including fraud.
Despite a warmer crypto spring, layoffs continue to plague the industry. Bitkub Capital Group, the parent company of Thailand's largest digital asset exchange Bitkub Online, has announced a lay off of 5.5% of its workforce, citing current economic downturn. Bitkub Online also cut 2% of its staff and denied firing half of its employees in June. Employee benefits have also been reduced. Meanwhile, Dapper Labs has announced a 51 employee cut. CEO Roham Gharegozlou shared an email on Twitter announcing the cut, which is aimed at ensuring a lean and efficient Dapper Labs. In November, the firm cut of 22% of its workforce in November 2022 and another 20% in February 2023.
We said goodbye to 51 brilliant colleagues and friends today @dapperlabs – this is the note I sent our team.

We remain fully dedicated to our core communities and committed to building amazing products that push the world forward together.

If you're looking to hire some of the… pic.twitter.com/xwhjZAYLN8

— roham (@roham) July 13, 2023
Europe is set launch its first Bitcoin ETF. Jacobi Asset Management's Bitcoin ETF will be publicly listed in the region one year after its intial planned launch. The ETF is regarded as a response to the "misuse" of exchange-traded notes (ETNs). ETFs feature underlying shares ownership whilst ETNs feature debt securities. The Jacobi ETF has been authorized in Guernsey. Over in the US, BlackRock, Fidelity, WisdomTree, Invesco, and Valkyrie Digital Assets filed similar Bitcoin ETF applications with the SEC.
See you on Sunday with the Blockhead Business Bulletin. Have a good weekend!