Welcome to Blockhead's Daily Digest, your go-to source for staying informed on the dynamic and ever-changing world of cryptocurrency. Whether you're a seasoned investor, blockchain enthusiast, or simply curious about the latest developments, we've got you covered with the most comprehensive news and analysis.
---
Binance continues to dominate headlines, but the headlines are getting weirder. Just yesterday we reported that the world's largest exchange pulled out of the Netherlands and is under investigation in France for alleged illegal canvassing of clients and aggravated money laundering.
Now, Binance itself has requested the cancellation of several permissions given to the crypto exchange's UK subsidiary Binance Markets Limited (BML) by the Financial Conduct Authority (FCA). Effectively, Binance is no longer authorized to conduct regulated activities in the UK, at the behest of Binance.
Binance has clarified that the decision, which comes against the backdrop of its SEC lawsuit, will not affect its operations as BML had not yet conducted any regulated business in the UK.
Over in Nigeria, Binance has issued a cease and desist notice to "Binance Nigeria Limited" less than two weeks after the country's Securities and Exchange Commission (SEC) ordered it to cease operations after determining its local unit was operating illegally. The SEC said the exchange was not registered or regulated.
Binance CEO Changpeng Zhao has since called Binance Nigeria Limited a "scammer entity" and advised his followers "don't believe everything you read in the news."
Binance have issued cease & desist notice to the scammer entity "Binance Nigeria Limited".

Don't believe everything you read in the news. 🤷‍♂️

— CZ 🔶 Binance (@cz_binance) June 18, 2023
According to a research note published yesterday by Kaiko, Binance.US has seen its market share in trading volume drop to 1%, down from its all-time high of 27% just a few months ago.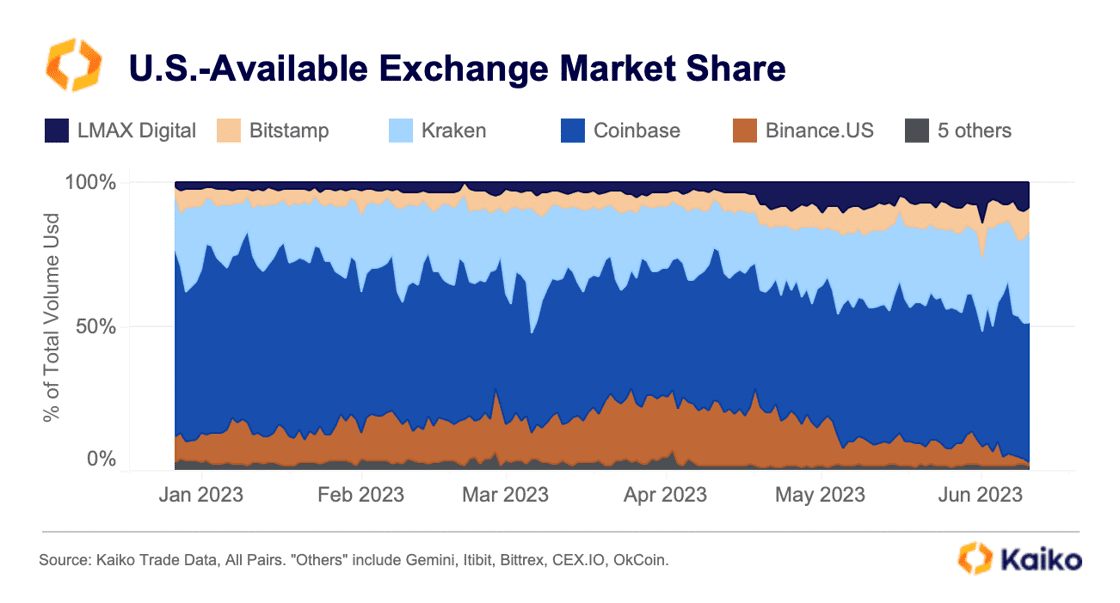 Indeed, Binance is in quite the pickle, to say the least. But fret not, the solution could come in the form of The Weeknd. Yes, that one.
In an effort to revive its brand, Binance is launching a new metaverse partnership with the "Die For You" singer for his "After Hours Til Dawn" tour. The interactive digital experience will allow fans to participate, regardless of whether they have tour tickets. Fans can explore the metaverse and win exclusive merchandise or future concert tickets.
Ticket holders may receive NFT souvenirs that could unlock autographed merchandise or VIP experiences.
Binance also plans to release an exclusive NFT collection for the tour, with 5% of the sales supporting the XO Humanitarian Fund initiated by The Weeknd and administered by World Food Program USA.
It's certainly a strange step and we can't exactly say we could "feel it coming."
Elsewhere: