Ah Monday... Everyone's favourite day of the week. Whilst you were all living it large this weekend, Blockhead was busy keeping up with the ever tireless world of crypto. Here's what you missed, and what to look forward to in the week ahead, condensed as Blockhead Brief. As ever, if you're here from a friend, subscribe now.
---
The markets for Bitcoin and Ethereum, the two largest cryptocurrencies took a breather over the weekend and remained largely flat following Bitcoin's climb to reach US$30,000 last week and the dust surrounding Ethereum's Shapella upgrade settles.
BTC is trading just under the $30K at time of writing, while Ethereum also seems to have consolidated around the US$2,100 mark – a level last reached in May 2022.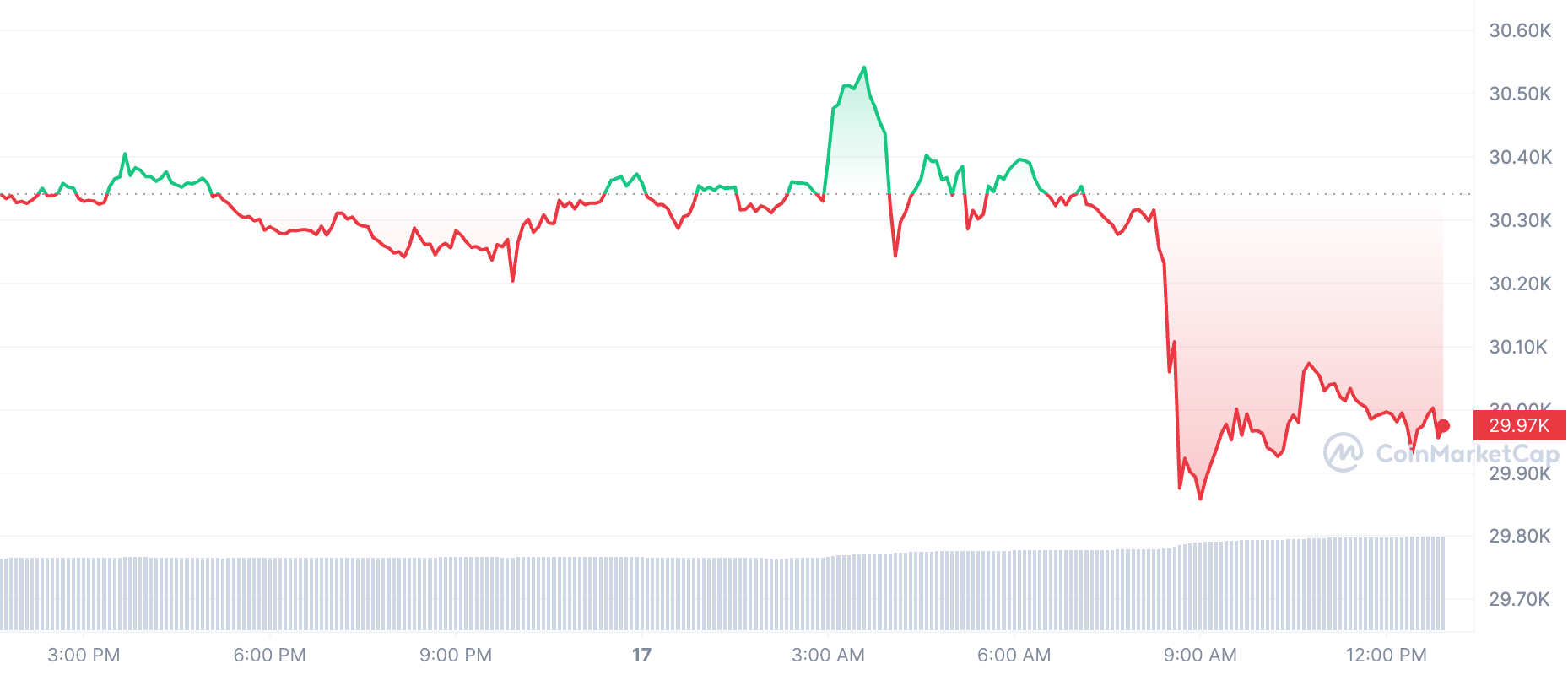 The bulk of the action seems to be surrounding major altcoins – Polygon (MATIC), Litecoin (LTC), Chinalink (LINK) and Avalanche (AVAX) continued their climbs that began last week.
OKB (US$52.2, +26.3% in 7 days), the utility token of popular cryptocurrency exchange OKX, has also experienced a significant surge in value, with the announcement of its support for the upcoming token sale for SUI, a permissionless Layer 1 blockchain. The exchange plans to offer the SUI token through its esteemed token sales platform, OKX Jumpstart, via a token allocation lottery scheduled to take place on April 23.
Cardano releases native wallet
Cardano (ADA) is now up close to 15% in the past week to reach US$0.443, on the back of the announcement of the Lace Wallet by Cardano developers IOG.
The browser-based wallet is expected to boost the ADA ecosystem, as users will be able to can send and receive Cardano digital assets like ADA, Cardano non-fungible tokens and Cardano-native tokens, as well as stake ADA tokens directly from Lace to contribute to the security of the Cardano network and receive rewards for their participation.
There are also plans to incorporate fiat-to-crypto on-ramps, a dapp store, in-wallet swaps and staking enchantments in future releases.
Solana phone ships out
The price of Solana (SOL) was also given a boost by the news that the Saga, which has been eagerly anticipated since its announcement in 2022, is finally shipping to customers that placed pre-orders for Solana's android-based mobile phone.
Saga is now available for order to customers who pre-ordered and will be available starting on May 8 for new orders. The phone features a Snapdragon 8+ processor, 512GB storage, and a 4,110 mAh battery, housed under a 6.67" OLED screen with a 120HZ refresh rate.
SOL rallied on the news, and the token is up over 25% in the past week to reach US$25.4.
Read Blockhead's take on the phone, when it was announced last year.
US Congress Drafts Stablecoin Legislation
A new bill has been drafted in Congress regarding stablecoin legislation, with significant implications for the cryptocurrency industry, as it effectively draws national borders around stablecoins in the US.
The bill makes it illegal to offer unlicensed stablecoins in the United States, including popular decentralized stablecoins such as DAI, LUSD, and RAI. It also extends the prohibition to foreign-licensed or unlicensed stablecoins being offered to Americans in any way.
The bill also establishes a licensing process for stablecoin operators, which is structured but ultimately discretionary, giving authorities the power to decide who can issue licensed stablecoins. Furthermore, it allows for stablecoins to be collateralized by insured deposits, potentially bringing deposit tokens under this regulation.
One notable provision of the bill is that it grants stablecoin operators direct access to the Federal Reserve, which could have significant implications for the industry. It also launches an official study on central bank digital currencies (CBDCs), including their potential impact on the competitive landscape of stablecoins.
While the bill does not regulate decentralized finance (DeFi) or other crypto payment systems, the broad definition of "payment system" in the bill could potentially include many wallets, bridges, and crypto payment apps. The bill has been met with mixed reactions, with some experts predicting that licensed stablecoins like USDC could benefit, while others believe it could drive adoption of non-stable payment tokens like Ethereum (ETH), which is considered legal and decentralized for payment purposes in the US.
Mastercard Embraces the Potential of Web3 with Music-Focused Program and NFT Drop
Mastercard has launched a free "multisensory NFT" that unlocks its music-focused program, the Mastercard Artist Accelerator. This program connects musicians with opportunities to create, collaborate, and monetize their work while retaining control of it, with guidance from expert mentors and the use of emerging AI tools from WarpSound.
To build the Web3 accelerator platform, Mastercard worked with blockchain development company Polygon.
"The potential of Web3 to deliver on its promise of opportunity and inclusion for all depends on whether people will embrace it. That's why it's important for trusted brands to experiment responsibly in the space and to push ourselves and our partners to harness new technologies in ways that are meaningful to people," the company said in a blog post.