After a highly anticipated software upgrade to the most commercially important blockchain went through without a hitch. This update, dubbed "Shapella,(Shanghai + Capella), is the most important upgrade to the Ethereum network since the Merge.
At the execution layer, Shanghai will create a new transaction type that will allow stakers to withdraw validator balances, while at the consensus layer, Capella will enable the Beacon Chain to accept a withdrawal request.
Prices rallied in the past 24 hours on its successful transition.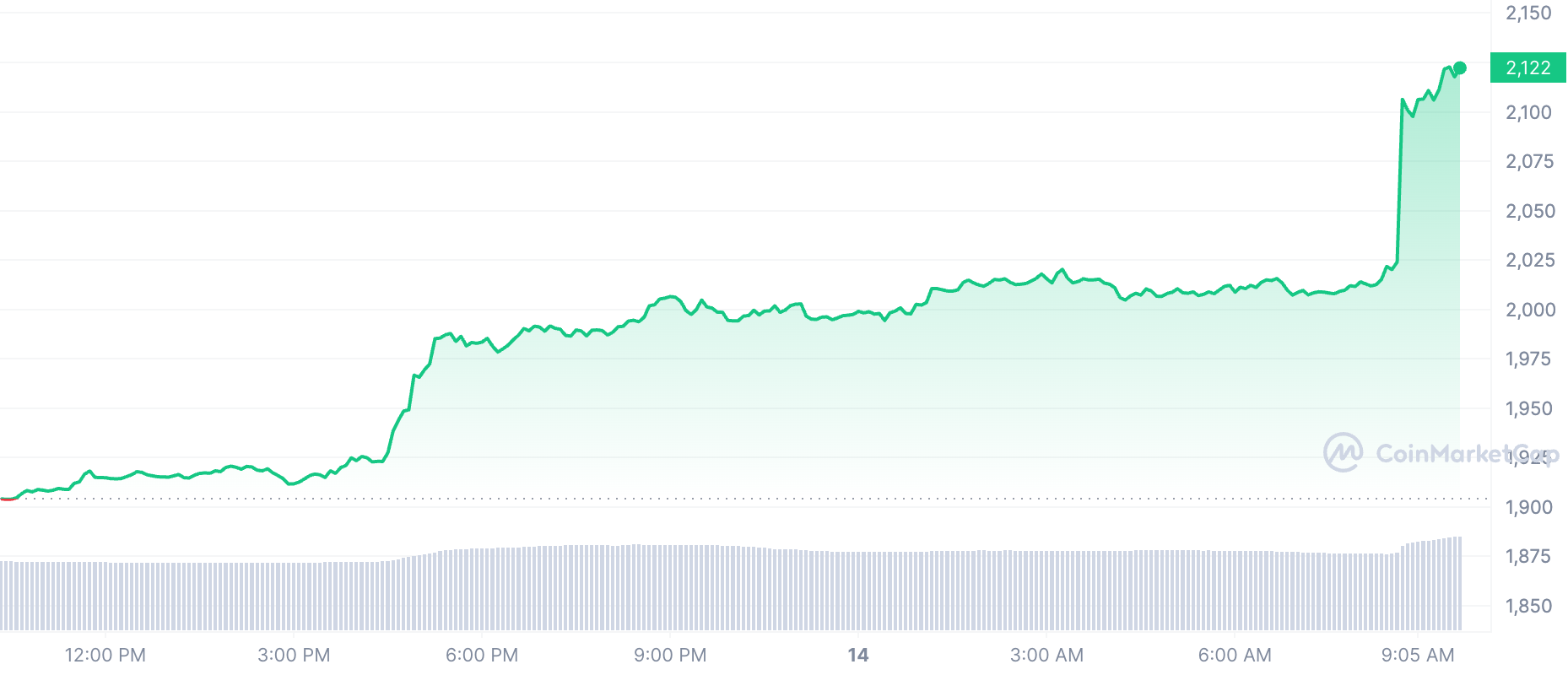 Developer and Ethereum upgrade coordinator Tim Beiko tweeted on Wednesday that the new version is "official."
This year, Ether has gained 67%, and it's getting dangerously close to breaking through an August high, which would send it to levels not seen since late May 2022.
Its growth has lagged behind that of Bitcoin, the largest token, which has increased by 83%, but it still has room to grow if withdrawals remain low.
Ethereum has gained traction in subsets of the cryptocurrency industry, such as so-called decentralised finance or NFTs. But it has not entered the mainstream of monetary, financial, or commercial transactions.
Delays in Withdrawals Despite Success
Still, cryptocurrency investors are experiencing withdrawal delays after the Ethereum blockchain underwent a significant software upgrade.
This shows Ethereum's ongoing challenges as it strives to use the technology for fast payments.
Investors had placed almost US$30 billion worth of ether tokens on the Ethereum blockchain in exchange for interest, and this update was supposed to release the funds.
Investors' monies on the Ethereum blockchain using this approach  - known as "staking" - could not be withdrawn until Wednesday's update.
According to Nansen, a blockchain data company, as of Thursday, Ether worth around US$1.4 billion was waiting to be withdrawn.
These lags illustrate Ethereum's transaction processing restrictions, a possible weakness as the platform attempts to replace traditional financial institutions.
According to Nansen researcher Martin Lee, who spoke with Reuters via email, the snafus arise because the blockchain can only handle so many transactions simultaneously. For example, he estimated it could handle 1,800 validator withdrawals daily, or around 57,600 ether worth of exits, or about US$115 million.
Lee said that security concerns prompted the withdrawal quotas for validators.
He added, "In an extreme scenario, if there are no limits, and a large majority of validators exit, the Ethereum network would be vulnerable to attacks and bad actors."
That is after 18.1 million tokens staked were withdrawn in the 12 hours following the upgrade, according to data from Nansen.
Not Everyone Agrees: Delays Normal
But Matt Maximo, a research analyst at Grayscale, said, "The amount of ETH entering the market from Shanghai withdrawals is much lower than what was previously expected."
"The amount of new ETH being staked is also outpacing the withdrawals, which is creating added buy pressure to offset the withdrawn ETH."
It may take "15 days to several weeks" to conduct these transactions, but the world's biggest crypto exchange Binance has promised that users can withdraw their Ether from its staking product starting on April 19.
"Initially, it may take 15 days to several weeks before users' ETH withdrawal requests can be fully processed. The time it takes to process ETH withdrawal requests is determined by the overall amount of ETH withdrawals requested by participants and the Ethereum network," Binance said.
Lee from Nansen also said clearing the backlog would take weeks, after which it will take just hours or days, depending on the typical daily "unstaking" amount.
---
Like what you read? Our weekly Business Bulletin wraps up the most important business and economic developments in the industry, along with macroeconomic views and opinions. To avoid FOMO and access member-only features, click here to subscribe. It's free.