Table of Contents
Ah Monday... Everyone's favourite day of the week. Whilst you were all living it large this weekend, Blockhead was busy keeping up with the ever tireless world of crypto. Here's what you missed, and what to look forward to in the week ahead, condensed as Blockhead Brief. As ever, if you're here from a friend, subscribe now.
Bitcoin and other cryptocurrencies traded up over the weekend, peaking on Monday morning. The world's largest cryptocurrency surpassed the $28k mark to highs of $28,510. BTC is currently trading at $28,302.11 (1.20%).
Ethereum (ETH) is trading at $1,861.38 (1.29%). Major altcoins such as BNB, Polkadot (DOT), and Avalanche (AVAX) are slightly up too, at 0.74%, 0.53% and 1.35% respectively.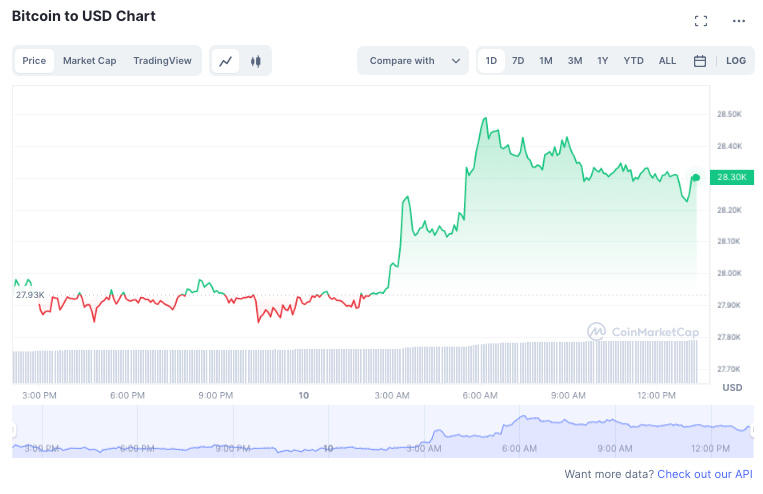 Binance Rejects Justin Sun's Offer to Buy Huobi Stake Due to China Link
Binance has turned down an offer to acquire Justin Sun's ownership stake in Huobi.
Changpeng Zhao's exchange was reportedly deterred from purchasing its rival due to rumours that Huobi has ties to mainland China, which Binance wants "nothing to do with."
The offer was allegedly made to Binance in the last week or so; information that Sun has denied. "I must point out that in the past week or so, I have not proposed any offer to [CZ] regarding the purchase of [Huobi], nor have we even discussed Huobi in the past week or so," Sun tweeted.
We have always regarded @binance as one of our most important partners and will continue to work closely with them on all levels. However, I must point out that in the past week or so, I have not proposed any offer to @cz_binance regarding the purchase of @HuobiGlobal , nor have… https://t.co/S1aXSlZoNv

— H.E. Justin Sun 孙宇晨 (@justinsuntron) April 5, 2023
Earlier in the month, Sun also denied rumours about him being in talks to sell a stake in Huobi.
Bloomberg had reported on 1 April that Sun was looking to sell an undisclosed stake in Huobi Global to "raise funds."
An insider for Bloomberg said the deal was in its "early stages" and that it was unclear whether any of the potential investors would proceed with it.
Sun took to Twitter to quash the rumours, calling them an April Fool's prank.
"As much as I love a good April Fool's Day prank, I must deny the report that @HuobiGlobal is seeking a stake buyer," he tweeted. "Rest assured, Huobi is committed to providing our users with a safe, reliable, and innovative platform for trading and investing in cryptocurrency."
Bank of England Builds CBDC Team
The Bank of England (BOE) is building a 30-person team to oversee the development of its CBDC project.
"A team of 30 seems like quite a significant resource to focus on the digital pound," CryptoUK advisor told the Times.
Positions were reportedly listed on BOE's website for a "digital pound solutions architect" and "digital pound security architect," offering a salary of £80,000.
The UK Treasury and BOE are looking into launching a CBDC by 2030. Issued by the BOE and backed by the government, the currency is being referred to as the "digital sterling", "digital pound" and even "Britcoin."
dYdX Exits Canada, Citing Regulation Concerns
Decentralized derivatives exchange dYdX is leaving the Canadian market.
New users based in Canada are no longer being onboarded, whilst current users have until 14 April to access the exchange's full capabilities.
From 14 April, Canadian users will be moved to a "close-only mode" in which exiting positions and withdrawals are only permitted.
dYdX cited Canada's "regulatory climate" for its decision, which comes a month and a half after the Canadian Securities Administrators published new regulations for exchanges to comply with "enhanced investor protection commitments."
"We hope that the regulatory climate in Canada will change over time to allow us to resume services in the country," dYdX said in a blog post.
Thailand Opposition Offers Crypto Reward For Election Win
The head of a Thai opposition party is offering citizens 10,000 Thai Baht (US$300) in digital currency if his party is elected in May.
Candidate Srettha Thavisin, who is seeking to be the next prime minister of Thailand, promises the reward to any Thai citizen aged 16 or older. The move comes as part of the Pheu Thai Party's proposed economic stimulus.
Paetongtarn Shinawatra, Pheu Thai's chief adviser on public participation and innovation, said the give away is a blockchain technology-based effort to bring digital currencies to the country.
"Our country has been economically bruised over the last eight years, with less income and more expenses for the people," Thavisin said.
"The current government has been feeding IV drips with small money handouts. That's not the right way and doesn't stimulate the appropriate and right economic growth."
---
Fear & Greed Index
The Crypto Fear and Greed Index uses 5-6 measurements to assess the current sentiment of the market and then rates that level of emotion on a scale of 1-100 – 1 is extreme fear and 100 is extreme greed.
Risk appetites in crypto have reduced from last week's 63 to 62, and the index remains in the "greed" area. Since late January, sentiment had hovered in the 40s to 60s, following 4 straight months of being in the 20s.
---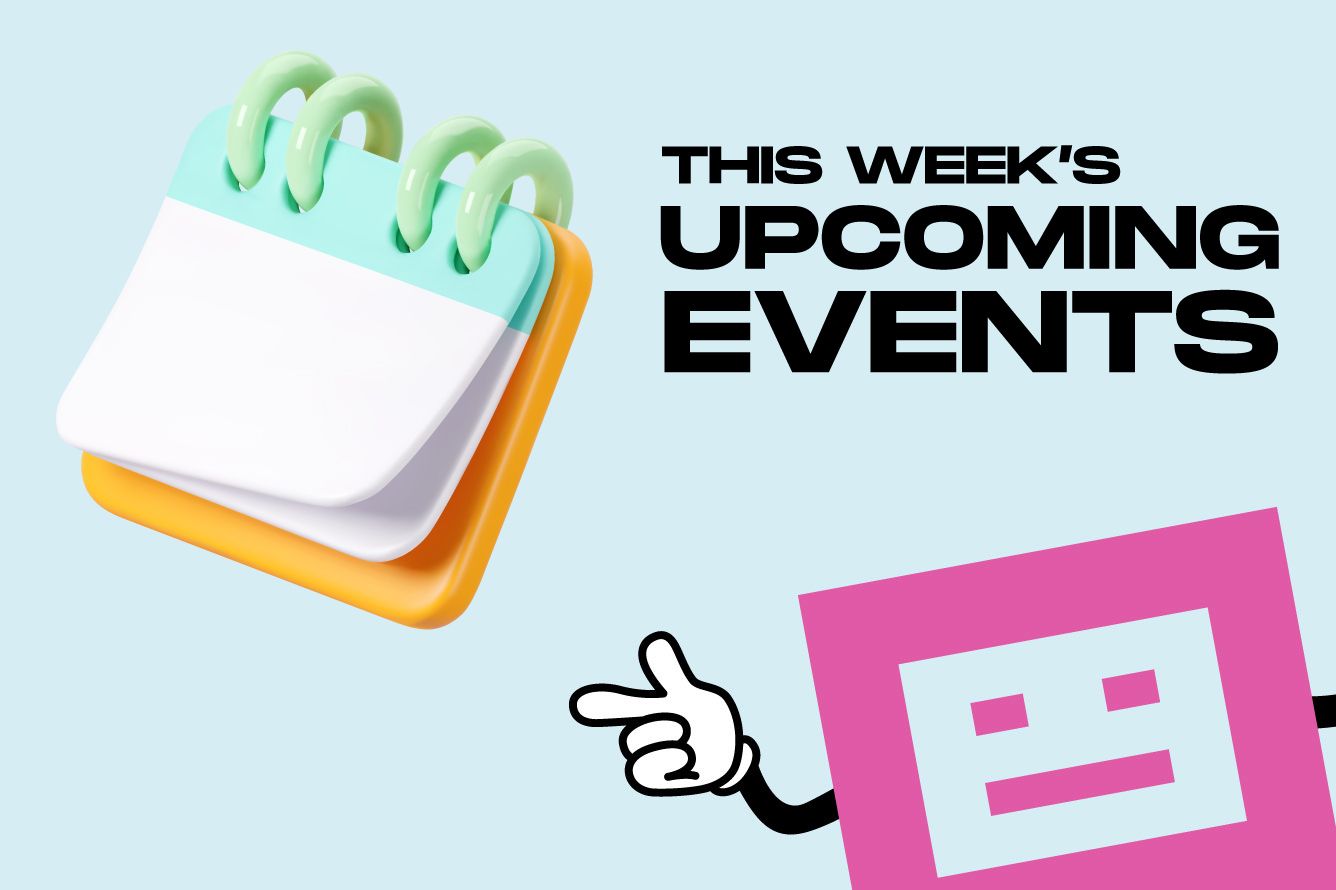 Bridge the Gap: Avoid Common Web 3.0 Legal Mistakes
Legal issues and challenges are often overlooked in web3. Daniel Lo, Chief Legal Officer of Cake DeFi speaks on the common legal pitfalls that startups face, the regulations that founders should be aware of, and what his job entails.
When: 5pm on Tuesday, 11 April 2023
Where: National University of Singapore- Icube Building 21 Heng Mui Keng Terrace Level 1, The Hangar, Seminar Room, 119613
More info: Bridge the Gap: Avoid Common Web 3.0 Legal Mistakes
Circle Hacker House
Circle is hosting its first ever in person conference in the APAC region. Participants will have unparalleled access to Circle's experts and partners, as well as the opportunity to engage with fellow enthusiasts and gain invaluable insights into Circle's technological capability. The event will also feature workshops, keynote speeches and networking opportunities
When: 10am-5pm on Saturday 15 April 2023 and Sunday 16 April 2023
Where: 3 Fraser Street, DUO Tower #05-21, 189352
More info: Circle Hacker House
---
A Little Something For You
Congratulations on making it this far through the newsletter! As a thank you, Blockhead would like to offer you an exclusive promo code for the upcoming Consensus 2023 conference in Austin, Texas [26-28 April 2023].
Simply enter BLOCKHEAD at the checkout for a 30% discount on all tickets. Enjoy!
---
Hey! We're Blockhead, a digital assets-focused media platform that's also Asia-led and global in scope. We cover the most important industry trends and developments happening right now. For questions and feedback, feel free to email us here. If you've read this far and are hungry for more, check out our website for even juicier crypto content.