Table of Contents
The sharpest increase in interest rates in decades has hit the market hard, ending the age of free money.
But Bitcoin's stealth rally puts it atop the quarterly scoreboard once again.
Markets were alerted that monetary tightening would likely bring additional pain with the failure of Silicon Valley Bank (SVB) in early March due to huge losses on its bond portfolio as rates soared.
The United States, the Eurozone, and Australia are some of the major developed economies that have lifted rates since late 2021 by about 3,300 basis points (bps).
Bitcoin Atop in Q1
Still, Bitcoin finished the quarter with a gain of 72%, marking its greatest quarter since the three months ended in March 2021, when it rose by around 103%.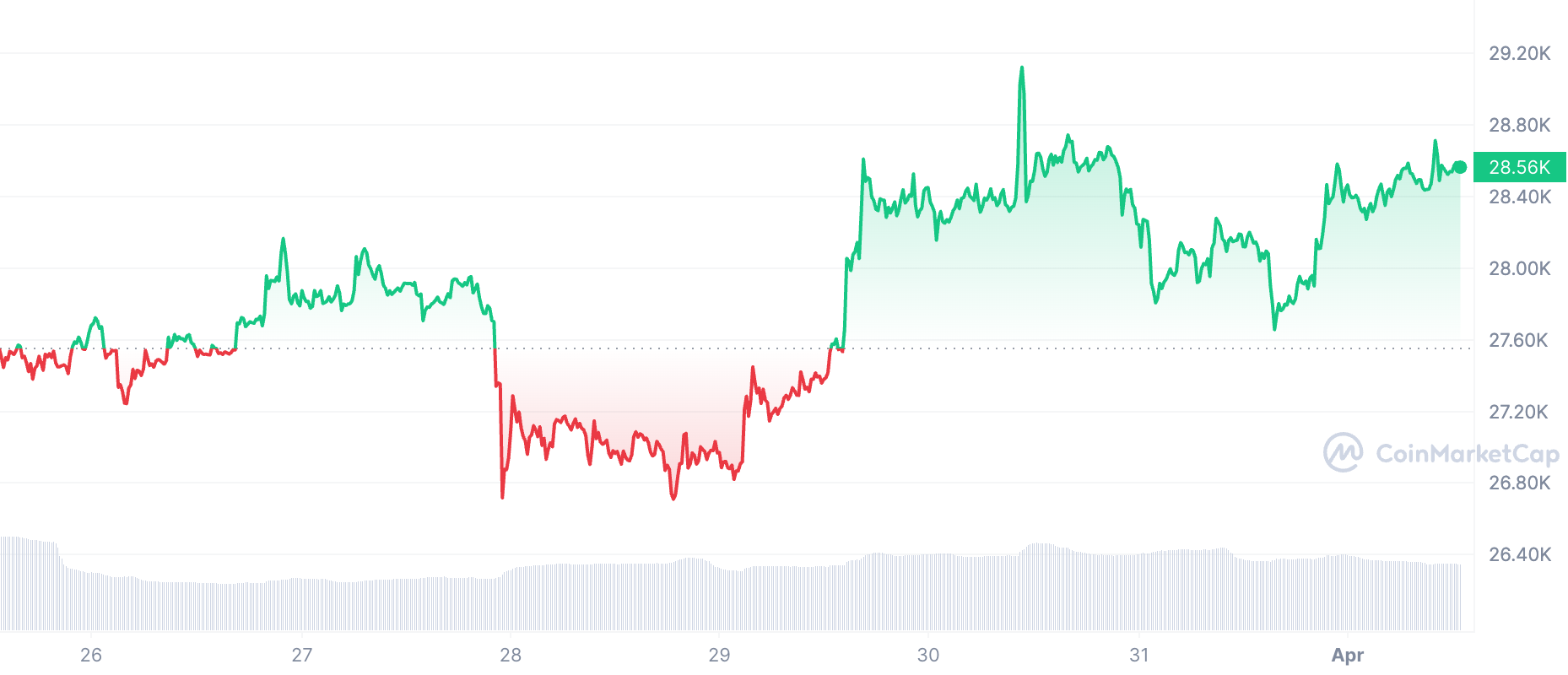 The largest cryptocurrency outpaced the 7% gain in the S&P 500, the 20.5% increase in the Nasdaq 100, and the 6.8% increase in the iShares 20+ Year Treasury Bond ETF over the same time.
Investors in this still-emerging asset class should be prepared for volatility, say those who have been involved in the market for some time.
After skyrocketing by more than 1,000% in a single year in 2017, Bitcoin experienced what has been known as a crypto winter in 2018, when its value fell by 74%.
Nevertheless, after three years of growth, it plummeted 64% last year due to scandals and bankruptcies.
After enjoying a windfall during the easy-money period, cryptocurrency holders had a painful year of rate hikes in 2022 but have now seen gains on hints that tightening may be coming to an end.
But, there are good reasons to be wary of crypto assets: the failure of many prominent crypto businesses last year resulted in massive losses for crypto clients, and the US government is rapidly cracking down on the crypto industry's biggest participants.
Experts in the financial markets are at odds on what triggered Bitcoin's recent price increase.
After its second-worst year ever, the token started 2023 with a bang. Others have speculated that resting up after such a rough showing may have had a role.
However, many people have cited the token's history as the explanation for its renewed popularity in recent weeks.
With tremors in the global financial industry, they believe the token's independence from central banks makes it a haven.
Peter van Dooijeweert at Man Solutions said, "Most people's knee-jerk would've said Bitcoin should do terribly because markets are under pressure or strain."
"But actually, if you think about the Bitcoin bugs — the people who love Bitcoin — they love the idea of a non-fiat currency — like this is the outside-the-US-dollar, outside-of-the-banking-system-type thing," he added.
Recently, the price of bitcoin has been steadily rising. In the previous three weeks, approximately coinciding with when American banks first began showing signs of stress, it has only experienced seven losing sessions out of 22 and has increased by 40%.
Banking Turmoil
But rising rates operate with a time lag, which means the impact on a wider variety of sectors and assets has yet to be fully felt.
The banking industry is still a major source of concern following the bankruptcy of SVB and the forced merger of Credit Suisse and UBS.
As interest rates have increased, the value of government bonds has plummeted, and investors are aware of which institutions may be holding unrealised losses.
Japanese lenders' unrealised losses of nearly 4 trillion yen ($30 billion) on foreign bonds have been brought to light by the SVB bond portfolio losses.
Even if Japanese, European, and American bank stock prices have rebounded from their recent lows, they remain much lower than before SVB's demise.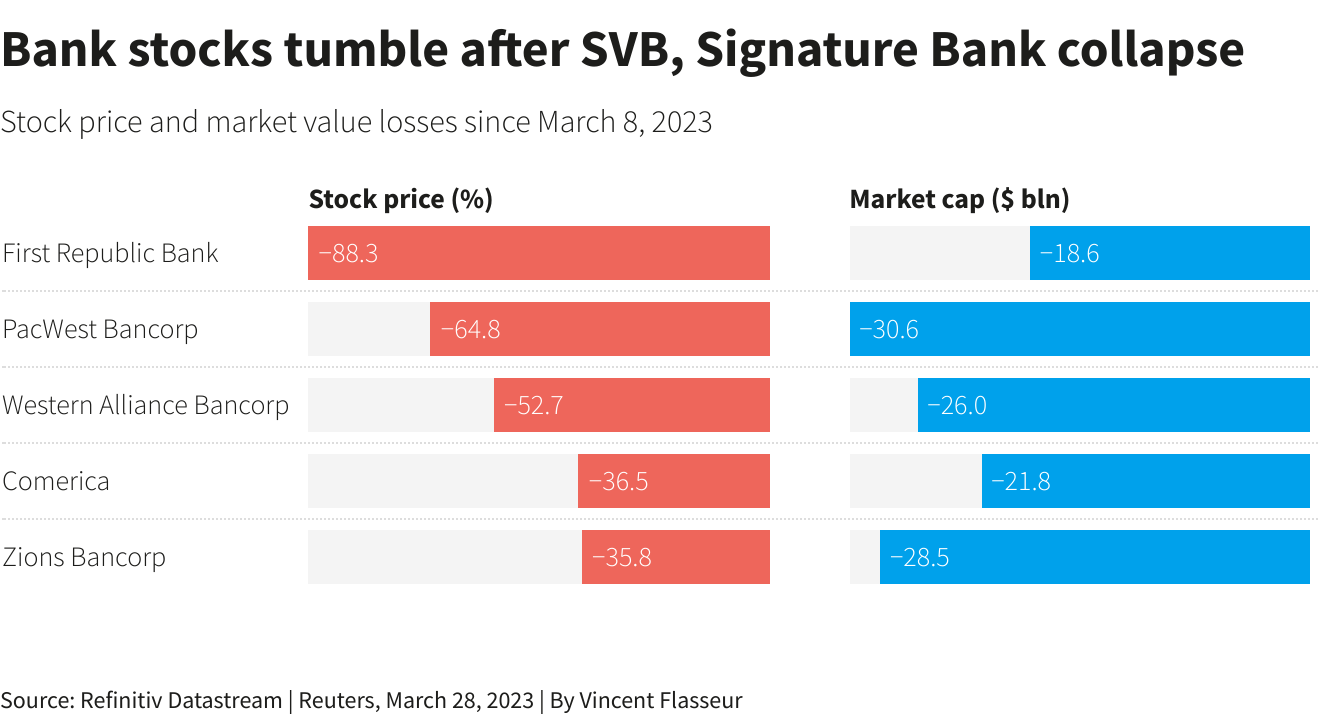 Tech Firms Not Darlings Anymore
Stress in the technology industry may swiftly spread across the economy, as seen by SVB's failure.
Google's parent company, Alphabet, along with Amazon and Meta, have all recently laid off employees after going on recruiting binges during the tech boom.
According to real estate firm Redfin Inc, housing markets in major US cities like Seattle and San Jose are cooling faster than in other parts of the country. As part of its reorganisation, social media platform Pinterest will vacate its office space contracts.
As the turmoil in this important U.S. business causes aftershocks in Europe and abroad, investors concerned about global tension should watch Silicon Valley.
Meta has cut nearly a quarter of its employees.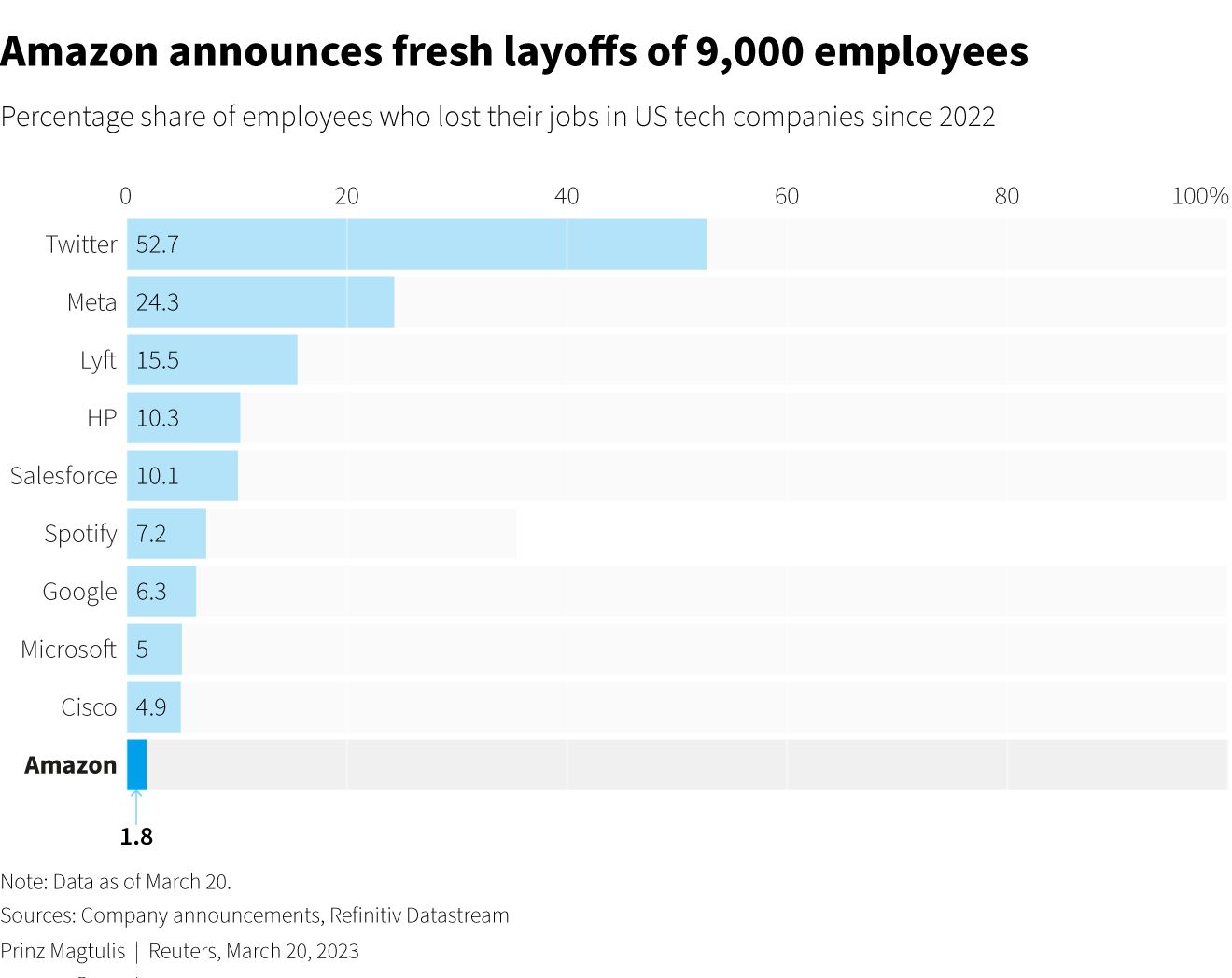 Bitcoin Wears the Crown
For now, Bitcoin is the king and reigns supreme against various assets.
Stephane Ouellette, chief executive of FRNT Financial, alerted that "seemingly, BTC rallies have come from 'darkest before the dawn' moments."
"After the SVB failure and subsequent Signature closing, the narrative entering the week was that it would be a difficult period for crypto," he said.
"In fact, those events fueled the narrative for Bitcoin as an alternative to banking solutions and all of the crypto inclusive of BTC had some fantastic positive trading days, which was unexpected for many," added Ouellette.
---
Like what you read? Our weekly Business Bulletin wraps up the most important business and economic developments in the industry, along with macroeconomic views and opinions. To avoid FOMO and access member-only features, click here to subscribe. It's free.