Table of Contents
A US watchdog bit Binance and now investors are pulling money out of the exchange.
According to a court filing made on Monday, the US has taken "significant action" against Binance Holdings and its CEO, Changpeng Zhao (CZ). Binance has been hit with a complaint from the Commodities Futures Trading Commission (CFTC), which claims that the crypto exchange's compliance efforts "have been a sham."
The US Department of Justice is also looking into allegations of money laundering and sanctions breaches made against Binance.
Investors Pull Out
After the CFTC lawsuit, investors pulled US$1.6 billion in cryptocurrencies from Binance, according to blockchain data tracker Nansen.
Indeed, Binance's withdrawals have increased since the lawsuit was filed, from an average of US$385 million per day to US$1.6 billion in the previous 24 hours.
According to Martin Lee, a research analyst at Nansen, the outflows were greater than typical but still lower by about half than on December 13, when investors withdrew US$3 billion due to concerns over Binance's liquidity.
Users and authorities are looking closely at how Binance and its now-defunct erstwhile competitor FTX handle consumer deposits.
On Tuesday, FTX founder Sam Bankman-Fried (SBF) was accused of paying Chinese officials a $40 million bribe.
According to Reuters' sources, the former head of Binance's de facto US subsidiary has hired a former federal prosecutor and top officer at the CFTC to represent her in the ongoing federal investigations against the massive crypto exchange.
But Binance disagreed with characterising many of the issues alleged in the complaint.
Bitcoin Resumes $30,000 Pursuit
Bitcoin touched a 10-day low on Monday after US regulatory watchdog bit Binance.
But with risk appetite recovering across global markets and anxiety about the consequences of Binance's legal issues subsiding, Bitcoin resumed its ascent towards US$30,000.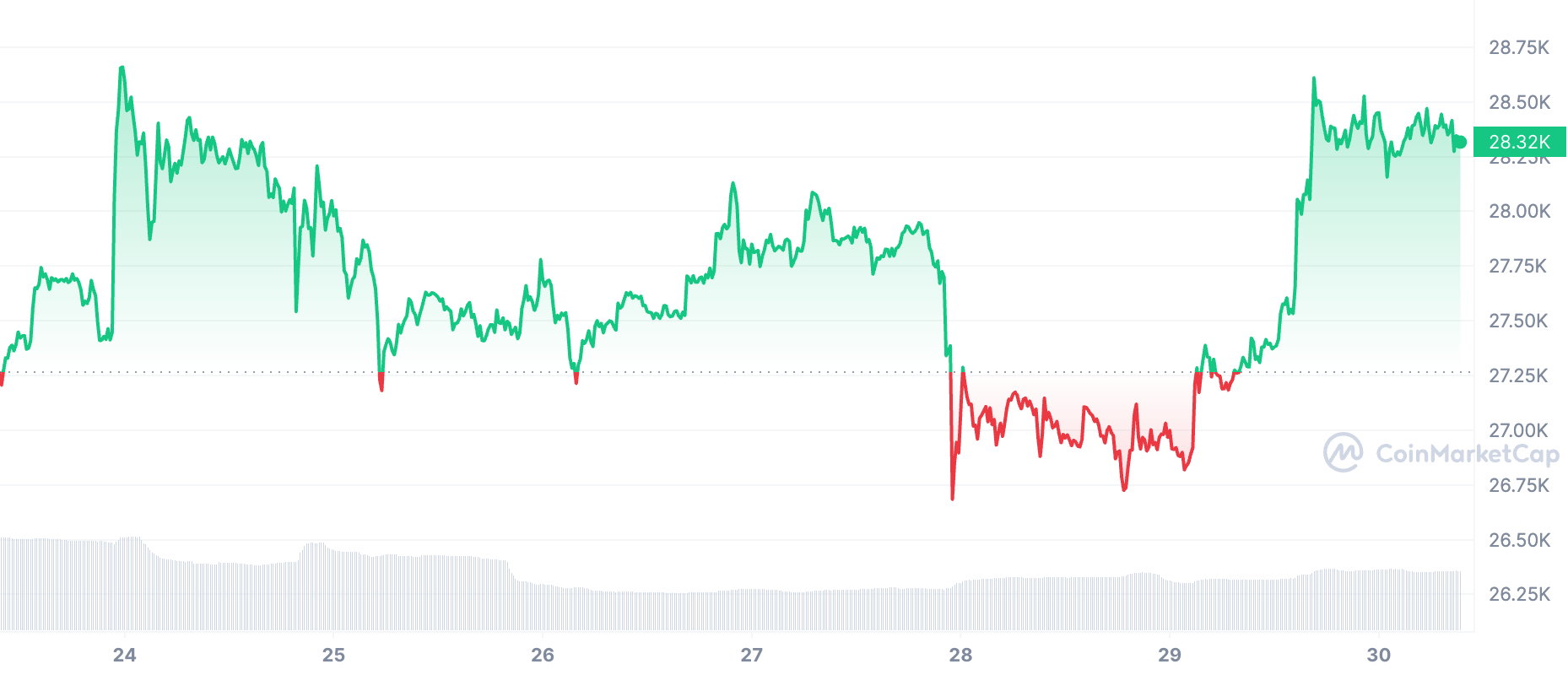 According to Bloomberg analysis based on one indicator used by technical experts, the price rises might continue.
On Wednesday, the Bitcoin RSI (Relative Strength Index) surpassed a key level, suggesting that the cryptocurrency's 66% price increase in 2023 may have further to go.
With the failure of Terra's algorithmic stablecoin project in May of 2017, Bitcoin's monthly relative strength index (RSI) rose beyond 50.
Price momentum is considered bullish when it rises above 50 and bearish when it falls below this level.
There have only been three such occurrences since the significant low reported in January 2015: October 2015, April 2019, and April 2020.
Three months and a year later, returns averaged 26% and 182%, respectively. Nevertheless, the signal will be solidified only if the monthly RSI stays above 50 on the month's last trading day.
Hours before the CFTC suit, Binance, the popular crypto exchange, had said that spot trading and withdrawals were back up after experiencing technical difficulties.
According to a tweet from CEO CZ, Binance temporarily halted deposits and withdrawals earlier on Friday because of a "bug on a trailing stop order."
However, the CEO later clarified that the temporary halt was routine.
Last week, the largest cryptocurrency exchange in the world said that it would stop accepting pound deposits and withdrawals, one month after it had stopped accepting dollar transactions.
Regular currency transactions have ceased the United States continues its assault on cryptocurrencies.
Last month, a top Binance official stated that the exchange anticipated paying penalties to end US investigations against the firm, as the Wall Street Journal and Bloomberg reported.
Binance-Voyager's $1.3 Billion Deal in Jeopardy
Binance is a name that keeps popping up in the realm of cryptocurrencies.
And for the crypto exchange, the hits just keep on coming.  
A US judge has ruled to put a hold on the US-Voyager Digital agreement.
The United States Department of Justice (DOJ) requested "a stay pending appeal of the Bankruptcy Court's confirmation ruling."
US District Judge Jennifer Rearden approved the US DOJ's application for a stay on the deal.
Voyager argued that a delay might cause Binance US to back out of the pact entirely, but Rearden rejected the argument.
That comes on the heels of news that a US judge was "absolutely shocked" at the markets regulator's objection to Binance's acquisition of Voyager Digital.
---
Like what you read? Our weekly Business Bulletin wraps up the most important business and economic developments in the industry, along with macroeconomic views and opinions. To avoid FOMO and access member-only features, click here to subscribe. It's free.