Table of Contents
It's another bump in the road for the Binance.US-Voyager Digital deal as a US judge calls halt.
On Monday, US District Judge Jennifer Rearden ruled that the proposed $1.3 billion sale should be suspended to give the government more time to pursue legality appeals.
The US Department of Justice (DOJ) previously applied for a "a stay pending appeal of the Bankruptcy Court's confirmation order." Rearden granted the application.
Voyager expressed concern that a delay could result in Binance.US pulling out of the deal completely, but Rearden overruled the argument.
"Upon consideration of all parties' written submissions, as well as the conferences and oral argument held in this matter, the Government's emergency motion is hereby GRANTED. An opinion setting forth the reasons for this ruling will issue shortly," the ruling said.
US flip-flopping
The acquisition of Voyager Digital's assets has been far from a smooth journey for Binance.US.
In early March, Binance was approved to acquire Voyager Digital's assets after a bankruptcy judge overruled objections from the Securities and Exchange Commission (SEC).
Read more: Judge Approves Binance's Voyager Acquisition Despite SEC Objections
Last month, the SEC said in a filing that the US$1 billion deal could violate laws and might be discriminatory. The SEC was particularly concerned about how Binance plans to repay Voyager's former customers.
US Bankruptcy Court Judge Michael Wiles said he was "absolutely shocked" at the SEC for interfering without explaining giving guidance.
Wiles then approved the deal, which was supported by 97% of Voyager creditors. The $1 billion deal would see creditors potentially making a 73% recovery of their lost assets.
Read more: Judge Slams SEC's Objections to Binance-Voyager Deal
"I cannot put the entire case into indeterminate deep freeze while regulators figure out whether they believe there are problems with the transaction and plan," Wiles said.
At the time of writing, Voyager's token VGX is down 44% from $0.59 to $0.33 since Wiles initially approved the sale in early March.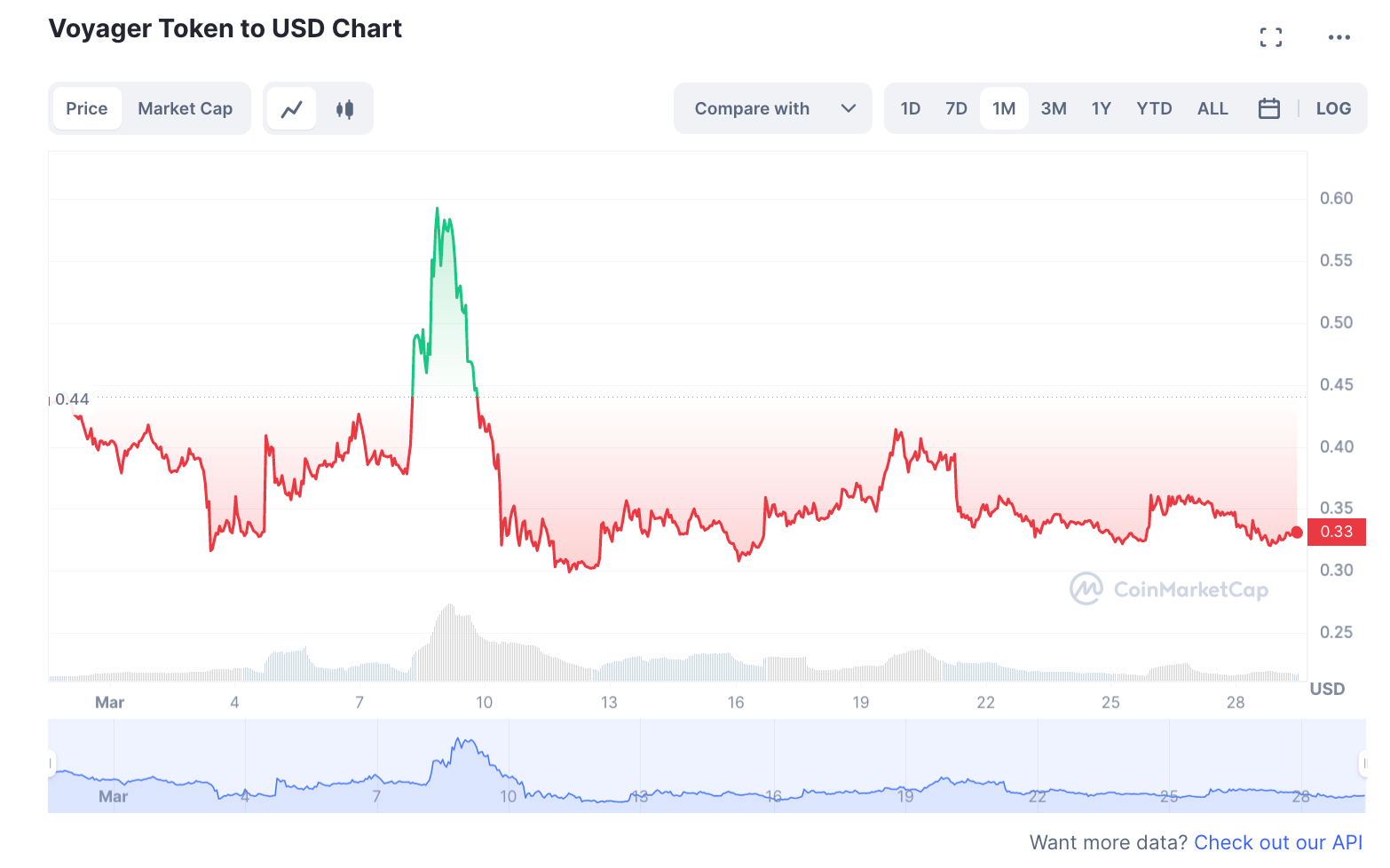 ---
The world of Web3 can be quite a whirlwind. Whether it's crypto news in Singapore, South East Asia or even across the globe, we understand how busy the industry is keeping you, so we kindly send out three newsletters each week:
BlockBeat for a wrap-up of the week's digital assets news
Blockhead Brief for weekend happenings as well as what to look forward to in the week ahead
Business Bulletin for macroeconomic updates and industry developments.
To avoid FOMO and access member-only features, click here to subscribe for FREE.