Table of Contents
Binance.US has been approved to acquire Voyager Digital's assets after a bankruptcy judge overruled objections from the Securities and Exchange Commission (SEC).
Last month, the SEC said in a filing that the US$1 billion deal could violate laws and might be discriminatory. The SEC was particularly concerned about how Binance plans to repay Voyager's former customers.
US Bankruptcy Court Judge Michael Wiles said he was "absolutely shocked" at the SEC for interfering without explaining giving guidance.
Read more: Judge Slams SEC's Objections to Binance-Voyager Deal
On Tuesday, Wiles approved the deal, which was supported by 97% of Voyager creditors. The $1 billion deal would see creditors potentially making a 73% recovery of their lost assets.
"I cannot put the entire case into indeterminate deep freeze while regulators figure out whether they believe there are problems with the transaction and plan," Wiles said.
We are pleased the U.S. Bankruptcy Court for the Southern District of New York agrees with 97% of Voyager customers who voted that our plan provides the best path forward for Voyager users to re-take control of their assets.

Our goal has always been to https://t.co/AZwoBOgsqS… https://t.co/PJI0GqFWtj pic.twitter.com/T4as5RKpxl

— Binance.US 🇺🇸 (@BinanceUS) March 7, 2023
Wiles will sign a court order approving the sale upon the finalization of the wording.
US Department of Justice lawyer Peter M. Aronoff said federal officers are considering appealing the decision. The SEC and other federal lawyers said the deal could undermine future efforts in policing the crypto scene.
Concerns were also shared that Voyager customer data, including Social Security numbers, could be shared with Binance.US and its offshore databases.
At the time of writing, Voyager's token VGX is up over 22.5% to just under $0.50.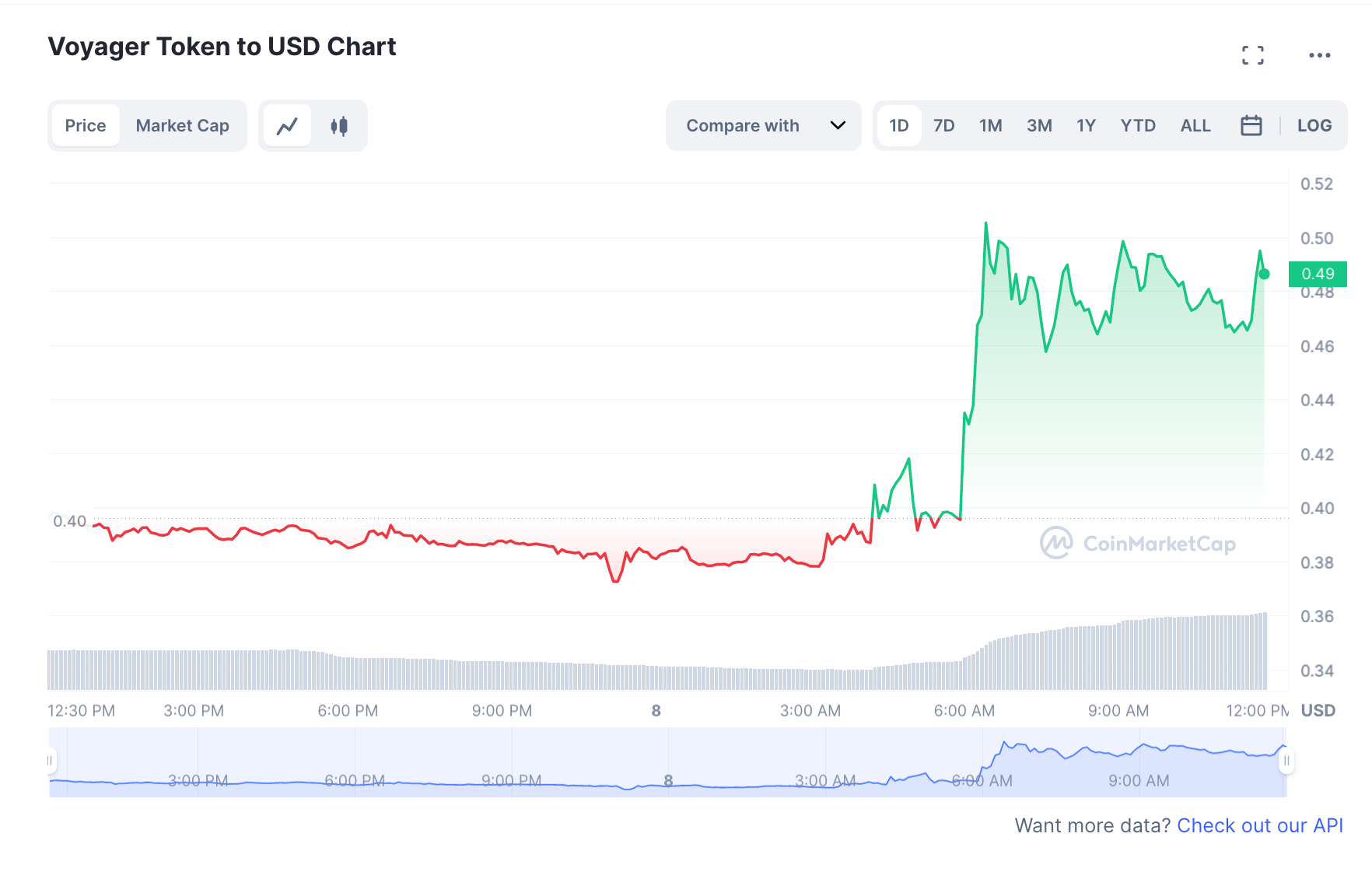 Meanwhile, Telegram messages from Binance executives have revealed how the firm tried to avoid US regulatory scrutiny through Binance.US.
A report by the Wall Street Journal detailed the messages and documents from 2018 to 2010, as well as interviews with former employees. Its conclusion is that Binance and Binance.US are "much more intertwined than the companies have disclosed."
Read more: "Be Creative And VPN": Binance Execs' Messages Show Plan to Dodge US Regulation
The findings are critical as US regulators could claim power over Binance's entire business if they also reach the same conclusion.
---
The world of Web3 can be quite a whirlwind. Here at Blockhead, we understand how busy crypto is keeping you, so we kindly send out three newsletters each week: BlockBeat for a wrap-up of the week's news; Blockhead Brief for weekend happenings as well as what to look forward to in the week ahead; Business Bulletin for the most important business and economic developments in the industry. To avoid FOMO and access member-only features, click here to subscribe.