Bitcoin and other cryptocurrencies continued to trade sideways throughout the weekend, with the world's largest cryptocurrency bobbing up and down near US$22,000 as investors await tomorrow's release of consumer price index (CPI) data.
At the time of writing, Bitcoin (BTC) is trading at US$21,767.82 (-0.22% in 24h) while Ethereum (ETH) is trading at US$1,511.95 (-1.46%). Major altcoins such as BNB, Polkadot (DOT), and Avalanche (AVAX) have also been trading in red within the same period.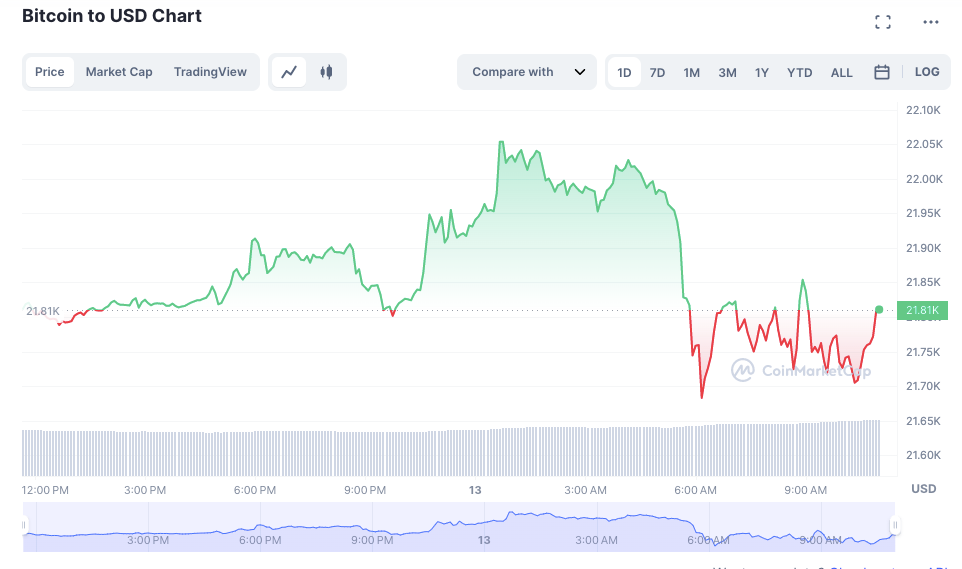 BTC teased US$24,000 earlier this month, but has since fallen below US$22,000, as investors grow skittish about the Federal Reserve's recent reminder that there is still a long way to go in the fight against inflation. The broader financial markets also reacted negatively to the Fed's hawkish script, with the S&P 500 and the tech-heavy Nasdaq Composite sliding 1.11% and 2.41% respectively on Friday, marking their biggest weekly losses since December.
Tomorrow's CPI report, which will give the markets a more accurate indication of how effective the Federal Reserve's rate hikes have been, could have a significant impact on the trajectory of BTC in the coming months. The crypto markets are also spooked by the SEC's (Securities Exchange Commission) recent crackdowns on crypto service providers, with Paxos the latest crypto company to face an investigation from the financial watchdog. (More on this below)
China launches blockchain research centre
China's Ministry of Science and Technology has approved the construction of its National Blockchain Technology Innovation Centre in Beijing, according to local media reports.
The centre, led by the Beijing Academy of Blockchain and Edge Computing (BABEC), will focus on researching blockchain technology for industrial and national economy applications.
Related: China's Digital Yuan Expands Offerings, But Who's Actually Using It?
Despite the government's harsh stance on cryptocurrencies, China remains keen on blockchain-based technologies.
According to the Blockchain Whitepaper (2022), a research paper published by China Academy of Information and Communications Technology (CAICT), the country possesses over 1,400 blockchain-based companies (approximately 20% of the world's total) as of December 2022, with more than 29 cities and provinces including blockchain technology in their five-year plan for 2021-2025.
Recent data from Chainalysis also shows that cryptocurrency trading volume within China remains "healthy" across both centralised and decentralised platforms, despite the PBOC (People's Bank of China) implementing a blanket ban on cryptocurrency transactions since September 2021.
Paxos faces SEC lawsuit
The SEC is planning to sue Paxos, the issuer of Binance-branded stablecoin BUSD, for violating investor protection laws.
According to the Wall Street Journal, which cited people familiar with the matter, the SEC's enforcement staff has already issued a Wells notice to Paxos, which the financial watchdog uses to inform companies and individuals of possible enforcement action.
The notice alleges that BUSD is an unregistered security. According to data from CoinGecko, BUSD has a market capitalisation of US$16 billion, and is the third largest stablecoin after USDT and USDC.
Last week, US-based cryptocurrency exchange Kraken copped a US$30 million fine from the SEC, after it claimed that two Kraken subsidiaries failed to register the offer and sale of their staking programs.
According to a statement on Thursday, the SEC alleged that Kraken's staking service was an illegal sale of securities, and that the firm "touts that its staking investment program offers an easy-to-use platform and benefits that derive from Kraken's efforts on behalf of investors, including Kraken's strategies to obtain regular investment returns and payouts."
Related: Paxos Secures DPT License in Singapore
PayPal hits the brakes on stablecoin
Meanwhile, PayPal is putting a pause on its stablecoin project, in light of the SEC's probe into Paxos, which is a partner of PayPal.
"We are exploring a stablecoin; if and when we seek to move forward, we will of course, work closely with relevant regulators," a spokesperson for the payments firm said in an emailed statement to media outlets.
According to Bloomberg, the fintech company had hoped to roll out its stablecoin which will be backed 1-to-1 by the US dollar, in the coming weeks.
PayPal's balance sheet currently includes $604 million in cryptocurrency held in custody on behalf of clients, down from US$690 million the year before, according to its 2022 report. Representing less than 1% of its balance sheet, this includes US$291 million in Bitcoin and US$250 million in Ethereum, with the balance made up of other cryptos.
In 2020, PayPal enabled its clients to access cryptocurrencies through a deal with Paxos. Since March 2021, U.S. merchants have been able to accept PayPal-held cryptocurrencies for payment.
Trading Volume
According to data from CoinMarketCap, the global crypto market cap stands ar US$1.01 trillion, a 0.85% decrease since yesterday. The total crypto market volume over the last 24 hours is US$40.43 billion, a 18.42% increase.
Fear & Greed Index
The Crypto Fear and Greed Index uses 5-6 measurements to assess the current sentiment of the market and then rates that level of emotion on a scale of 1-100 – 1 is extreme fear and 100 is extreme greed.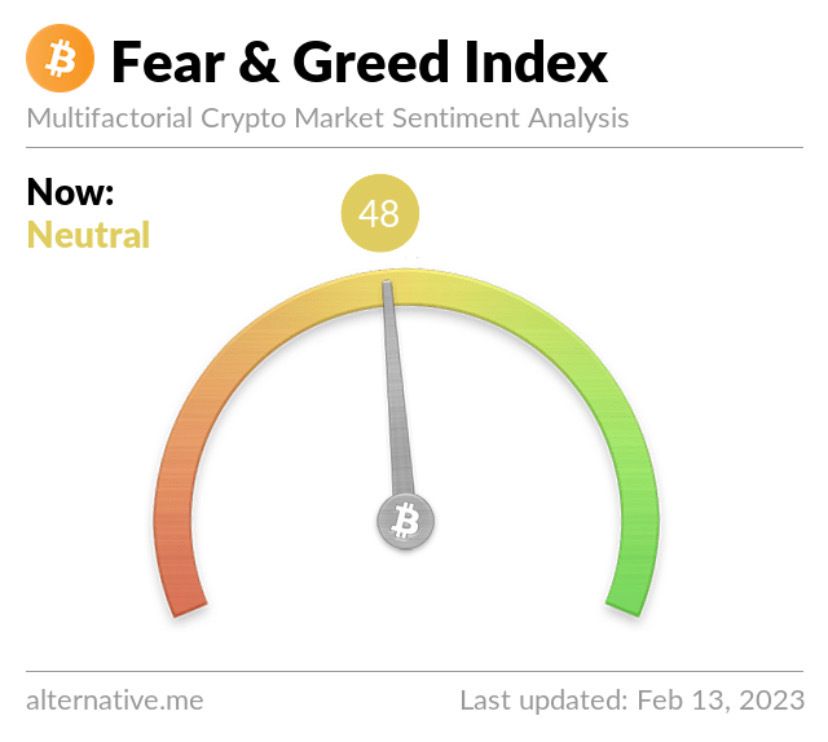 Risk appetites in crypto continue to remain at healthy levels – the index is down from last week's 56 and currently stands at 48, indicating "greed." Sentiment has improved significantly since the FTX implosion in November, during which the index fell to the low twenties.