Bondee has removed segments from its privacy policy that had previously laid out plans to roll out non-fungible tokens (NFTs) on the social networking platform.
Singapore's latest digital fad Bondee has taken Gen Zs by storm, even topping the download charts on Apple's App Store. The app, which implements elements akin to The Sims, Roblox and Habbo Hotel, allows users to create their own avatars, design their own rooms and interact with their friends through a digital universe.
However, users quickly jumped off the Bondee bandwagon when it surfaced that the company behind the app, Metadream, was planning to roll out NFTs.
A clause in Bondee's private policy was discovered by eagle-eyed users, who shared their findings on Twitter.
"Bondee is a metaverse app which will eventually integrate crypto and NFTs," wrote Twitter user Burhan. "This isn't a secret. The app is just very cleverly marketed so that it doesn't mention all this stuff. Because Metadream knows words like "metaverse" and "NFT" are radioactive."
Read more: SG Whale Spends ~$1M on DeGods NFTs But Tinder Matches Remain Unimpressed
"For reference, Bondee's own Privacy Policy page states that B-Beans will be used to purchase NFT products."
For reference, Bondee's own Privacy Policy page states that B-Beans will be used to purchase NFT products.https://t.co/e6NDOddX5K pic.twitter.com/qGT0HrZG9g

— Burhan (@BurhanPlays) January 26, 2023
In the clause titled "Your Purchase Information," Bondee declared, "You can create a blockchain-based wallet on the public blockchain within the Platform, purchase B-Beans by using fiat currency; and then use such B-Beans to purchase NFT products publicly available on the Platform for yourself or your friend."
"Your NFT products will be stored in your blockchain-based wallet by using the blockchain technology. We will collect data generated during the aforementioned purchases, including wallet balance, B-Beans order information, and NFT order information."
The revelations sent shockwaves through the Bondee community. "scammers out there doing the most," replied one disgruntled Twitter user to Burhan's original tweet.
"bondee taking advantage of the millennial / gen z dream of having affordable housing and just being able to dress up all day only for them to be a whole nft company," another tweet with over 7,000 likes states.
@hellanori scammers out there doing the most

— Syahme® (@AcnhSyahme) January 27, 2023
bondee taking advantage of the millennial / gen z dream of having affordable housing and just being able to dress up all day only for them to be a whole nft company

— arden! (@unardent) January 29, 2023
fucking upset because bondee is nft based i just wanted to have an actual fun social media/virtual space experience thats easily accessible

— Migo (@migonzola) January 25, 2023
bondee sells nft???????? pic.twitter.com/AAc3CBDE0T

— mint 📌comms open (@artbymint) January 20, 2023
Of course, loyal Bondee fans and likely degens were quick to defend the app, stating that users are not forced to participate in NFTs if they so wish.
yes you can purchase NFTs on bondee! but it doesn't mean that bondee = nft. that's a different story.

lots of accessible apps these days are pro-nfts, but as long as you don't purchase nfts on the app, you're safe. :) using the app ≠ you're buying nft. https://t.co/cEHSoYyfGw

— chel (@byuumie) January 27, 2023
ok just learned bondee is apparently an NFT-supported platform :/ but if you aren't buying the nft, their 'b-beans' and creating a blockchain-based wallet in there, then it doesn't mean ur participating in it, does it? /gen pic.twitter.com/gEMneKHqOU

— mari (@featoxo) January 26, 2023
Metadream then found itself having to reject claims that Bondee was leaking users' credit card information.
"Recently, it has come to our attention that there are rumours circulating on various social media platforms alleging that the credit card information of Bondee users had been leaked through their use of the Bondee platform," Metadream said in a statement on Instagram on 27 January 2023.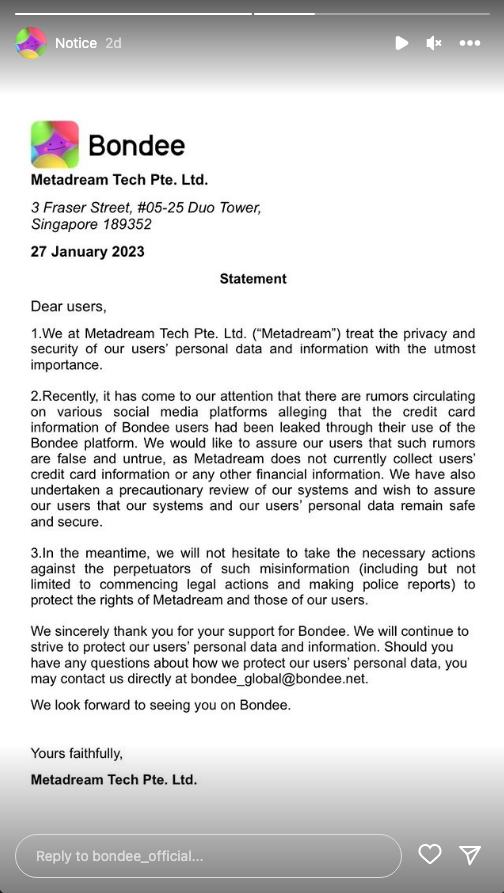 "We would like to assure our users that such rumours are false and untrue, as Metadream does not currently collect users' credit card information or any other financial information."
Read more: 2023 Could Be the Year for Metaverses & NFTs – Here's Why
On 29 January 2023, Bondee updated its Privacy Policy, removing any mention of NFTs. The archived version of the policy dated 23 January 2023 can still be found here.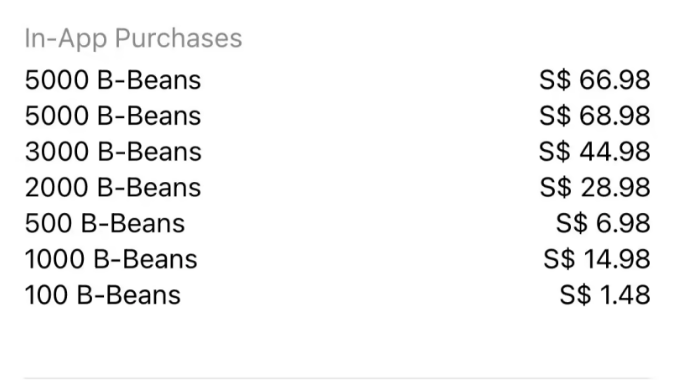 In-app purchases are still nonetheless listed on Bondee's app store page, with 5,000 B-Beans costing $66.98.
As it stands, it's unclear how or even whether Metadream will progress with their NFT implementation. Either way, the heat Bondee drew from the sheer mention of NFTs demonstrates how reluctant Web2 participants are to engage with the Web3 tech.
Blockhead has reached out to Metadream but is still awaiting a response.
Filipino Interest
According to CoinGecko, the Philippines has shown the most interest in Bondee, suprassing other countries by over 5 times.
The Filipino fanbase earned the highest total search score of 500, whilst Singapore placed second with 99.
CoinGecko's research examined global Google Trends data of English search terms relating to Bondee, namely 'Bondee', 'Bondee App', 'Download Bondee', 'Bondee iOS' and 'Bondee Android', from January 1 to February 7, 2023.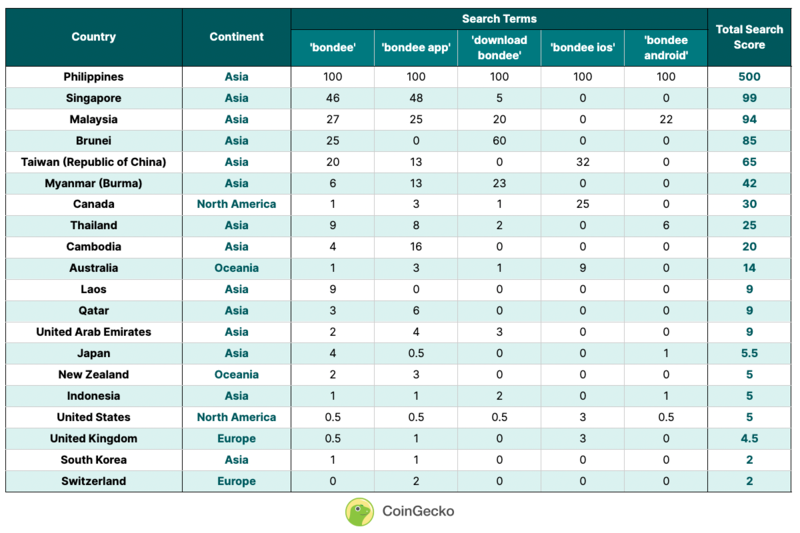 The data reflects the country's keen interest in the metaverse. According to Coin Kick Off's study The Meta-Verdict: Metaverse Interest and Sentiment Around the World, Filipinos are the most interested in the metaverse.
Read more: Filipinos "Most Interested" in Metaverse, Vietnamese "Most Positive"
Wei Zhou, current CEO of Coins.ph and former CFO of Binance explained that the Philippines is one of the top countries in the world for crypto adoption in terms of NFT trading and general token ownership, a phenomenon that has been amplified by the pandemic.
"There are more crypto owners and traders in the Philippines than stock traders…I think post-Covid, the digitalisation of finance has actually increased tremendously, especially with the increasing popularity of e-wallets, as we've seen in other markets as well," Zhou told Blockhead.