Bitcoin and other cryptocurrencies plummeted this week after news of FTX's fallout sent shockwaves across the market, with the world's largest cryptocurrency shedding over 20% and sinking below US$16,000 before paring losses.
At the time of writing, Bitcoin (BTC) is trading at US$17,067.60 (+4.39%) while Ethereum (ETH) is trading at US$1,240.09 (+6.23%). Major altcoins such as Solana (SOL), Avalanche (AVAX), Polkadot (DOT) have also been trading in green within the same period, having recovered slightly after registering double digit losses this week.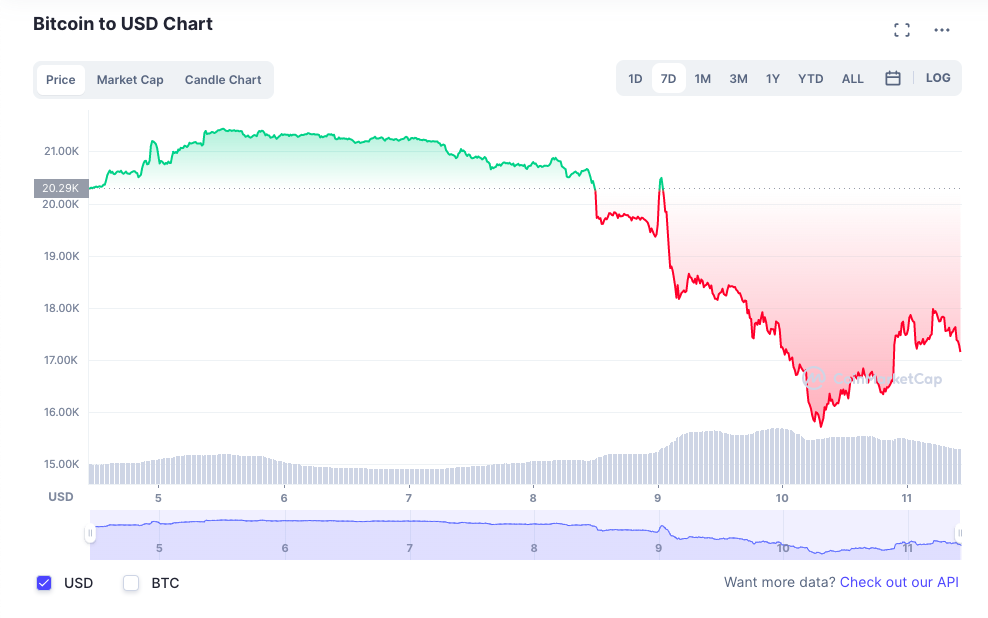 In the broader financial markets, a softer-than-expected Consumer Price Index (CPI) reading has cheered investors, with US stocks posting outsized gains and recording their biggest one-day climb in two years.
Wall St analysts had called for a 7.9% annual rise and 0.5% monthly gain, but the CPI for October only reflected a 7.7% increase over the last year and 0.4% increase over the prior month. As a result, the S&P 500 advanced 5.5%, its biggest intraday gain since April 2020, while the tech-heavy Nasdaq Composite rallied 7.4%, the most since its recovery from the downturn caused by the pandemic in March 2020.
On the crypto front, the swift collapse of crypto exchange FTX has left investors reeling, with the crypto markets dipping sharply as a result of FTX's liquidity crunch, which led it to turn to its rival, Binance, for a bail out. The platform also saw over US$6 billion in withdrawals in just 72 hours.
On Wednesday, just hours after Binance CEO Changpeng Zhao (CZ) announced a non-binding LOI to fully acquire FTX, Binance walked away from the deal, citing "corporate due diligence" as well as the latest reports of an SEC probe into FTX's handling of user funds amid the liquidity crisis – more on this below.
While nerves seemed to have been temporarily soothed by the favourable CPI reading, the ongoing uncertainty sparked by FTX's fall from grace will likely result in an extended period of volatility in the crypto markets.
"This type of event is the equivalent in digital assets to the 2008 financial crisis", Dante Disparte, chief strategy officer and head of global policy for Circle, told Bloomberg News this morning.
Binance's growing influence and dominance also exposes the fragilities within the crypto space, and calls into question how truly "decentralised" the industry actually is.
Stay updated on our coverage of the FTX fallout:
DOJ seize Silk Road BTC
The United States Department of Justice (DOJ) has announced the confiscation of US$3.36 billion worth of BTC from an individual who stole it from the now-defunct darknet website Silk Road.
According to the DOJ, James Zhong used nine Silk Road accounts to trigger over 140 transactions to trick the market's withdrawal-processing system into releasing 50,000 BTC to his accounts.
Officials said that the BTC were found in hard drives dotted around Zhong's home in Gainesville, Georgia.
"For almost 10 years, the whereabouts of this massive chunk of missing bitcoin had ballooned into an over US$3.3 billion mystery. We won't stop following the money…even to a circuit board in the bottom of a popcorn tin," said US attorney Damian Williams.
Earlier this year, the DOJ recovered US$3.6 billion worth of digital assets in connection with the 2016 Bitfinex hack.
FTX faces SEC probe
According to a person familiar with the matter, the US Department of Justice (DOJ) and the Securities Exchange Commission (SEC) is looking into whether any criminal activity or securities offences were committed in the handling of FTX users' funds.
The investigation is reportedly centred around the possibility that FTX may have used customers' deposits to fund bets at FTX CEO Sam Bankman-Fried's hedge fund.
The CFTC as well as California and other US local governments, the Bahamas, and the Japanese Financial Services Agency have also said they would be investigating FTX.
Meta layoffs hit Singapore
Over 110 Meta employees in Singapore have been laid off by Facebook parent company Meta.
The layoffs appear to affect a wide-ranging host of departments and roles, with over half of those on the list working in recruitment, while the rest were spread across operations, sales and engineering as of Thursday evening. The job cut are set to affect 11,000 workers internationally, or about 13% of Meta's 87,000-strong global workforce.
A Google Doc circulating online, with details provided by former employees, gives an insight into the functional areas that have seen cuts, as well as their location, experience and more. The list stands at around 1,300 names currently, with 110 coming from the city-state.
Since doubling down on its metaverse efforts since October last year, Meta's metaverse-focused business model has failed to be a success, with the company's metaverse arm Reality Labs recording a loss of US$3.7 billion in Q3 this year, with a year-to-date loss of US$9.4 billion.
In October, Meta posted a 50% fall in quarterly profits and its second-straight sales decline. The company said at the time that it would be "making significant changes across the board to operate more efficiently," including by reducing the headcount in some teams and hiring only in areas of highest priority.
Coinbase extends job cuts
US-based crypto exchange has laid off 60 staff as it continues to reduce its headcount amid the current market downturn.
"We are diligently focused on cost optimization and cash management," Coinbase said in its third-quarter earnings report earlier this month.
In June, at the start of the current crypto winter, Coinbase extended its hiring freeze and rescinded several job offers already accepted by prospective workers, citing "current market conditions and ongoing business prioritisation efforts".
The US crypto exchange has lost more than 70% of its value this year, as the selloff in cryptocurrencies and an uncertain economic landscape has sapped risk appetites and spurred a decline in users and revenue.
Trading Volume
According to data from CoinMarketCap, the global crypto market cap stands at US$869.62 billion, a 7.58% increase since yesterday. The total crypto market volume over the last 24 hours is US$144.29 billion, a 23.74% decrease.
Fear & Greed Index
Risk appetites are sapped – the Crypto Fear and Greed Index currently stands at 25 indicating fear. The index uses 5-6 measurements to assess the current sentiment of the market and then rates that level of emotion on a scale of 1-100 – 1 is extreme fear and 100 is extreme greed.