Table of Contents
Snoop Dogg's son Cordell Broadus AKA Champ Medici is gracing Singapore with his presence in the form of his giant inflatable BAYC.
Situated on Singapore's iconic shopping street Orchard Road at the Somerset Youth Park, the 10m x 3m inflatable is on display throughout the F1 period, from 22 September to 1 October.
Images of the inflatable show a realised version of the BAYC reclining in a similar fashion to the inflatable Curtis that appeared during NFT NYC 2022.
Singapore serves as the first stop in the Champ Medici: Recharge tour – an artwork that shows how Champ Medici and its communities are in a "constant recharging process" according to a board displayed beside the inflatable.
Artworks featured include works from HANJAN – the fanny pack strapped across Champ Medici – and Oasis Club's Genesis drop NFT artwork by WOMI – on Champ's board shorts.
"The Web3 space is built on communities," the board reads. "Especially during a time where the world is headed towards recession following the age of the pandemic, this artwork hoeps to remind everyone to take time to recharge for the journey ahead."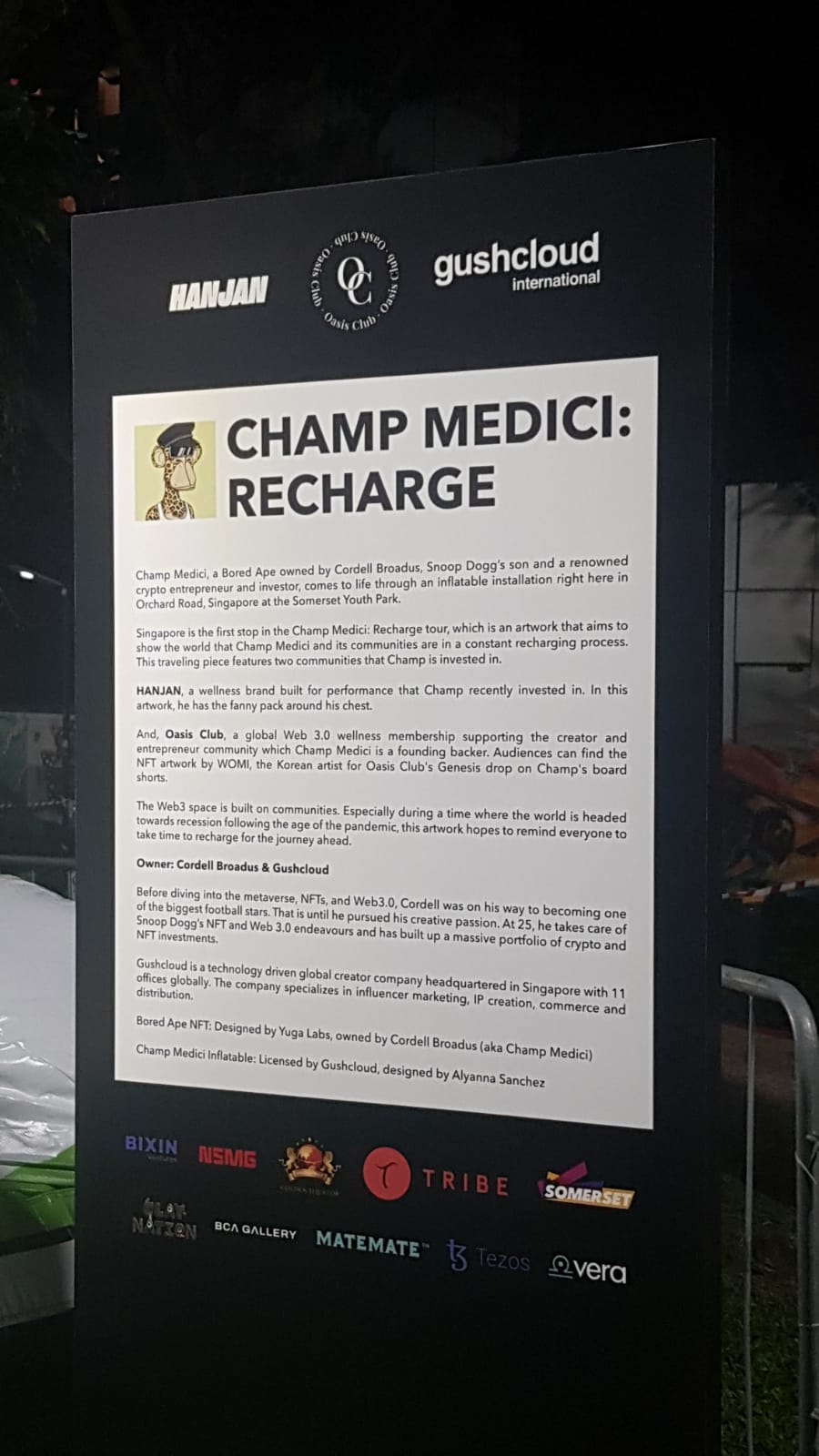 Champ Medici recently teamed up with his father Snoop Dogg to produce three tracks for the ClayMates NFT collection on the Cardano (ADA) blockchain. NFT holders will be able to use these tracks, which will be airdropped to Baked Nation NFT owners, for commercial purposes.
The three tracks are titled "ADA Dreams", "Lil Flex'n", & "Manifest". In "Manifest", Champ explains how he decided to HODL is crypto portfolio despite the FUD.