Table of Contents
Bitcoin and other cryptocurrencies slumbered the weekend away, with investors still reeling from the epic collapse of the Terra ecosystem.
At the time of writing, the world's largest cryptocurrency is trading at US$30,207.01 (+3.09%) while Ethereum (ETH) is trading at US$2,034.16 (3.30%).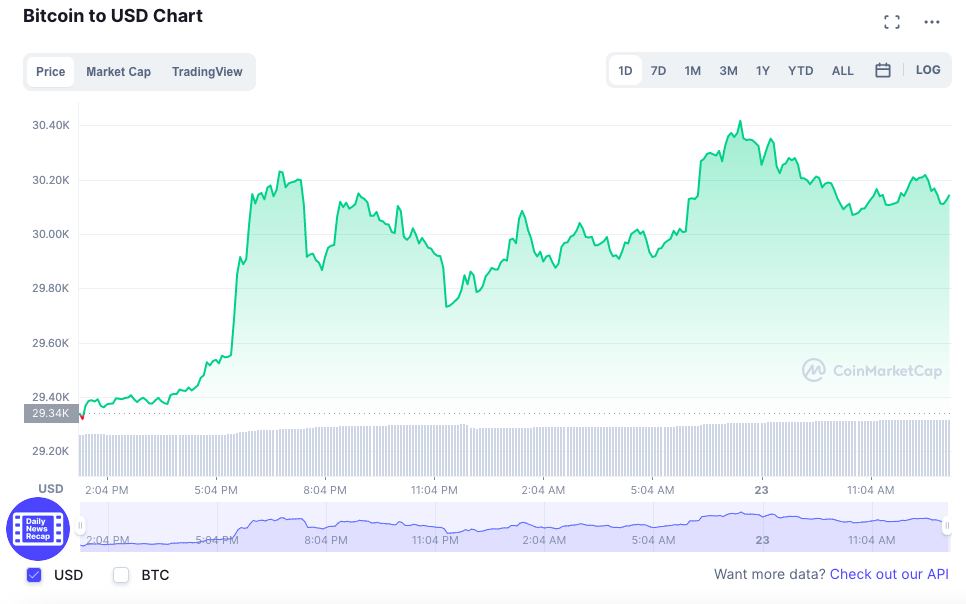 Major altcoins such as AVAX and SOL have also been trading in green over the past 24 hours, while LUNA is currently trading at US$0.0002 (+40.24%), down 99.99% from its ATH of US$119.18.
Read more: Did Do Kwon's Arrogance Cause Terra's Downfall?
Our resident Blocksmith believes that a recovery in global equities is needed to ignite a crypto rally, but for now, the outlook remains uncertain.
Musk supports crypto
At a time where the crypto markets have plunged into chaos, Elon Musk has predictably voiced his support of crypto again.
The Tesla Inc. CEO said that the "true battle is between fiat & crypto. On balance, I support the latter", in a Twitter thread in which he compared technology to "advanced magic."
Arthur Hayes avoids jail term
Former BitMEX CEO Arthur Hayes has been spared a jail sentence, despite pleading guilty to violating the US Bank Secrecy Act (BSA) by failing to implement anti-money laundering (AML) safeguards at the exchange.
"There were real consequences. When individuals like Mr. Hayes operate platforms without anti-money-laundering programs or know-your-customer programs, they become a magnet for people to launder money", Assistant US Attorney Samuel Raymond told US District Judge John Koetl in New York before Koetl pronounced the sentence.
Hayes, a Singapore resident who is reportedly married to a Singaporean, will instead serve a two year probation, and will spend the first six months of his sentence in home confinement.
Moonbirds and Azuki airdrops
Popular NFT project "Moonbirds" has revealed a new NFT collection called "Moonbirds Oddities".
The project is widely believed to be an airdrop to the current holders of the original 10,000 Moonbirds NFTs.
Oddities is being created in collaboration with CrypToadz artist Gremplin, and is expected to be fully revealed in July this year.
Read more: Here's Why Moonbirds NFTs are Attracting Over $289 Million in Sales
Elsewhere, Azuki has announced that it will airdrop a special NFT for each Azuki NFT holder, which can be used to redeem the limited-edition Azuki Twin Tigers physical jacket.
Singapore Azuki Holders Aren't Selling Despite Zagabond Controversy
The Azuki Twin Tigers jacket is supposedly inspired by the Sukajan jacket, a fusion of American and Japanese street culture. The suggested retail price of the Azuki Twin Tigers jacket is US$2,000.
OpenSea debuts bartering feature
Amid increasing competition among NFT marketplaces, market leader OpenSea has launching SeaPort, which will allow users to buy and sell NFTs using a combination of crypto and other assets like NFTs. Seaport users can also specify which criteria such as certain traits on NFT artwork or pieces part of a collection they want when making offers.
"Every Seaport listing consists of the same basic structure, including an improved EIP-712 signature payload that clearly outlines what can be spent and what will be received back by whom. However, there are a number of different ways that the fulfiller can choose to have listings fulfilled," it said in an announcement on Saturday.
More importantly, the protocol will be open source – signalling a move from the centralized nature of the exchange. OpenSea said "the Seaport protocol isn't just for OpenSea – it's for all NFT builders, creators & collectors," adding that future development will be done in the open, in collaboration with the community.
Trading Volume
According to data from CoinMarketCap, the global crypto market cap is at US$1.29 trillion, a 2.20% increase from yesterday. The total crypto market volume over the last 24 hours currently stands at US$61.91 million, a 28.13%. increase from yesterday.
Meanwhile, data from cryptoquant.com indicates that the amount of BTC held on trading platforms is decreasing, despite the recent major market correction.
On May 7 amid the Terra collapse, there was a 2% increase in the amount of BTC being moved to centralised exchanges, with many investors naturally keen on selling their cryptocurrencies. However, the following week saw a quick reversal, with the amount of BTC held in exchanges falling by 2.21%.
An inflow of crypto-assets into exchanges usually means it is bearish for those assets as investors can dump their holdings for fiat or something similar. However, if assets flow out of an exchange, it means the investors see a bullish scenario ahead and that they'd prefer holding Bitcoin for the long-term, rather than keeping it on exchanges that are less secure (or on an exchange to sell, putting downward pressure on price
Fear & Greed Index
Risk appetites remain sapped – the Crypto Fear and Greed Index currently stands at 10, indicating extreme fear. The index uses 5-6 measurements to assess the current sentiment of the market and then rates that level of emotion on a scale of 1-100 – 1 is extreme fear and 100 is extreme greed.