Table of Contents
At a time when NFT projects are looking to evolve from the profile picture (PFP) phase, developers are seeking new ways to add value for their communities. Los Angeles-based OP3N is pushing the boundaries of NFT projects to tackle societal issues for the global Asian community.
Launched in 2021 by 88rising co-founder Jaeson Ma, OP3N's mission is to be a launchpad for ideas and communities to create meaningful experiences together through entertainment.
To learn more about OP3N's vision, Blockhead spoke to the project's CEO Eric Tu.
OP3N's Background
OP3N is a subsidiary of EST Studios, which was founded by Ma and Tu as an independent finance, production and sales outfit geared towards the Asian marketplace.
Former Vice Media executive Tu has worked with some of the biggest names in entertainment such as Dr Dre, Bjork and Selena Gomez. He describes Ma as the "Mick Jagger of OP3N" whilst his role is more akin to Charlie Watts – keeping the beat and rhythm going.
OP3N itself is focusing on building a platform for communities. "The creator economy is very Web2," Tu explained. "It's been great but it's very one dimensional. That's why we are shifting from creator economy to community economy. The creator is part of the community but together we're going to build a whole new economy for all of us."
"At our core, we are an NFT launchpad for ideas for the community. We're not a studio like Yuga Labs. We want to help communities launch their NFT projects on our platform."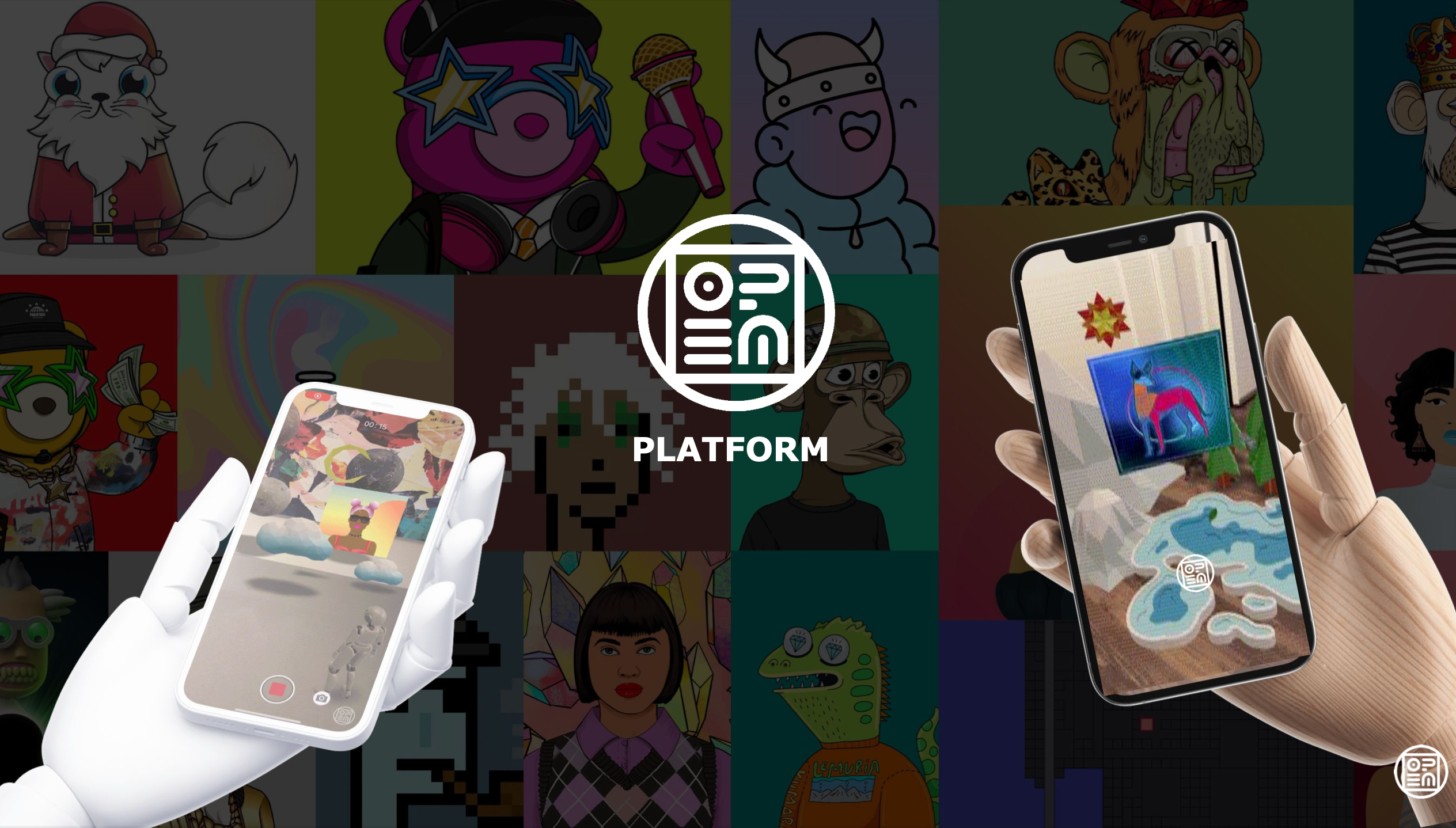 Having been in the TV and music industry his entire life, Tu's experience includes working with artists such as Travis Scott and Kendrick Lamar. For Tu, the shift towards self-generated content inspired his work with OP3N.
"It's been amazing to see what people like Billie Eilish and her brother can do to change culture through the arts and creativity," he said. "And I wanted more opportunities for Asian voices to have the same experience that I've seen my whole career with all these great icons I've worked with."
Citing Southeast Asian successes such as Squid Game and Parasite that became global phenomenons, Tu said OP3N hopes to create more of these opportunities. "In our minds OP3N will be the platform to democratise and give everybody an opportunity, especially in Asia, to compete at the Hollywood level," he says. "The community is going to finance and support and create a whole new ability for the next BTS to come out of Vietnam Singapore, India or anywhere here."
"Hollywood is the ultimate gated system," Tu added. "So I want to break all those rules and we built OP3N for that."
Redefining NFTS
OP3N plans transform NFTs into entertainment universes. Directing our attention to a few stills from Love, Death + Robots, Tu explained that "If you look at the stills, they look just like NFTs," Tu explains. "They look like NFTs that are just still frames from stories."
Tu believes that year one of NFTs is all about art. "To me, it's like Andy Warhol's Campbell Soup, it redefined what contemporary artists, it redefined what art galleries and auction houses do with art," he said.
The problem OP3N is trying to address is that "not a lot of people can afford Andy Warhols." Instead, OP3N is not interested in focusing on the super rich. "We want to sell $1, $5, $20 NFTs," Tu said. "That's why we're looking at Avalanche and other layer twos that have low carbon footprints with low gas fees. We want accessibility of the NFTs and smart contracts to all different communities around the world, not just the super wealthy."
OP3N hopes to be a bridge between Web2 and Web3, and Tu believes NFTs are the "golden ticket" in achieving it. "We want to embrace Azuki, for example," he said. "$100m dollars in sales later, they're now story tellers." Tu explained that if OP3N was to partner with Azuki, they could tap into their superfan base and bridge the community with Akira superfans. "NFTs are about to take a massive leap forward into storytelling and OP3N is going to be the first creative studio to bridge these worlds together."
Earlier this year, Canadian musician Grimes announced her intention to release an "intergalactic children's metaverse book" as part of Culture Catalyst, a US$100million initiative by the Avalanche Foundation and NFT platform OP3N.
"Grimes had her own vision – she wanted to reate a new type of children's metaverse book that was relevant to mothers. She grew up watching anime and [reading] sci fi books. We are multichain but Avalanche really does impress us with its next-to zero gas fees and solid proof of stake."
However, data suggests that searches for NFTs are at its lowest, with OpenSea transactions plummeting since the start of the year. Nonetheless, Tu and his team are not deterred by the data.
"Everything's cyclical with the world and if we continue to be a bear market, that's okay, too," Tu said. "We support when it's up, we support when it's down. We're not trying to flip [them]. We don't want to create a secondary market value like that – it's not the main focus."
With regards to the reduced transactions on OpenSea, Tu said that whilst he's not a specialist, he believes a lot of the action is "based on flipping" and that "the utility is not there."
"Utility will always improve our value. But we won't limit ourselves. There's tokenomics to consider and blockchains too. We really love smart contract technology but if there are other future innovations, we're really going to push the boundaries of what NFTs mean for us."
Advice From VICE
During his time at VICE, Tu realised that the top-down approach was not as conducive to creativity and storytelling as it could be. "VICE was amazing. We grew to 38 offices around the world with 4000 staff. But it wasn't decentrliazed. It's still people on the top going "hey I think we should do this" with 1000 people executing it," Tu explained.
"Imagine a world where everybody locally is telling the world "hey do this story here"," Tu said. "As a creator you can say "I want to do a documentary about this hometown and everybody in the NFT community can support that project and bring it to the world."
"VICE has millions in terms of audience, but it's one direction. It was a creator economy, not a community."
OP3N's App
OP3N plans to operate mainly through an app, which is currently in beta on the Apple App Store, with plans to launch on Android. Just like TikTok, OP3N is embracing the vertical experience, but instead of random videos, the content is trailers for NFT projects. When users click into the content, they will be brought to the project's roadmap, collaborators and everything that would be on the projects website.
"We're multichain too, and we're very proud of that," Tu continued. "We will do Ethereum drops, Solana, Avalanche."
The app will also have a Discord/Clubhouse chat feature that allows users to communicate with each other. Live audio, video and video sharing will also be available.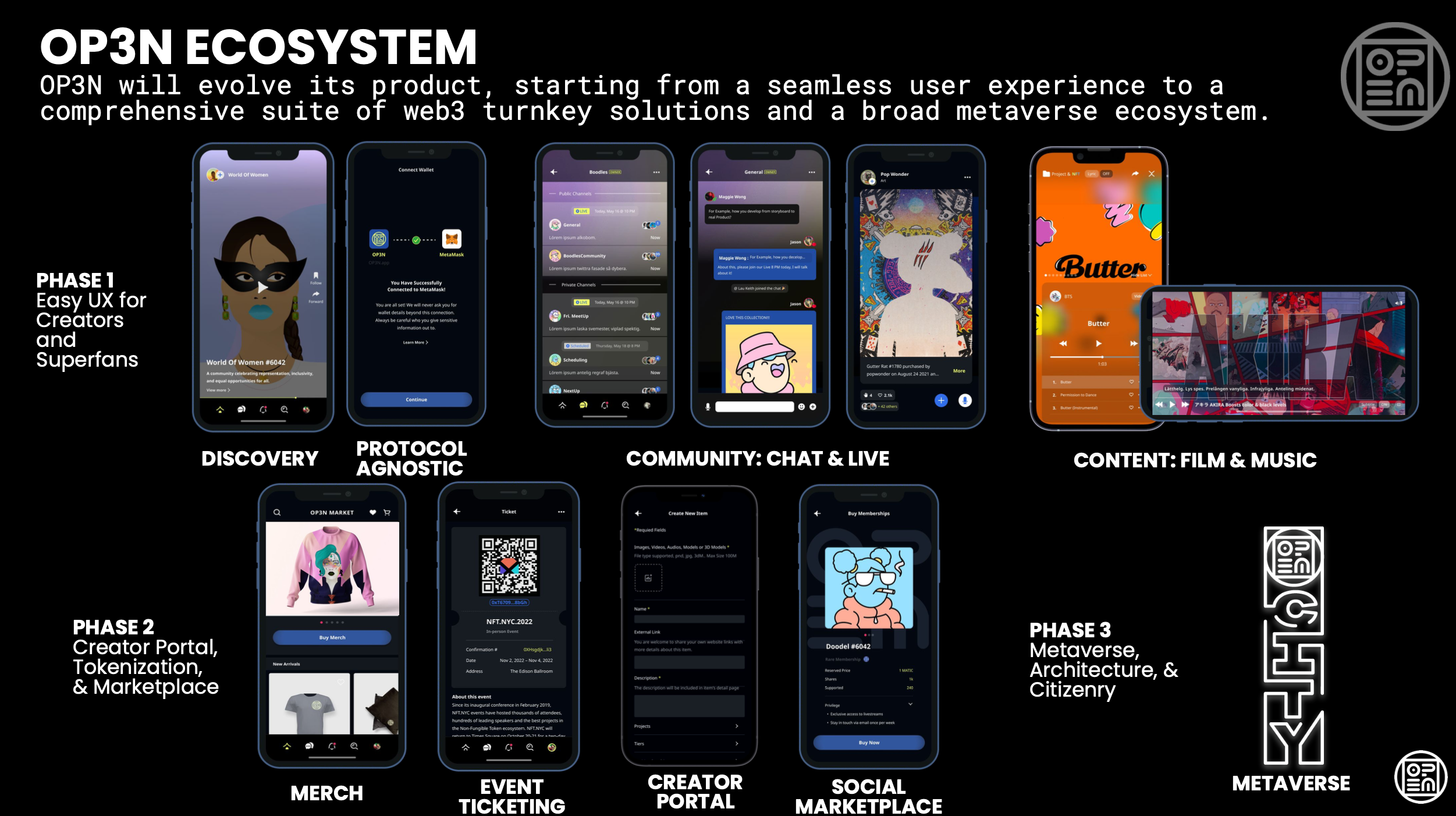 "Once you're in a community, project leaders can interact with their communities directly," Tu said. "These project leaders aren't going to jump on Twitch or Instagram Live because it opens them up to all these strangers. But if it's your community, it's much more intimate and direct."
"There's also an audio player, which is going to be a bit like SoundCloud where we can have the next Jay Chou or Rich Brian," he continued. The hope is to allow these artists to take their community on their journey, asking them which songs they like or their opinions on demos. "You can have a private NFT gated audio player. Same for video too."
Amazing Asia
OP3N's focus on Asian Americans is integral to the project. "I do think there's an incredible entertainment movement movement that's happening for Asian Americans," Tu explains. "A lot of next generation Asian rappers look up to people like Dumbfoundead and work such as Pachinko is awesome."
"There's so many different complexities of language, currencies and government," he continued. "If there's a way that a new economy that can help move through that friction between Japan, Vietnam, Kazakhstan, the Philippines, it would be great."
"What we've seen, for example, with Animoca, Axie Infinity, it's amazing to see that innovation is truly coming out of Asia to the world. Our investor group is coming out of Tokyo to Hong Kong etc."
Asian culture has been widely embraced around the world, and OP3N plans to build upon it.
"We like how streetwear has transformed all of Asian cultures, as well as contemporary art and food fusions. Everybody likes authentic but it's all one collective Asian movement. So the challenges I would see is just where we go. Our legal is based in Singapore, our developers are in Ho Chi Minh City. South Korea and Japan are just starting to embrace the NFT movement, so it's all about understanding technology and making sure you're compliant. "
"We're very proud of how we focused on region by region, country by country to be compliant, to be supportive of people that are new to Web3 and really be the bridge."