Table of Contents
Just months after Hong Kong officially opened its doors to crypto retail trading, Hong Kong Fintech Week (HKFTW) officially opened and closed its doors to global leaders in innovation, technology, and finance.
From 30 October to 5 November, HKFTW played host to a variety of announcements in both the traditional finance world and digital asset world alike.
To keep abreast of the latest HKFTW happenings, Blockhead took the short flight across the South China Sea for Hong Kong's juicy announcements and juicy char siu.
Tokenization
An increasingly popular buzzword for digital asset investors, tokenization is the "next generation for markets" to crypto natives tokenizing treasury bills, if you listen to Larry Fink.
The Hong Kong Securities and Futures Commission (SFC) outlined new regulations for the tokenization sector including:
Tokenization of retail products is subject to authorization requirements and additional safeguards
Secondary trading of tokenized retail products requires more caution. The SFC will engage more with market participants
Tokenized securities for professional investors are no longer simply categorized as complex products. Complexity and whether it can be offered to non-professional investors are measured by the underlying security.
Tokenized securities and other blockchain-native digital securities are differentiated
Product providers should employ at least one staff to keep proper records of tokenized funds.
Speaking at HKFTW, Anna Liu of the Hashkey Group said, "We understand the Hong Kong government regulators aim to support the urban upgrade and economic transition in Hong Kong. We believe tokenisation can serve as both the router and the connector."
Chainlink labs took the opportunity at HKFTW to announce a deal with Hong Kong's Arta TechFin. Niki Ariyasinghe of Chainlink said, "Chainlink is the industry standard for essential infrastructured services in Web3. We are proud to partner with Arta Techfin to bring the benefits of two of our key offerings to the users of Arta's platform."
Cross Border Solutions
The Hong Kong Monetary Authority (HKMA) announced a collaboration with the Bank of Thailand to connect their digital payment systems. From 4 December, Hongkongers will be able to use Faster Payment System (FPS) for purchases in Thailand via their mobile phones. Thais visiting Hong Kong can use PromptPay.
Additionally, HKMA has been part of the "mBridge" Central Bank Digital Currency project along with China and the UAE. The CBDC project is expected to enhance cross-border payment solutions in both wholesale and retail.
"Payments will become much easier and faster and more central banks will establish bilateral connections between their instant payment systems," HKMA CEO Eddie Yue Wai-man said.
Web3 & Innovation
Spark Zhang, chief strategic officer at Huawei Blockchain and chief technology officer, Huawei, shared insights into Web3's ability to reshape the financial sector in Hong Kong. "Web3 will develop into two models of either a hybrid or full-decentralised mode," he said, highlighting how Web3 systems can transition into Web3 with structures such as digital payment tokens and CBDCs.
Meanwhile, Crypto.com CEO Kris Marszalek stated that crypto is "going in the right direction" after a "necessary clean up."
Of course, the question of AI sprouted up and its applicability to Web3. "This is a completely new world where it's hard to tell what is real, what is not. So blockchain is a perfect technology to help us navigate this new uncertainty. It's incredibly interesting and it's evolving so quickly," Marszalek said on AI's relationship with crypto.
SFC CEO Julia Leung said AI is "not going to be revolutionary, just evolutionary, as the Web3 ecosystem needs time to build out, but it is definitely coming."
Leung also said that Hong Kong is considering granting retail investors access to crypto spot ETFs.
"We welcome proposals using innovative technology that boosts efficiency and customer experience," Leung said in her first media interview since taking office on 1 January. "We're happy to give it a try as long as new risks are addressed. Our approach is consistent regardless of the asset."
Elsewhere:
OpenSea Cuts Workforce Ahead of Revamp: Leading NFT marketplace OpenSea has announced a significant reduction of its workforce by 50% as it gears up for the launch of OpenSea 2.0, aiming to enhance product technology, speed, and user experience, Decrypt reported, citing a company rep. The cuts come amid increasing competition among NFT marketplaces and dwindling transaction volumes. In a X/Twitter thread, CEO Devin Finzer emphasized the need for a leaner, more efficient team that could better connect with users in this new phase.
Singapore's MAS Initiates International Collaboration for Advancing Digital Assets: The Monetary Authority of Singapore (MAS) has partnered with financial regulatory authorities from Japan, Switzerland, and the UK to promote and advance the use of digital asset technology in various financial sectors including fixed income, asset management and foreign exchange. The regulator said its pilots involving asset tokenization have shown promising results for market efficiency, hence the establishment of a Project Guardian policymaker group comprising FSA, FCA and FINMA. "We hope to promote the development of common standards and regulatory frameworks that can better support cross border interoperability, as well as sustainable growth of the digital asset ecosystem," Leong Sing Chiong, Deputy Managing Director (Markets and Development), MAS, said.
ARK's Cathie Wood Backs Bitcoin Over Gold as Deflationary Hedge: Cathie Wood, the CEO of ARK Investment Management, has advocated for Bitcoin as a viable hedge against deflation, labeling it as "digital gold." Wood's positive stance is influenced by her belief in the integration of new technologies like AI and blockchain, which she expects to drive an era of price deflation, she explained on Bloomberg's "Merryn Talks Money" podcast. ARK Investment has been active in the cryptocurrency space, applying for a Bitcoin ETF and investing in the Grayscale Bitcoin Trust, which has seen substantial returns this year. Despite the cryptocurrency's price volatility and significant loss in 2022, Bitcoin has rebounded this year, doubling in value and currently stands at around $35,000.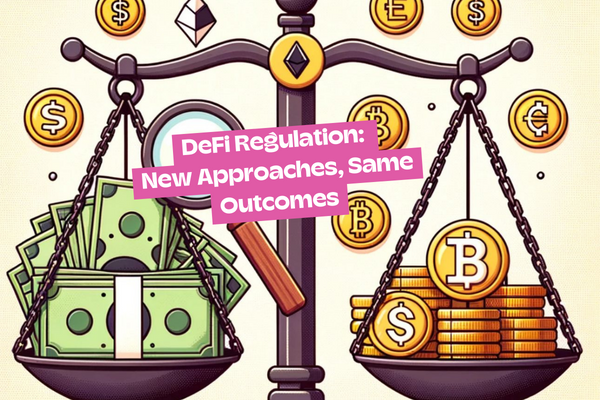 Singapore Fintech Festival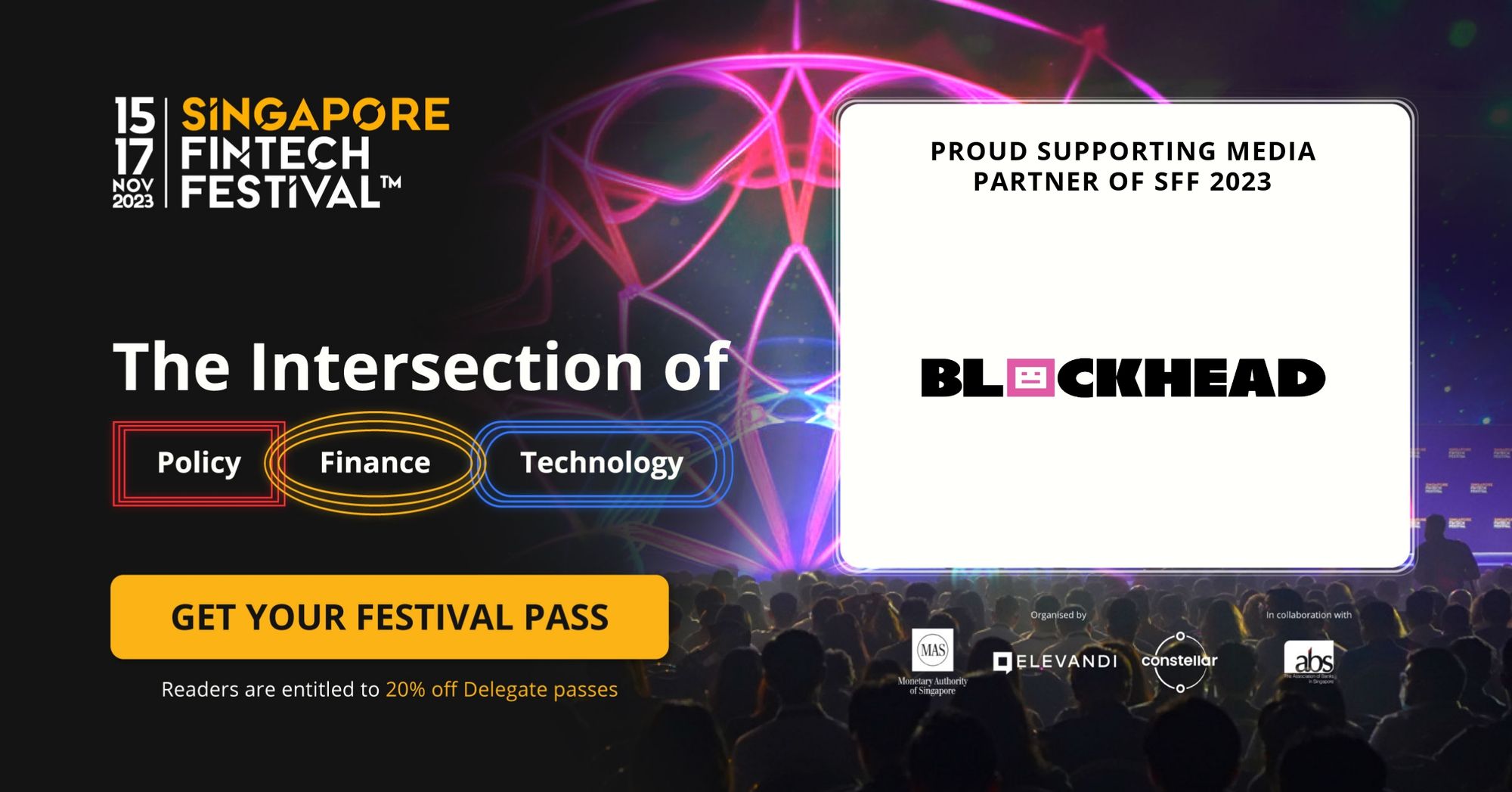 🚀 Next week, Singapore takes center stage in the FinTech universe! Blockhead is proud to be a media partner at the 8th Singapore FinTech Festival.

✨ Epic highlights:
62K+ attendees, 70+ central banks
800+ speakers
Kristalina Georgieva & Ajay Banga keynotes
🎟️ As a Blockhead reader, snag your ticket with a 20% discount! Use our exclusive link here.
---