Table of Contents
Messari's annual summit, Mainnet, has come and gone. Held on 20–22 September in New York City, the crypto conference featured a range of industry leaders including Ripple CEO Brad Garlinghouse, Coinbase CEO Brian Armstrong, and Circle CEO Jeremy Allaire.
Predictably, regulation dominated the discussions with panel titles including "Crypto Tax and Accounting" and "What's the SEC's End Game for DeFi?"
Slated as being "less expensive and less fun" than last year by Insider, Messari took a more mature approach to crypto conferencing; a pattern we've seen across major industry events this year.
Whilst crypto partying took a back seat, lessons from the conference were still rife. SkyBridge Capital founder Anthony Scaramucci offered the conference's most bullish outlook for Bitcoin. "If you got your bitcoin, I wouldn't sell your bitcoin, you made it through winter," Scaramucci said in a fireside chat titled, "Why I'm still bullish."
"You [young people] will be mainstreaming Bitcoin the way my generation mainstreamed the internet," he said. "The next 10 to 20 years are remarkably bullish [for bitcoin]."
Never shy to speak his mind, Garlinghouse once again laid into the SEC. "You have to stand up to a bully … he's pursuing power, he's pursuing politics. Not sound policy," he said of Gary Gensler.
His tone was largely in line with his message a week earlier at TOKEN2049, during which he said, "The only country I would not encourage you to start a company in is the U.S."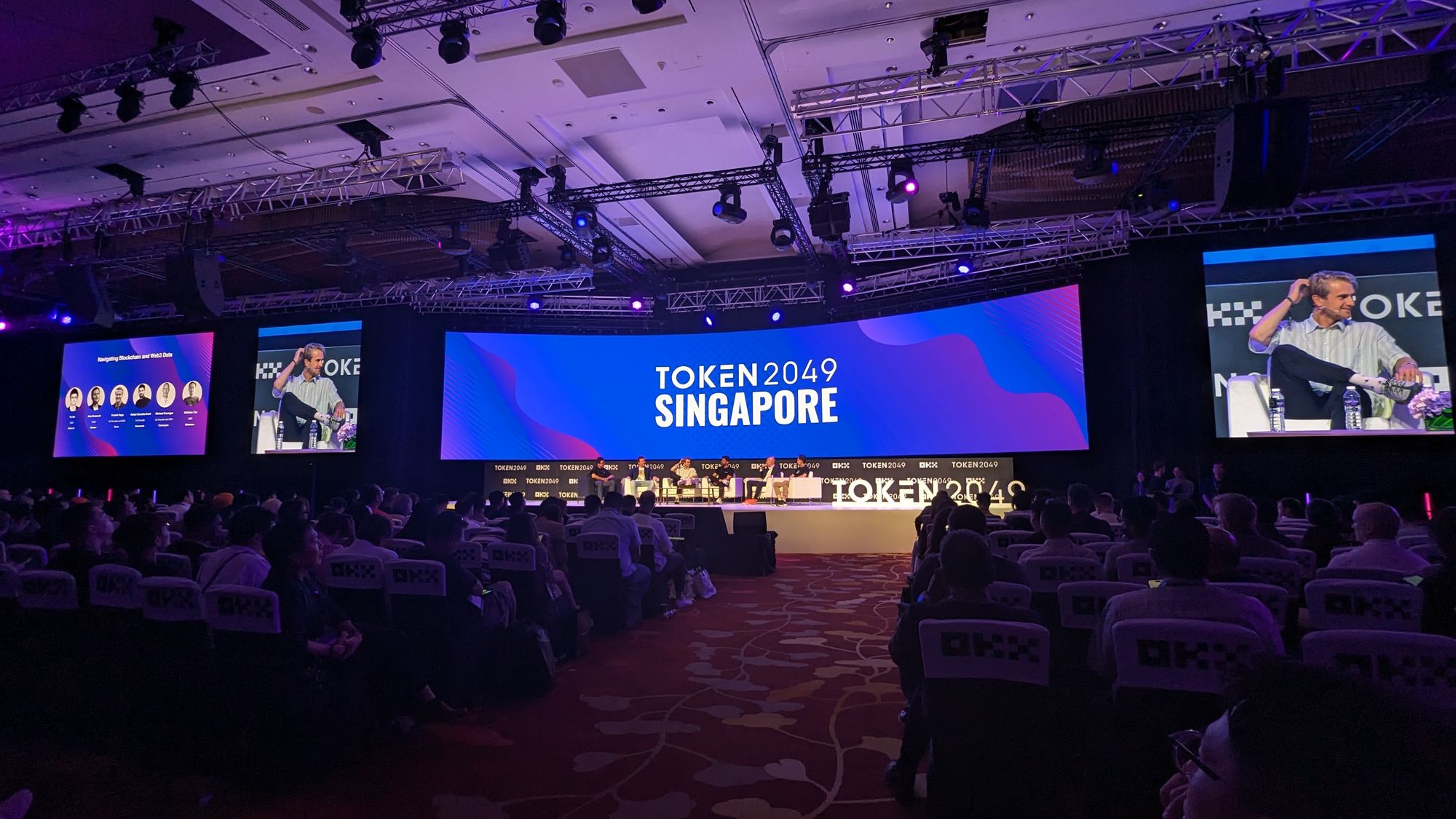 Armstrong didn't bite his tongue either. "In 2024 some people need to win or lose an election because of their stance on crypto," the Coinbase CEO said of next year's US presidential candidates, whilst pledging $1 million to a crypto super PAC (political action committee).
Republican candidate Vivek Ramaswamy took the opportunity to announce plans to release a "comprehensive crypto policy framework" by Thanksgiving.
Describing regulators as the "unconstitutional fourth branch of government" and "the cancer at the heart of our federal government today," Ramaswamy said, "Most of the political power is wielded by people who are never elected to their positions that sit in the back of three-letter government agency buildings in Washington DC in a three-letter regulatory alphabet soup."
Elsewhere:
RockX, Matrixport Collaborate to Boost Institutional Crypto Staking: Institutional staking solutions pioneer RockX has teamed up with Matrixport's Cactus Custody to enhance crypto staking security and accessibility for traditional financial institutions. This partnership aims to address challenges like cybersecurity threats and regulatory barriers in staking, especially as Ethereum's staking volume surges post the Shapella Upgrade. With Cactus Custody safeguarding billions in digital assets and RockX recently surpassing US$1 billion in staked assets, this collaboration promises to simplify the staking process, bridging the gap between traditional finance and the decentralized world.
ByBit Suspends UK Services: From October, ByBit will suspend services for UK-based customers from October due to new regulations by the UK Financial Conduct Authority (FCA). Existing UK users will be unable to deposit funds or increase their positions and are advised to close existing positions by 8 January 2024 when the remaining open positions will be liquidated.
Coinbase Says Hola: Coinbase has been granted an Anti-Money Laundering (AML) registration with the Bank of Spain. The license allows the crypto exchange to operate and provide custodian wallet services, reaching both retail and institutional customers in Spain. The move is in line with Coinbase's international expansion strategy, "Go Broad, Go Deep."
Miss Universe Says No: The Miss Universe Organization has denied any link to the Miss Universe Coin project, which was announced at the Philippine Blockchain Week (PBW). The coin project claimed it would "launch the Miss Universe Coin" at PBW but the official Miss Universe Organization slammed the project as fraud and announced no association with it, adding that legal actions are being considered. The organization also fears the project might be promoted at other global crypto conferences.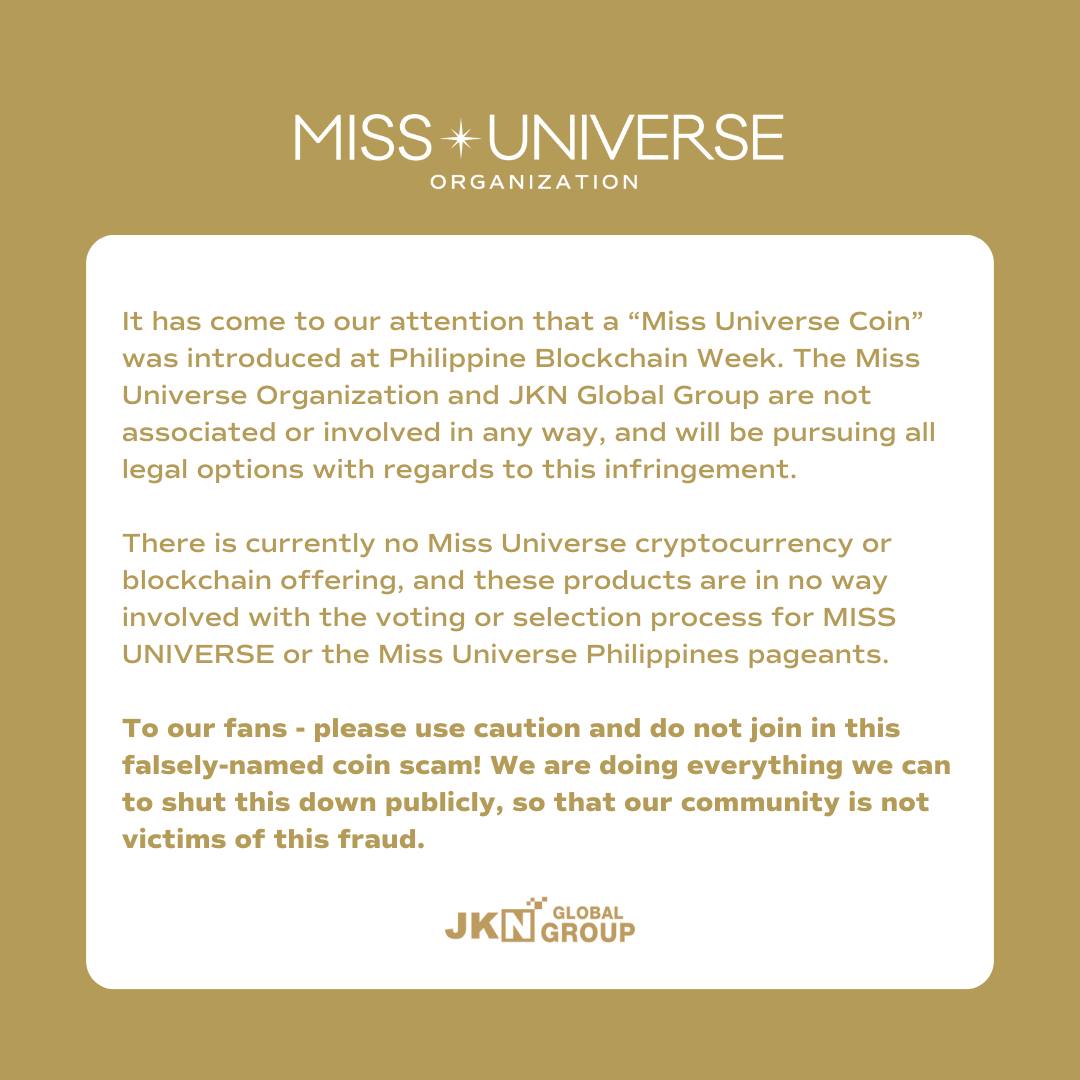 Another OpenSea Breach: OpenSea has issued a warning to users to change API keys following a third-party security breach. The breach affected an undisclosed number of users, potentially exposing their OpenSea API keys. Users' allocated rates and usage limits could be exposed through the breach, which follows recent OpenSea data leaks.