It's another victory for the crypto industry against its archnemesis, the SEC. This time, the U.S. Court of Appeals for the D.C. Circuit has sided with Grayscale, ruling that the SEC must review its application to transform its Bitcoin Trust to an ETF.
The SEC had rejected Grayscale's proposal but the court concluded that the regulatory body failed to demonstrate how the digital asset management firm's product was different to approved futures-based funds.
"The Commission failed to adequately explain why it approved the listing of two bitcoin futures ETPs but not Grayscale's proposed bitcoin ETP," the court said. "In the absence of a coherent explanation, this unlike regulatory treatment of like products is unlawful."
Whilst the ruling does not guarantee approval of the ETF, it has been regarded as a turning point for the wider crypto industry, inspiring hope for other ETF-applicant firms such as BlackRock.
Bitcoin popped from the low $26,000 range to almost scraping the $28,000 mark, whilst Ethereum experienced a similar percentage rise. Even Coinbase saw its stock price surge over 16%.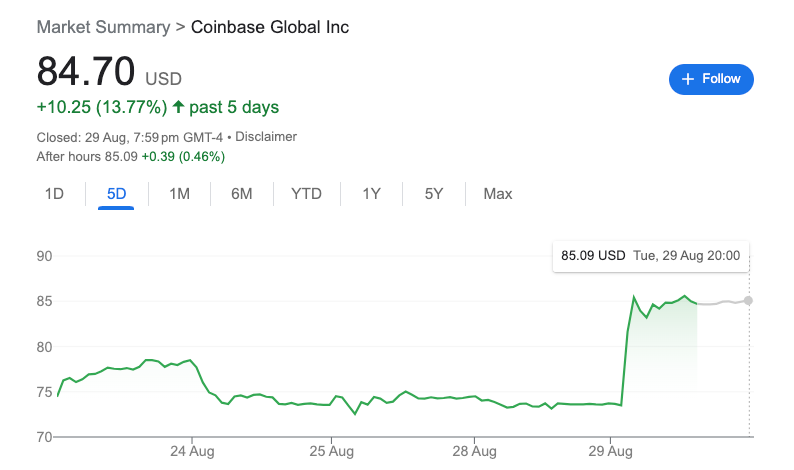 The crypto industry is undergoing a turning of the tide. What began as the SEC putting pressure on the sector has evolved into everyone vs the SEC. No longer are crypto firms fighting the regulatory body alone; TradFi veterans seeking a sliver of the digital asset class are now backing Web3's battle with regulators.
Courts and judges are showing their support too. Grayscale's victory comes slightly over one month after a US judge ruled that Ripple Labs Inc did not violate federal securities law by selling its XRP token on public exchanges.
Even fellow regulators are siding with crypto against the SEC. Last month, Coinbase received regulatory approval from the National Futures Association (NFA) and the Commodity Futures Trading Commission (CFTC) to operate as a Futures Commission Merchant (FCM).
Is the battle over yet? Far from it. But at least confidence in the market is being restored... For now.
Elsewhere:
Seba Bank Eyes Hong Kong Expansion: Seba Bank is inching closer to expanding its footprint in Hong Kong. The bank has secured an "in-principle" approval for a crypto license in the city, marking a significant step in its global ambitions. With Hong Kong's stringent regulatory landscape, this move by Seba is noteworthy.
Robinhood & Jump – It's Not Me, It's You 💔: In a surprising turn of events, Robinhood and Jump Trading have decided to end their crypto partnership. Sources say it's a mutual break-up, but aren't they all? The dissolution of this collaboration is sure to have implications in the crypto trading sphere.
Binance Establishes Presence in Poland: Following regulatory challenges in Belgium, Binance is pivoting to Poland, establishing a new entity for its operations from which it will serve Belgian customers. It's like being kicked out of one club and trying your luck at the next one down the street. But hey, Binance is always up for a new adventure. Na zdrowie!