Welcome to Blockhead's Daily Digest, your go-to source for staying informed on the dynamic and ever-changing world of cryptocurrency. Whether you're a seasoned investor, blockchain enthusiast, or simply curious about the latest developments, we've got you covered with the most comprehensive news and analysis.
---
An exploit Curve Finance on Sunday continues to send shockwaves through the DeFi landscape, leaving $100 million worth of crypto at risk. Initially, $24 million was stolen but updated figures point towards $52 million. Worse still, the hack unveiled critical vulnerabilities in the wider DeFi ecosystem, threatening more smart contracts built using certain versions of Vyper.
Proving the crypto industry isn't completely corrupt, ethical hacker c0ffeebabe.eth returned 2,879 ETH to Curve Finance after it was diverted from the CRV-ETH liquidity pool. c0ffeebabe.eth used an MEV bot to front-run a malicious hacker, returning the ETH to the Curve address.
Nonetheless, the exploit leaves countless projects built on Vyper at risk, and once again puts into question the security of the wider DeFi ecosystem.
If the Curve drama wasn't saucy enough for you, perhaps $BALD might tickle your fancy. Up more than 40,000% over the 48 hours since its launch, the meme coin's price plummeted as much as 90% from its Monday high.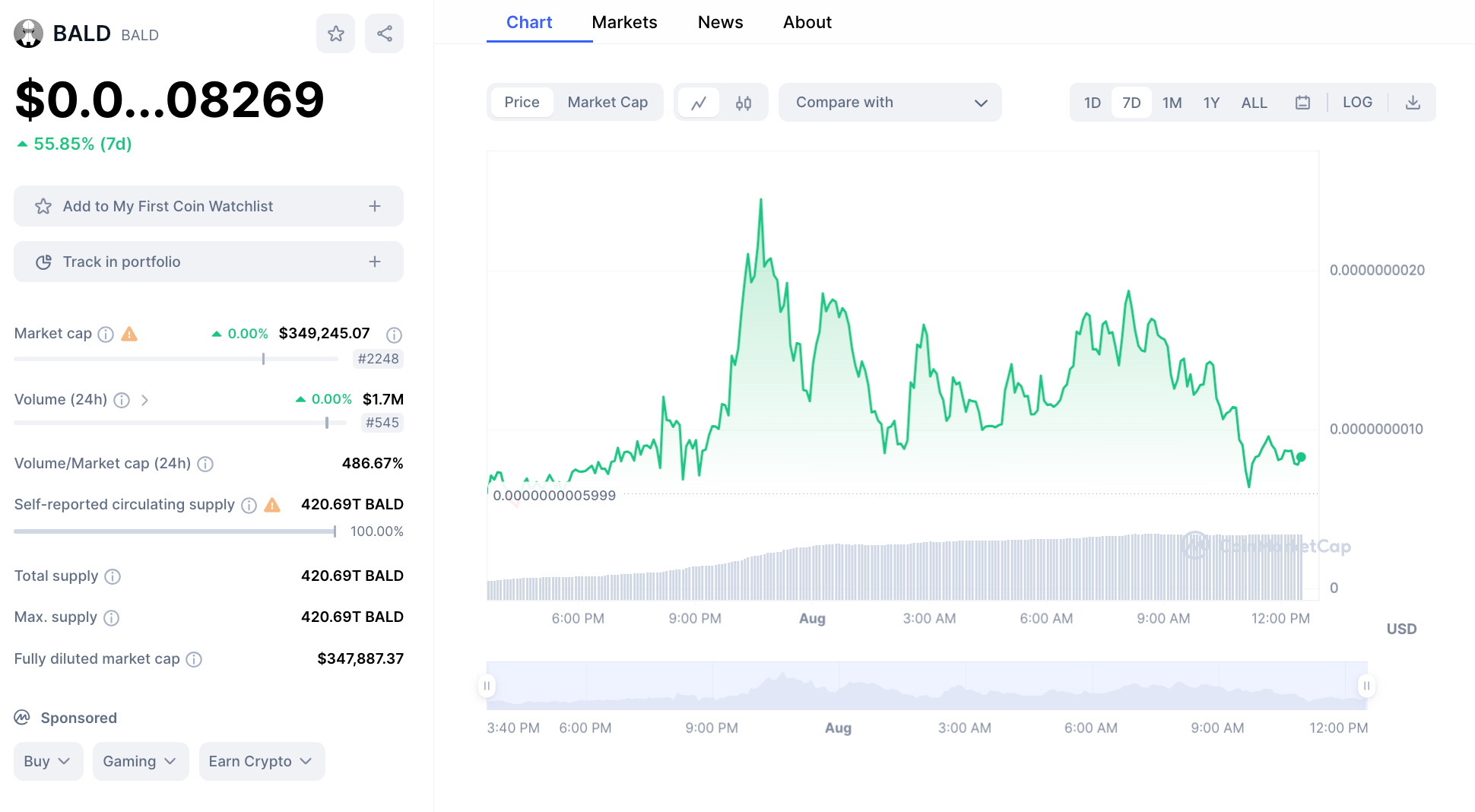 What's behind this pump? FTX founder Sam Bankman-Fried, apparently. Crypto Twitter analyst @hype_eth pushed the theory, pointing towards how the Bald developer was highly active on SushiSwap and dYdX, with communication styles that resembled SBF.
Other similarities between SBF and the Bald creator include language patterns and on-chain activities that coincided with the former's court dates.
To Summarize:

- Thousands of ETH between FTX and Bald
- Bald deployer was first voter on all sushi proposals
- Bald deployer tweets same sentence structure as SBF
- Bald deployer was biggest DYDX farmer
- Bald deployer DYDX posts sound like SBF

(1/x) 👇

— hype (@hype_eth) July 31, 2023
Of course, this is far from definitive proof, but the speculation is piquing the interest of the online crypto community.
Elsewhere: