Metaverse platform The Sandbox announced the launch of Lion City, the Singapore neighborhood on the virtual world, at its inaugural Singapore Partner Day event on Tuesday.
Launching in September 2023, with 891 plots of land, and over 40 partners and 10+ studios, Lion City will showcase global and regional brands and IPs that represent Singapore's culture through sports, fashion, entertainment, and technology alongside established Web3 natives to participate in The Sandbox metaverse, the company said.
Local partners include MM2 Asia, ONE Championship, Mighty Jaxx Group, Spa Esprit Group, METAVI, Technology Development Centre (TDC) of ITE College Central, UKISS, Bandwagon, Renovi, Affyn, 8sian, The Engineers, Metaskull by Jacky Tsai x Froyo Games, Fabric of Reality, CreativesAtWork, Memotics, FXMedia, Kappou, The Parlour, Manifest, Vaniday, PengWine, LOFI and Zodium.
Studio partners serving the Singapore market include Smobler Studios, CGame Studio, Oceanus Media Global, iCandy Interactive Limited subsidiaries Lemonsky Studios and Hashcode Studio, New Moon Studios, Pangu by Kenal and Clevereen. Other ecosystem partners building the metaverse together include OKContract, Pinnacle, DIFY and Peatix.
"With over 400 global brands, including Singapore's DBS Bank, already onboarded, The Sandbox's Lion City will serve as a gateway and launchpad for Southeast Asia, opening up new Web3 possibilities in the region," The Sandbox said.
"Through Singapore's supportive and collaborative ecosystem, companies will be able to explore new digital frontiers and test decentralized technologies."
Singapore Partner Day
The platform's partners were present at Sandbox's inaugural Singapore Partner Day at the Marina Bay Sands Expo & Convention Centre for an afternoon of networking and sharing of insights.
The event covered keynote presentations by The Sandbox co-founder and COO Sébastien Borget, and head of Singapore George Wong, who discussed opportunities within the metaverse, panel discussions with key ecosystem partners, a product showcase and a networking session.
Opening the event, COO Borget highlighted Singapore's conducive regulatory environment for emerging technologies and its position as a hub for innovation and Web3 advancements, and said he was looking forward to growing the firm for the "next 5, 10 years and beyond."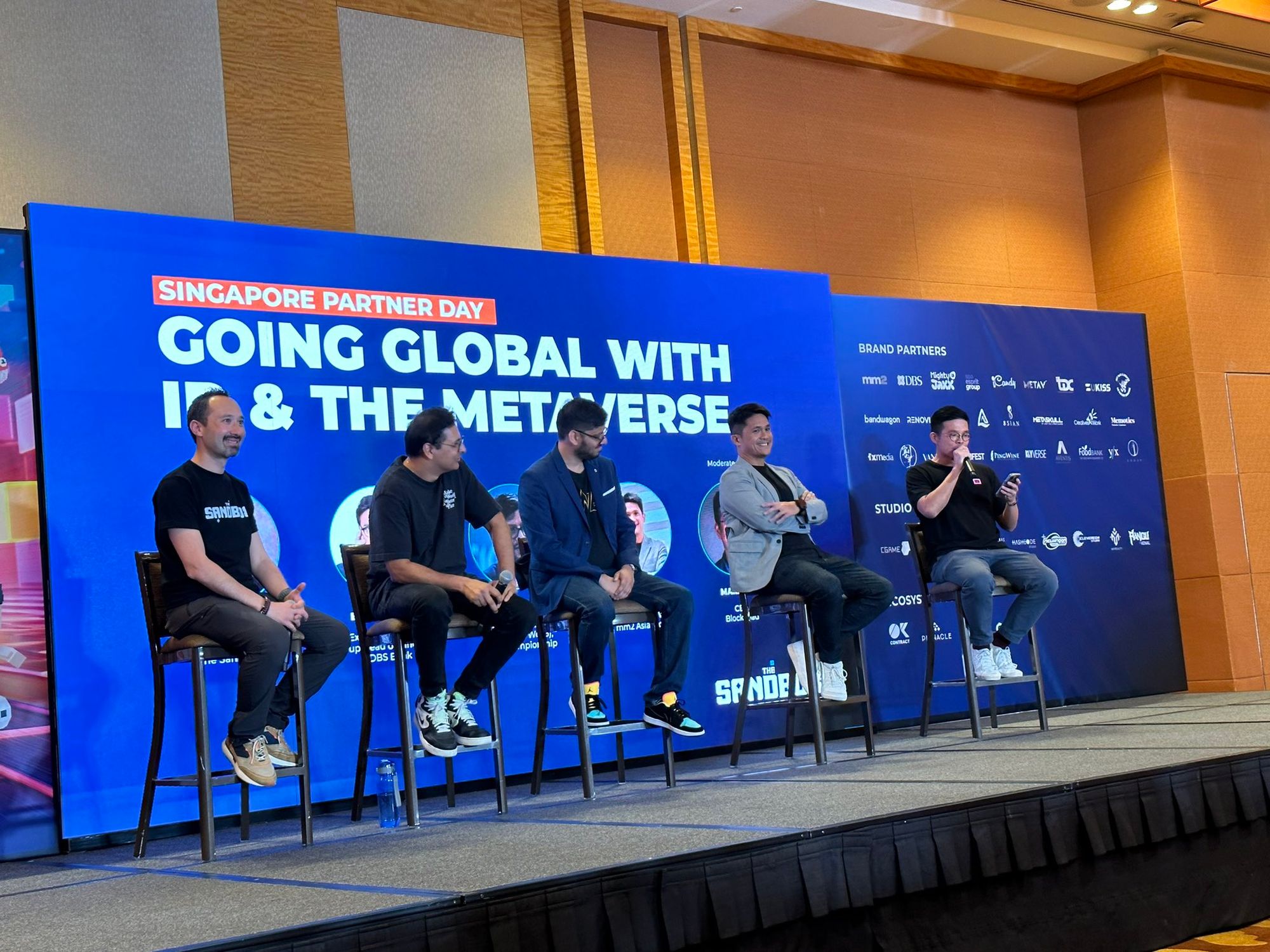 Blockhead moderated the first panel of the afternoon, on the future of IPs and the metaverse, featuring COO Borget; Bidyut Dumra, executive director, group head of innovation at DBS Bank; Nikhil Birla, VP (gaming and web3), One Championship; and Darren Ho, head of digital & web3, mm2. The next panel, on building the open NFT metaverse, featured speakers from Smobler, CGame, OMG, and iCandy.
Blockhead's very own CEO and Co-founder Mark Tan moderating @TheSandboxSG's panel on Going Global With Ip & The Metaverse #metaverse pic.twitter.com/5RaeEduewc

— Blockhead (@blockhead_co) June 27, 2023
2023 has brought about new challenges for The Sandbox. At a time when the crypto market is moving towards a more institutional-friendly stance, the metaverse's relevance is put into question. What's more, Borget recently clashed with the SEC, stating The Sandbox does not agree with the regulator's classification of SAND as a security. George Wong, growth head of Singapore for The Sandbox, previously described 2023 as an "important and pivotal year for metaverse growth."
However, with such big names on board as partners, we're looking forward to Sandbox's continued growth, and the future of the metaverse and its potential for innovation and digital exploration in Singapore.