The Monetary Authority of Singapore (MAS) has taken a significant step towards the future of digital assets, proposing a framework for the design of open, interoperable networks for tokenized digital assets.
In a report published Monday, titled Enabling Open & Interoperable Networks, MAS details the framework for understanding the design options to enable the trading of digital assets across networks and liquidity pools. This framework considers the core principles of financial market infrastructure and takes reference from projects that have sought to push the boundary on these topics, MAS said.
The report was jointly developed with subject matter experts at the Bank for International Settlements' (BIS) Committee on Payments and Market Infrastructure (CPMI), with contributions from DBS Bank, JP Morgan, HSBC, SBI Digital Asset Holdings, Standard Chartered and UOB.
According to MAS, digital asset networks refer to networks that facilitate the transfer and management of digital assets, such as cryptocurrencies or tokenized assets, using distributed ledger technology (DLT) or blockchain. These networks enable the secure and efficient transfer of digital assets between participants without the need for intermediaries like traditional financial institutions.
Digital asset networks can have various archetypes, which describe different ways in which data is recorded, accessed, and validated within the network. These networks aim to provide open and interoperable infrastructure for the issuance, transfer, and custody of digital assets, promoting transparency, efficiency, and trust in the digital asset ecosystem.
"Digital asset networks may play a foundational role in a future-state financial landscape where digital assets and currencies can be exchanged seamlessly across different networks," MAS said in the report. It also noted that future areas of exploration as part of the Project Guardian report "will encapsulate the other focused themes of Trust Anchors and Institutional DeFi."
Project Guardian Grows
The MAS also announced the expansion of Project Guardian to test the potential of asset tokenization across a broader range of financial asset classes. The project now includes an industry group of 11 financial institutions, which will lead industry pilots in asset and wealth management, fixed income, and foreign exchange.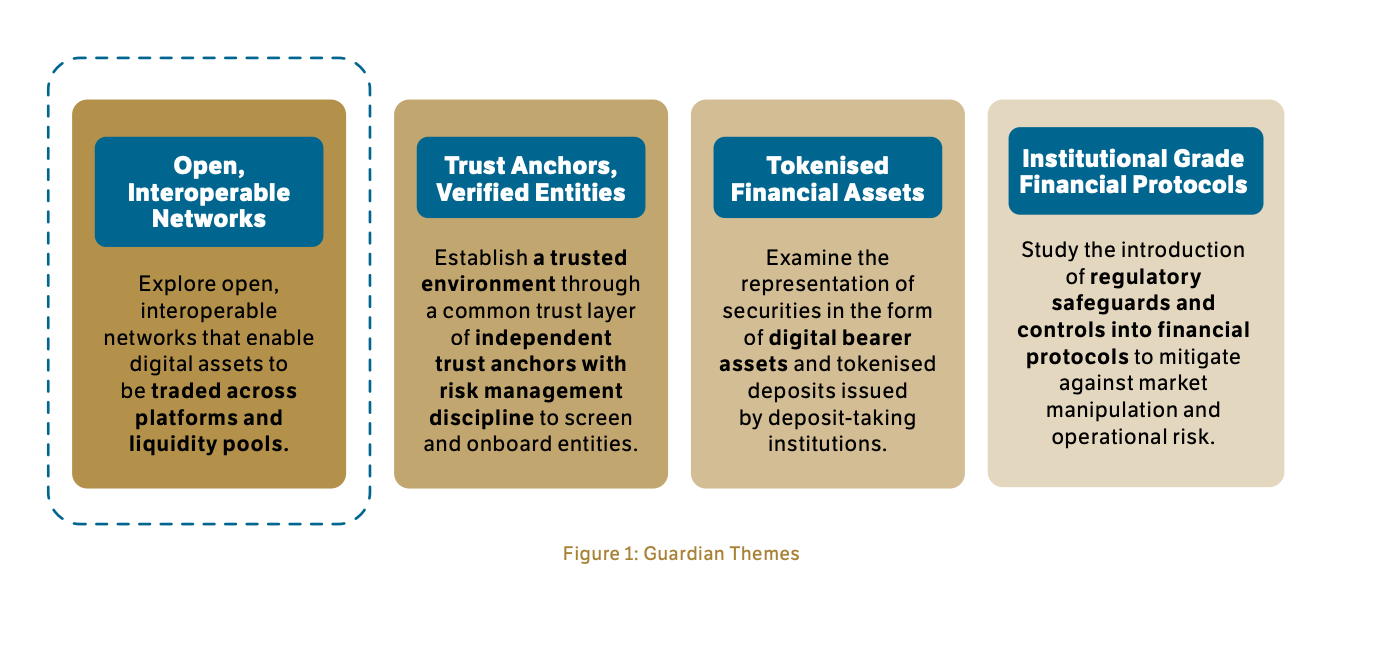 Several high-profile banks, including HSBC, Standard Chartered, DBS, and Citi, are set to run multiple tokenization trials. For instance, Standard Chartered, in collaboration with Linklogis, is developing an initial token offering platform to issue asset-backed security tokens listed on the Singapore Exchange.
Despite the MAS's stance against speculation in cryptocurrencies, the authority recognizes the potential for value creation and efficiency gains in the digital asset ecosystem. "We see much potential for value creation and efficiency gains in the digital asset ecosystem," said Leong Sing Chiong, MAS' deputy managing director of markets and development.
The MAS's move comes on the heels of its proposal last week for standards for the use of digital money, including central bank digital currencies (CBDCs) and stablecoins.